As I write this, my 13-year-old nephew and 8-year-old niece are virtual schooling one room over from me. The nephew is learning that virtual PE means doing online workout videos and has decided he's not a fan of this brave new world of core muscle exercises. The niece is trying to learn multiplication and looks...like she's kind of getting it?
Nothing about this is normal, but, hey, 2020. We'll muddle through somehow or die trying. So, while you're trying to brave it today here are some stories making headlines in Hollywoodland.
The Headlines
1. The culture wars have come for Netflix. In the before times, a hashtag like #CancelNetflix would trend on Twitter because fans of a surprisingly canceled show like The OA or Sense8 had an axe to grind. In 2020, it's because QAnon, opportunistic politicians, and other cultural forces have singled out a new Netflix film as whetting "the appetite of pedophiles & help fuel the child sex trafficking trade."
The movie in question, Cuties, focuses on a Senegalese preteen girl living in Paris who is trying to balance the traditional gender roles expected by her Muslim family with the revealing outfits and sexualized choreography of her beloved dance troupe. Director Maïmouna Doucouré - who won a directing award from the Sundance Institute last February and based the story both on her own upbringing as well as a year and a half of research and hours of interviews with hundreds of preteens - claims the film is feminist.
Yet, Cuties has been controversial for over a month, beginning when Netflix released a since-redacted promotional poster featuring young girls posing provocatively. Cuties "perpetuates the sexualization of children," according to the Parents Television Council. "Our girls see that the more a woman is sexualized on social media, the more she's successful. Children just imitate what they see to achieve the same result without understanding the meaning. And yeah, it's dangerous," countered Ms. Doucouré.
At its core, this is a classic case of "we're artistically commenting on the thing" / "no, you're actually perpetuating the thing" back and forth, the type of debate which recurs all throughout pop culture history. But we're months away from an election suffering through the worst combined climate, health, economic, and social justice crisis in living memory. As Axios astutely put it, "all the biggest threats to America are unfolding before our eyes." Cuties is thus a readymade distraction for politicians looking for easy wins, particularly as the QAnon movement - which believes Donald Trump is a secretly selected noble warrior working to smoke out and lock up a global cabal of leftist child molesters - finds increasing purchase with mainstream conservatism.
So, Senators Ted Cruz and Tom Cotton and Representative Tulsi Gabbard have all spoken out against Cuties, and in Cruz's case he - surprise surprise - admitted he hasn't actually watched the film. Still, that didn't stop Cruz from requesting that Attorney General Bill Barr investigate whether Netflix and/or the filmmakers violated federal laws "against the production and distribution of child pornography."
THR film critic David Rooney - aka someone who did actually watch the movie - argued, "Writer-director Maïmouna Doucouré's captivating but structurally shaky first feature is stronger on setup than development or payoff, becoming less controlled as its opposing forces of tradition and rebellion collide. But as 11-year-old Amy, Fathia Youssouf provides a disarmingly tender center to this drama."
2. Mulan is struggling in China. It was all supposed to work out so well. Disney's neverending live-action remake machine was going to refashion the 1998 animated hit Mulan into something more akin to a superhero origin story with far more culturally sensitive casting and behind-the-screen hires, giving director Niki Caro her first blockbuster production after over 20 years in the business. Then the 90s nostalgics didn't like the early trailers since it signaled Caro and her team had excised all of the songs and comic relief sidekicks. Then Yifei Liu - the Chinese-born American actress cast in the title role - expressed sympathy for the Hong Kong police over the protestors. Then, long after that controversy subsided, she referred to herself as "Asian" instead of "Chinese" in an interview with Variety, causing a fresh new backlash.
Now, Mulan is out exclusively on Disney+ in the States but was hoping to make beaucoup bucks in China. Instead, it has found itself blacklisted by the Chinese government. The gist is one minute of footage in the movie was filmed on location in the region of China where Muslim refugees are being housed in "re-education camps," and Mulan's closing credits thank the Chinese propaganda departments which gave the production access to that land. Eagle-eyed viewers noticed and #BoycottMulan quickly blew up on social media. In response, the Chinese government forbade media outlets in the country from covering or promoting the film, resulting in a disappointing $23 million debut. For media watchers, the whole debacle marks a shocking misstep for Disney, which has typically been among the most adept at navigating the political and cultural minefield that is China.
3. Tenet's box office is....who knows. With Los Angeles and New York theaters still shuddered and various other states dark, Christopher Nolan's Tenet is shut off from around 35% of the domestic market, but even in those markets where theaters are open not everyone thinks they should be. On top of that, Tenet appears to be the most divisive film in Nolan's career, meaning there isn't at all the type of overwhelming critical consensus that might embolden on-the-fencers to risk it for the sake of cinema. So, what then are we to make of Tenet's $29.5 million domestic haul after just two weekends or the fact that Warner Bros. is withholding daily box office totals in a bid to control the narrative? I...don't know. Doesn't look good but there is literally nothing to compare this to, no historical situation which provides a usable comp. One analyst looked at this and concluded Tenet is a "positive indicator of demand." IndieWire took a God's Eye view and looked at the entire domestic box office combined - not just Tenet but everything out right now - and declared "theaters are in a world of hurt."
4. Walmart is gunning for Amazon Prime, just not the streaming video part. Rolling out tomorrow, Walmart Plus will send just about anything in-store to members' doors within a day, if not actually on the same day, with no additional fees. Catch #1: You have to meet a $35 purchase minimum (the same is true for Amazon Fresh deliveries). Catch #2: It's only cheaper than Amazon Prime if you purchase the annual $98 year membership. If you go monthly, it costs the same as Amazon Prime ($12.99 per month for both). Catch #3: Walmart - which once owned the online movie retailer Vudu and had been rumored to be prepping its own streaming service - is for now staying in its lane. Vudu has been offloaded to Fandango, and Walmart is instead focusing on conquering the grocery delivery service before Amazon does. For our purposes, this means we have one less streaming service to worry about, and, frankly, that's a good thing.
5. John Oliver will continue picking fights with world leaders, celebrities, and random small towns through at least 2023. HBO's perennial Emmy-winner Last Week Tonight with John Oliver has been renewed through 2023. Their deal had been set to expire with the current season, which most recently saw the host insist that a small Connecticut town permanently rename a sewage plant after him. Nice, but nothing beats the John Oliver Koala Chlamydia Ward that resulted from his playful feud with Russell Crowe. If such comedy - not to mention the insightful explainer journalism and political commentary also covered in every episode - can ever be topped, Oliver has several more years to find out.
6. Doom Patrol was renewed. For a third season. As an HBOMax exclusive. Combine that with most of DC Universe's other exclusive programming jumping ship to brighter shores in the WarnerMedia streaming ecosystem as well as the cancellation of DCUniverse's daily news shows and we have a streaming service that is likely on borrowed time at this point. No official word yet on a third season for DCUniverse animated original Harley Quinn, though the first two seasons are now on HBOMax and the producers remain optimistic about their chances to explore - SPOILER - what life is like in their little world of the superhero universe now that Harley and Poison Ivy are officially a couple. Like, what does date night look like for them? What happens the first time they run into Kite Man?
Coming Distractions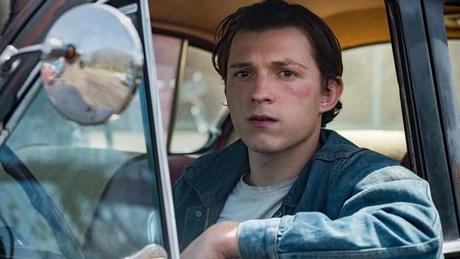 10/15 - Star Trek: Discovery Season 3 - the latest answer to our on-going game of "did they finish filming before the pandemic?" - will hit CBS All Access next month. There's a new trailer. After two full seasons spent chasing Spock's narrative shadow, Discovery is leaving the franchise's past behind and jumping way, way, waaaaayyyy into the future. Out-of-context spoiler: Tilly hugs a tree. Huh. Legit spoilers, on the other hand, abound in this new trailer:
9/16 - Tom Holland drama Devil All the Time premieres on Netflix. Adapted from Donald Ray Pollack's 2011 novel and co-starring Robert Pattinson (please, get well soon) and Riley Keough, the story is apparently "descended straight from Flannery O'Connor via Cormac McCarthy." Here's the trailer:
What I'm Watching Right Now
It's Always Sunny in Philadelphia and Justified - two classic FX shows, taking my time methodically working through both. What about you? Let me know in the comments.