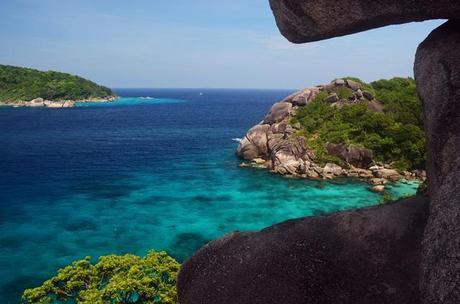 We've checked out of Thailand, and don't know when we'll be back. While we wrap up pre-passage projects on Totem in Malaysia, it feels like the perfect time to reflect on what we loved (and didn't) about the nearly six months we've spent in Thailand between 2013 and 2014.
The landscapes are breathtaking. The Andaman coast is peppered with stunning spots. From the surreal archipelago of limestone spires in Phang Nga bay to the sparkling water of the marine park islands offshore, there's one beautiful anchorage after another. There should probably be a whole separate post of favorite places!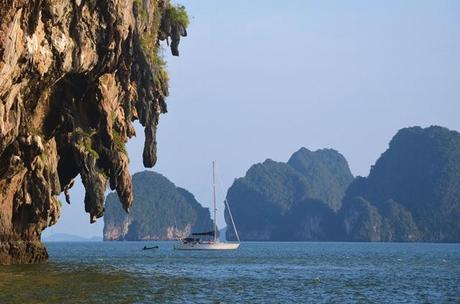 beautiful Phang Nga bay
The food is outrageously good. And it's not just good, it's cheap. For a family like ours on a small budget, we typically pass on restaurant meals ashore. Not in Thailand! Delicious curries and stir fries are $1-2 per person. Finer dining might set you back $10 each. And it's a treat for the senses: delicately nuanced flavors in the artful balance between sweet, salty, spicy and sour, new ingredients and combinations or fragrance and taste to discover- it's all a delight. I'll take this one with us thanks to cooking lessons in Phuket.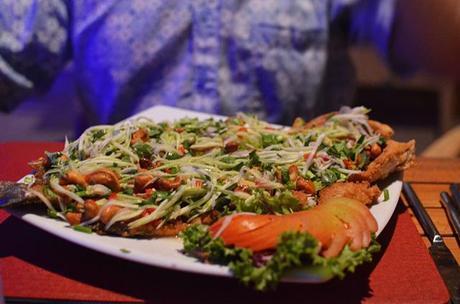 whole fried fish, covered with a green papaya salad and cashews. OMG
It's affordable. Shipping things from overseas isn't (high customs fees are unavoidable – they don't fly with the "yacht in transit" duty exemption), but local prices are good, and local wages are low. So although we had to pay full retail for the parts from Spectra for our watermaker (ouch), the very low labor rates kept the overall servicing of our device far lower than it could have been in many other countries. Treats like a restaurant dinner ando everyday things, like a taxi ride or a ticket to the movies, are relatively inexpensive.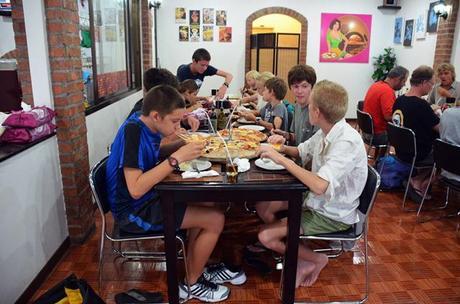 delicious pizza in Chalong, run by a couple of Italian guys. yes please! (note the HUGE table of cruising kids)
We get to indulge in imported goodies. Thanks to the large expat population in Phuket, passing through Thailand has given us better access to familiar foods since we left Australia in 2012. Now, we do love to eat local style, but tastes from home are important too. I went way over budget on cheeses, cured meats, and treat like brussels sprouts or endive or granola from Makro. And I like knowing we'll have enough balsamic vinegar and olive oil to get us to South Africa now.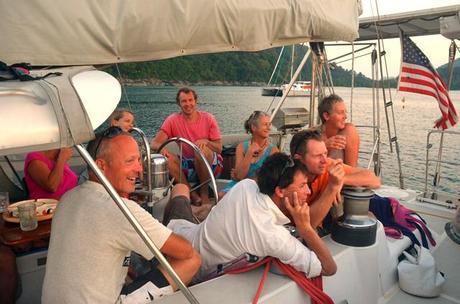 fine camembert at sundowners brought to you by Makro. not sure we saw the green flash but it was fun trying
It's accessible. With relatively inexpensive international flights and a well-greased skid for tourism into Phuket, we've had visitors FOUR times while we were in Phuket. Unprecedented! I miss family so much sometimes, but here, we've had both my brother and his family come for Christmas in 2013, and my cousin and her husband spend part of their honeymoon with us this month. Good friends Dan and Hyo joined us for fun in the sun too. It means so much to us to have special people like this visit. We know it's not easy. And it's pretty fantastic that the relative accessibility of Thailand helps make this possible.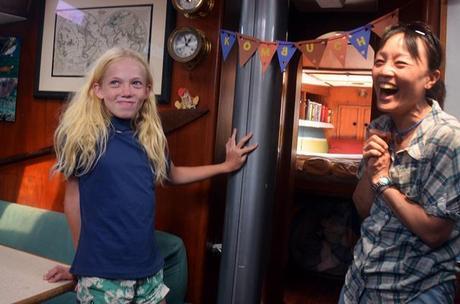 Hyo's here!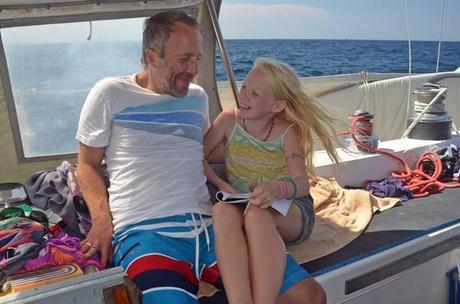 Dan's here!
There's beautiful underwater life to be found. I don't want to overplay it, because mostly it's terrible: the waters here are overfished, and the reefs are not well. But: it was VASTLY better than anything we saw in the rest of 2014 in Malaysia, and there were some stunning spots.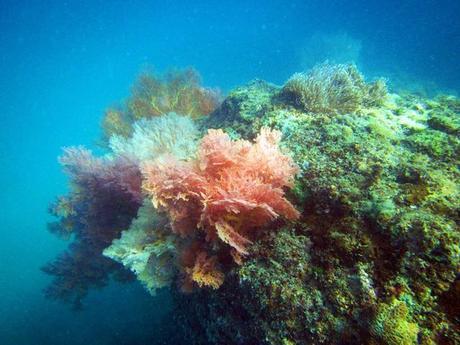 beautiful, and totally unexpected, display of fans at a poitn in Koh Muk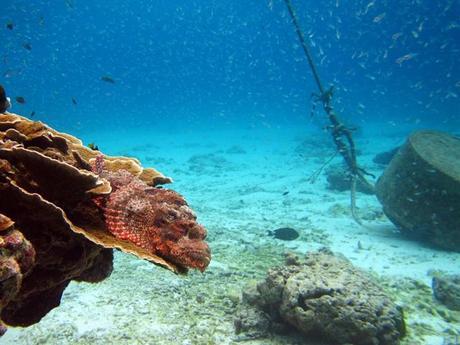 sinister scorpion fish in the Similans
The cruisers! Sure, we love to get off the beaten track. But we like to socialize, too. I mean, we really like to socialize! And since Thailand is a seasonal hub for cruisers, it's easy to cross tracks with cruising friends. With a little advance planning, we had every kid boat in the watery neighborhood hanging out and having fun in Koh Phayam for Christmas. We've made lasting memories with great friends- from Strawberry Monkey Yacht Club hazing initiation at the wayward hippie bar, to long walks and lazy beach days on Koh Phayam, diving in the marine park Islands, crazy nights in Patong, and shoes-optional beach dinners in Chalong.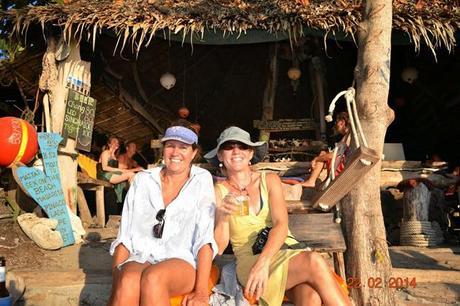 sunset drinks on Koh Lipe with my good friend Cathy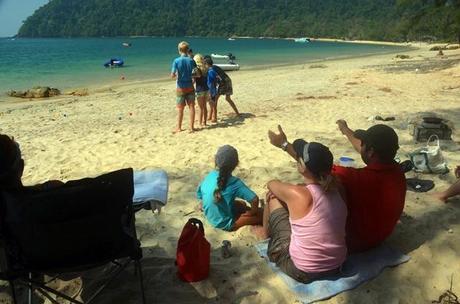 beach games on Koh Phayam with Utopia
There's actually SAILING to be done. Yes, we live on a sailboat. But for more than two years, we've been in often windless in the tropics. There are no trades here, just seasonal monsoons which seem to mostly translate into a) not enough wind to sail in or b) almost enough but it's on the nose or c) whoa, that's a big squall, not sailing again! But here, we've had some epic days where we could turn off the engine and just put away miles listening to water gurgle past the hull. It's a tall glass of water in the desert.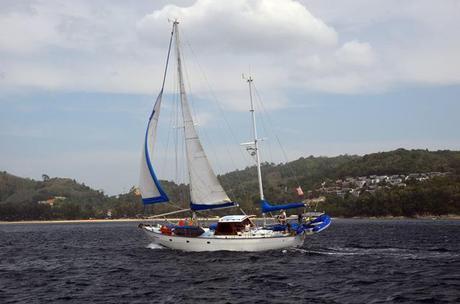 racing, I mean sailing in company, with Kittani en route to Koh Phayam
Why would we ever leave? It's not all roses. Next post: what I really won't miss about Thailand.
Savvy sailors know we love it when you click through to read this on the SAILfeed site- thanks for tossing change in our cruising kitty!