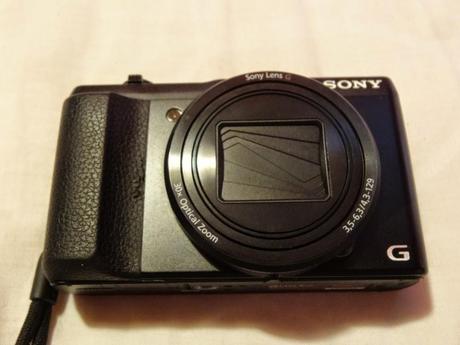 Over the last 10 months on this trip, we've fallen in love with the Sony DSC-HX point and shoot camera series.  The quality of the images, range of options, and amazing zoom in a pocket-sized body have made our cameras a force to be reckoned with.
I say cameras in the plural form, because so far on this trip we've owned two.  During this time both have unfortunately died or been horribly compromised within 6 to 8 months of purchase.  This has made us completely upset that such a beautiful imaging machine could fail so quickly.
So while we have spent over $1,000 in the last year and a half on these cameras, we have to put our foot down and say it:
we can no longer buy any more of Sony's incredible cameras, because as it turns out, they weren't that incredible after all.
A History of Our Cameras
Perhaps we're setting our expectations too high for a camera in the age of planned obsolescence.  After all, most camera companies did cheapen their designs in the last 5 years to make cameras affordable to all by reducing quality and longevity. 
That was the whole reason we bought our Sony cameras in the first place as it finally seemed that a company realized that some customers are actually willing to pay for high quality point and shoots.
But when we look at the history of our cameras, and compare the use we got out of them for the price that was paid, our Sony cameras fall incredibly short.   They are the following:
Nikon P4:
  Purchased in 2006 for about $400, this camera was quite impressive for its age and was the last in the great production of Nikon point and shoots before the emphasis was changed from high quality (but expensive) into cheap and replaceable (and very low quality). 
It died an honorable death after 4 years
of great shots around the world.
Nikon D80:
Two years after purchasing the P4, I wanted to add an SLR to my camera arsenal.  For around $1,100 I bought a kit that included an average grade lens and swapped that (plus ~$100) for two better quality lenses a few months later.  This 8MP SLR is
still working today
, and also my primary camera, making the investment the best out of all of the cameras we've purchased.  Unfortunately SLR technology has made leaps and bounds since this model, and we'll be upgrading shortly.
Olympus 1030 SW
: What this camera lacked in shooting power, it made up for in the fact that it was waterproof to 10 meters.  I purchased this camera refurbished in 2009 for a dive trip for under $300.  One of my favorite features was an ultra macro mode that could take shots just centimeters away from the object which used a built in LED light to brighten the shots.  This camera drowned in Thailand when I, unfortunately, did not properly clean the seal after a previous snorkel session. 
It was 2 years old.
Canon SX120 IS:
  Angie's previous camera was purchased in 2009 after we started dating as a means to upgrade her
very old
point and shoot.  Since it produced great photos and had an unbelievable zoom for its time (~10x), we really had no complaints even though the body was quite large. 
This camera is still working today
; however, we retired it at the end of 2012 because the AA battery source was just too expensive to maintain.
Canon D20
: This camera was a
Christmas
present as a means to replace our last underwater camera mentioned above.  In similar manner, the quality of the images is just alright and was only purchased for its waterproof capabilities (which makes any average camera extraordinary).  It is
still functioning after 1.5 years
with no visible signs of wear.
Sony DSC-HX20V
: Now we get to the Sonys.  Our first of the Sony series is by far my favorite in the list (if not the DSC-HX50V we'll talk about below). 
Purchased in Christmas 2012 for around $400 to replace Angie's old Canon, this camera packed a lot of power and made great images and videos (20x optical zoom, too!).  We hardly used it until we left for our trip in June 2013, and by the end of August the sensor began collecting dust specs left and right- something almost impossible to fix on the road.  We continued using it, editing photos in Lightroom (a $100 purchase we had to make).  By April 2014 most of the buttons no longer worked, either. 
Total life for this camera?  Although it is technically still "working", it lasted a
grand total of 8 months
since purchase, and just 2 months of serious use before image ruining dust spots began to appear.  When you consider the time wasted on editing photos, we've probably lost more than the cost of the camera.
Sony DSC-HX50V
: Since we did not want to spend all our time editing photos in Lightroom, we upgraded to the newest model in this camera series while in Dubai in November 2013 for $450. This camera became Angie's primary, and I used the older model as my backup/special effects workhorse (and edited most of the dust spots since Lightroom was on my computer).  Like the above Sony, the quality of the images is flawless and the 30X optical zoom and 100x digital doesn't hurt either.
Come April 2014, the HX50V camera was dead in the water thanks to a mechanical issue with the focusing mechanism. This is after treating it with the best of care, always keeping it in a case, and never using it in extreme enviroments after the issues we had with the HX20V.  All we can figure is that there was a bad jolt on a bus ride in Chile and then it was game over.
While still under warranty, there is no way we can send it to Dubai for repairs from South America nor get it returned to us even if we managed to ship it out (unless we waited to use it once we got home, which defeats the purpose of having a camera for travel). 
Total life: 6 months.

Sony's Customer Support Didn't Help
Our first reaction was one of terror, having the second of our favorite camera go out on us in just over an 8 month period.  Having spent almost $1,000 on the cameras and corresponding chargers and batteries, this was something that made us sick to our stomachs.
We Tweeted the problem to Sony USA and received no response. With that being a dead end, we emailed Sony Customer Support and filed an insurance claim with our provider as damage via travel
should
be covered.
After 3 email attempts with Sony USA to get information about contacting Sony Middle East, we were left with very few options.  Our first email asked what to do, to which the reply was submit a form questionnaire to Sony Middle East or call them directly.  Since we could not make calls in Bolivia due to poor internet, we tried the form.  It went to an internal 404 page on Sony Middle East's site every time we submitted it (i.e. the page once existed, but does not anymore).
On our second attempt, speaking with the same rep, we were told to try again and if it didn't work to call Sony Middle East. We mentioned in our email that calling was impossible, but that was completely ignored in the reply.  Considering we tried the form about 6 times over multiple days, on different browsers, trying that again didn't work.
Our final attempt was to ask for a direct email, which was denied and we were told to simply call Sony Middle East (again ignoring our hand waving that
we cannot make a call
).
At this point we were beyond upset.  We had no recourse, a $450 camera that could only be used as a paper weight, and a request from our insurance provider to submit a statement from either Sony or a camera repair shop showing either a repair price or that it was unrepairable.
All our original email needed was an internal search on an international directory by the Sony rep we were talking to, a forward, and a note saying the message has been sent on and someone would be contacting us shortly.  Out of all of the international companies I've worked for in the past, every single one had an international directory to find such information, down to individual employees with job titles. I cannot believe that Sony doesn't have this and instead refused to perform a 30 second search to help out.
So now we're stuck with a broken Sony camera, a dust-laden and near broken Sony camera, $1,000 less in our pockets from these purchases, and are awaiting a decision from our insurance on our claim for one of those cameras. 
I look back on it all and am just upset
.  Not that we lost the money, but mostly due to the fact that the two greatest cameras I've ever had have failed so early in their life when every single camera I've ever owned has lasted from four times to over twelve times longer for roughly the same out of pocket price.
So while I want to say the second replacement camera we'll be buying on this trip will be another Sony HX50V, or newer model if available, all I can say is that it will not.  That is a risk we are not going to take based on the track record we have seen.
Unfortunately for us, that means a downgrade
. I thoroughly do not believe that the competitors have caught up on the point and shoot market to the level of Sony just yet.  But if a sub-par camera will last us more than 6 months, I'll take that over any new technological achievement or better image quality Sony has to offer.
Otherwise we may be end up having to buy yet another camera before this trip is finally over.