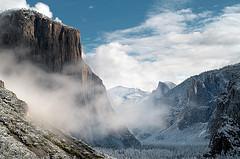 Photo Credit: Randy Le'Moine Photography
The United States has so many well-maintained National Parks, State Parks and miles of coastline that it's one of the world's most popular destinations for walking holidays. Out of all the 50 states, I would say that California is one of the best for this kind of vacation, and Fresno certainly the best city in California for a walker to base him or herself.
Although the park system within the city itself is not highly-regarded, Fresno, in the middle of the San Joaquin Valley, is perfectly positioned for visits to some of the country's best National Parks, including Yosemite, Sequoia and Kings Canyon, as well as the Sierra National Forest.
In fact entrances to all of them are within a 100-mile drive of Fresno so for anyone with a car (as is almost a necessity for holidaymakers not staying in the bigger cities such as New York or San Francisco) they are within very easy reach for either a day's hike, or a camping trip.
Yosemite National Park
Yosemite is unquestionably one of America's greatest parks. Just 60 miles north of Fresno, it covers over 3000 square kilometres of the Sierra Nevada, 95% of which is considered wilderness. Dedicated walkers can cover a lot of that, but nowhere nearly all, in a two-week holiday. Head to the High Country for some of the park's most attractive scenery – the Cathedral mountain range, carved from granite by mighty glaciers, affords breath-taking views and wonderful photo opportunities, while Tuolumne Meadows is staggeringly beautiful, especially at sundown, and the wildflowers all around give off pleasing aromas as you walk the paths. There are several Falls, including Yosemite Falls which is the highest in the country, and valleys, lakes and mountain trails galore. Simply idyllic – I could quite happily spend every holiday in Yosemite.
Sequoia National Park
Sequoia is within a two-hour drive of Fresno, and is about half the size of Yosemite. Named for its trees, the Giant Sequoias you'll pass here tower into the sky. Among them is General Sherman, which is believed to be one of the world's tallest. Sequoia is divided into Front Country and Back Country. Most visitors go to the Front, which has more marked trails than the Back which is predominantly wilderness. The Front Country is great if you take an interest in the wildlife that crosses your path, including bobcats, deer and rattlesnakes, while if you want the more challenging terrain that rewards you with jaw-dropping Alpine vistas, head to the Back. I know where I'd rather be. It's definitely a good idea to camp here a few days as some of the sites are in areas of spectacular beauty.
Kings Canyon National Park
Highway 180 out of Fresno takes you directly to Kings Canyon, one of America's lesser-visited parks which offers you more solitude, although it is considerably smaller than Yosemite and Sequoia. Points of specific interest here include the General Grant Sequoia tree, which is reckoned to be the third-largest in the world, and a well-developed cave system you can explore.
Sierra National Forest
Far larger than any of the parks, Sierra National Forest cover an amazing 5,000 square kilometres. You could holiday here every year and still not see all it has to offer. Personal favourites for me are the Fresno Dome, which is a not too challenging trail up a granite peak, which gives great views, and has a campground nearby where you won't struggle to get a spot. Also the Lake of the Lone Indian, although quite small, has a winsome name that always appeals to me, and it's a pleasant walk around
Hike, bike or climb California's incredible natural landscapes through a tour from Grand American Adventures and you'll be stunned by how much there is to enjoy. And if you can find a more convenient base than Fresno I'll be surprised.
Come rain or shine, most years you'll find Rob hiking the trails in one of America's national parks