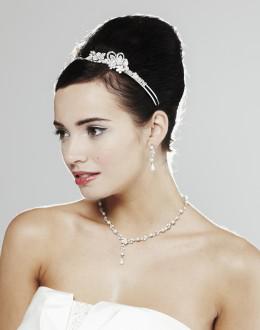 AURELIA FRESHWATER PEARL SIDE TIARA BY IVORY & CO
I may be biased but I think the trend for vintage when it comes to weddings is one of the best there has ever been; there's nothing I love seeing more than a blushing bride clad head-to-toe a vintage bridal outfit.
Plenty of brides-to-be seem to agree with me too, judging by the amount of interest vintage weddings seem to drum up on the internet (just search 'vintage wedding blogs' for a taste of what's on offer). It's fantastic that so many women are taking the time to explore vintage fashion and incorporating some truly beautiful styles into their wedding.
However, one of the big issues I think the vintage wedding 'craze' has caused is women seeing a vintage wedding as an 'alternative' to a traditional wedding, or seeing the 'vintage theme' as an all-encompassing trait of their wedding rather than something complementary.
The result of this, I've found, is people sometimes planning weddings they aren't entirely comfortable with in order to stay 'true' to a certain era. And while I do love a good 20s-themed wedding, the fact is that very few people will love absolutely everything about a certain era!
With 'vintage' seeming like such a defining characteristic wedding, I think a lot of women have been put off even shopping for vintage wedding accessories. This is unfortunate, as a good tiara or vintage wedding shoes can transform even the plainest of dresses into a jaw-droppingly beautiful piece.
The truth is you don't need to fully 'dedicate' yourself to a particular era of vintage in order to look gorgeous in vintage accessories. Just about any bride can look amazing with the right accessories, regardless of whether they were inspired by Audrey Hepburn or Victoria Beckham!
The Vintage Twist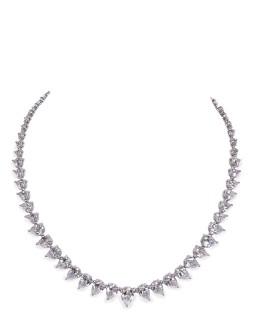 MANHATTAN NECKLACE BY IVORY& CO
Quite a few vintage wedding accessory style guides focus on matching accessories to a certain era or presume that your wedding dress will also be vintage – I know I've been guilty of both in the past!
That doesn't necessarily mean you can't add some glamorous accessories to a modern dress however – in fact, I think most modern dresses can benefit from a bit of a vintage twist!
To achieve the ultimate vintage twist, choose a single statement vintage accessory – I think vintage wedding necklaces or headpieces are particularly good for making a statement – and add it to your bridal outfit.
The beauty of this is that you aren't tied down to a particular era or style, so the world of vintage accessories is your oyster! Base your decision on personal preference and make sure the accessory complements the rest of your dress.
Mix And Match
When it comes to vintage dresses or accessories, quite a few brides seem to take the 'go hard or go home' approach; that is, either everything is vintage or nothing is at all!
But when you look beyond the fact that accessories such as the ones we offer at Queens and Bowl were inspired by times gone by, you're left with gorgeous wedding accessories that are suitable for just about any bridge.
If you're not necessarily planning a vintage wedding but see an accessory you like, don't feel like you need to alter your wedding to accommodate it. Instead, mix and match. So long as it complements your overall look, then there's nothing wrong with mixing modern and vintage fashion!
I love vintage fashion, and I hope the trend continues for years to come. But I also hope that the term 'vintage' stops being so daunting and all-encompassing – after all when it comes down to it, a gorgeous accessory is a gorgeous accessory whether vintage or not.