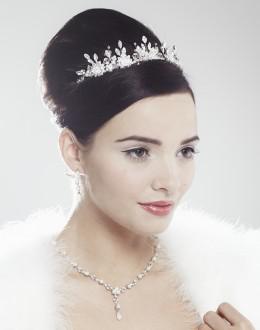 Let's be honest girls; a good wedding dress is nothing without gorgeous accessories. Most ladies have jewelry boxes overflowing with beautiful necklaces and bracelets and as such, choosing these kinds of items and knowing how to style them for your big day isn't too much of a stretch.
One aspect of accessorising for weddings that some women aren't so confident however about is hair accessories. A lot of us don't wear hair accessories that often and especially not the kind of elaborate designs demanded by a bridal outfit. Buying vintage wedding hair accessories – be that a tiara, a hairband, a comb or a fascinator – can be quite daunting but I'm on hand to help! Here's a guide on how to style some of the hair accessories that we stock here at Queens and Bowl; hopefully it'll help you decide which is right for you.
Wedding Tiaras
Tiaras are a timeless wedding classic that can turn any old dress into one fit for a princess. There are two main styles of tiara; the regular tiara which sits on top of the head (the princess style) or a side tiara, which offers a more vintage '20s look.
Wedding tiaras are best suited to women opting for an updo hairstyle, as the piece will support your hairstyle and complements it rather than overwhelms it. Side tiaras are more suited to simpler vintage-style updos, whereas standard tiaras work well with even the most elaborate of updos!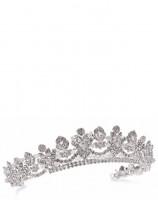 A tiara can either act as a complement to your bridal outfit or as the main statement piece – it's entirely up to you! If you're wearing a statement necklace, however, then it's probably best to avoid anything too outlandish. A good example of an understated piece is this Waterlilly Pearl Tiara by Ivory and Co, whereas this Alexandra Bridal Tiara, also by Ivory and Co, is a real standout accessory!
Wedding Hairbands
Every girl is bound to have owned at least one hairband growing up, but probably not one as glamorous as the pieces created by some of our designers! Wedding hairbands aren't dissimilar to side tiaras and can add that same vintage vibe to any bridal outfit.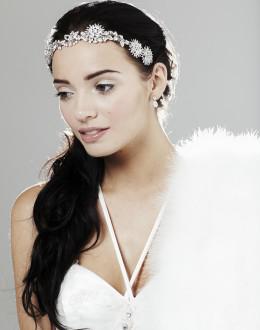 Hairbands can generally be divided into two styles; those which sit on top of your head, and those which go across the forehead. Hairbands that sit on top of the head go well with just about any hairstyle, although they look particularly good with an updo or soft wavy curls. A band which goes across the forehead provides a bit more of a bohemian look and should be styled as such with gorgeous flowing curly locks to accompany it.
Again, a hairband can be as outlandish or understated as you wish. For a statement look, opt for a band with an elaborate jewelled decoration like this Juliet band by Ivory and Co, which features an intricate floral pattern decorated with Austrian crystals and pearls. If you want a more bohemian understated look, this Laurenza headpiece by Halo and Co should do the trick.
Birdcage Veils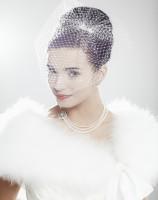 If you want to make a statement with your hair accessories, but don't want to overwhelm the other jewelry in your outfit than a birdcage veil offers the perfect compromise! Effortlessly classy, birdcage veils make for a simple flourish that is bound to wow your guests.
I'd recommend wearing a birdcage veil with a simple updo as the veil makes enough of a statement on its own! You don't want to overpower the piece with an overly-elaborate hairstyle so keep things nice and simple for that perfect vintage look.
Birdcage veils can either cover the entire face or simply a portion of it; which you choose is again down to personal preference.
Wedding Combs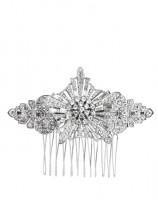 And finally, the classic hair comb! The beauty of the hair comb lies in the fact it can provide as much of a statement as the other pieces in this guide without taking up nearly as much space on your head. They're also incredibly versatile, working with just about any hairstyle!
Hair combs tend to be statement pieces rather than an understated complement, so the more jewels and sparkles you can get on one, the better! Take a look at some of the vintage bridal combs we have on offer for an example of the beautiful pieces being created by designers.
Vintage hair accessories can add an extra dose of glitz and glamour to just about any bridal outfit and hope this guide has inspired you to take a look at some for your own big day. Remember that we're always here to help should you need it, so get in touch. You can view my Showcase page here.
Kate x