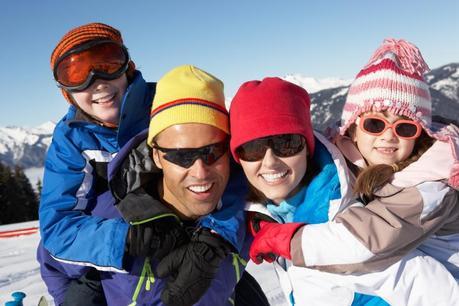 Winter is nearly here, and with it comes the dusting off of skis, un-burying of hoarded toboggans, and layering up with woollies. Heating gets turned on, salads give way to stews, and holiday makers ditch the beaches for the slopes. Traditionally, ski holidays aim for certain favorite destinations; the French Alps, Switzerland, Whistler in Canada and so on. But family adventurers have discovered that there are a few less well known European destinations that have all that snow to offer and more. Take Slovakia for example.
The slopes of Slovakia have long been a skier's paradise, but the Slovakian people have jealously guarded their wintery wonderland. Now that the rest of the World has cottoned on though, winter times have given family holidays abroad another fascinating destination to discover. And one of the reasons it's so popular is because it caters well for everyone. Novice or expert, old or young, there are slopes and runs here to suit every age and experience level.
Located in Eastern Europe, Slovakia is a relatively small country that borders the Ukraine, Poland and three others. It's a fast growing economy, in technology and tourism, and although it doesn't have the beaches that attract holiday makers to most of its neighbours, the mountain ranges offer plenty of activities of their own to enjoy.  The medieval towns are delightful attractions, and it can feel like stepping back in time a little. Ornate buildings and cobbled streets are commonplace here if you travel through the countryside and villages, but if its technology and modernity you're after, then the major cities like Bratislava are every bit as modern and progressive as you'll find across Western Europe as well. High glass fronted buildings and modern transportation provide a very familiar feel tourists.
But it's not Bratlislava you're here to visit. Certainly not if you want to get a feel for the true essence of Slovakia. Seek out its famous Tatra Mountains, where climbing and hiking offer exciting alternatives to hurtling down their slopes with two planks of fibreglass strapped to your feet. The Chimneysweep Peak in the western Tatras is one such delight, where the lengthy travserse over a high level, craggy ridge, adds an element of excitement to any climb. The Orava River, which runs through one of the many picturesque valleys on the floor below, gives families the opportunity to enjoy a spot of somewhat exhausting river rafting – or kayaking for the slight more experienced – and when the energy is depleted there are a few handy cable cars to help get you back up the slopes again.
Where Slovakia becomes much more appealing to families than most other popular destinations, is in the cost. Still a developing eastern European country by some standards, it's neither expensive to get to, nor expensive to stay in. Many of these winter holidays take place in alpine lodges where a three course meal still costs less than £10 per person – and the outstanding views are free. Cheap flights from most major European cities make travel to this part of the world relatively easy to manage as well, and if you travel with a tour company, that cost can lower even further still.
For families, a major concern is often whether there will be enough to amuse the kids. And let's face it, bored children doesn't bode well for a happy, healthy holiday, does it? Well this is one concern that doesn't need to be raised here. The opportunities for fun and adventure are plentiful, and with its popularity on the rise, you're bound to run into other families who've chosen the delights of Slovakia for their family holidays abroad as well.
Byline: Fiona Galloway is a travel writer who writes about family holidays abroad.
Related posts brought to you by Yet Another Related Posts Plugin.