A decent "Layering System" – that phrase often used by ski and outdoor brands – is your best defence against the current season's climate, but what does that actually mean? Wearing layers on a cold day is a no-brainer, no-one needs to be told to pull on a jumper and coat before heading outside. So why do we need a layering system?
While your instinct may be to reach for your thickest sweater to counter the winter chill, bulky clothes lead to restricted mobility and overheating during physical activity – not ideal for a day on the piste. The goal is to overlay thinner garments that each perform a function, whether that's moisture wicking, wind blocking or waterproofing. Most importantly, lots of thin layers are often lighter and warmer than a single chunky layer, providing optimal thermal insulation without the weight or bulk.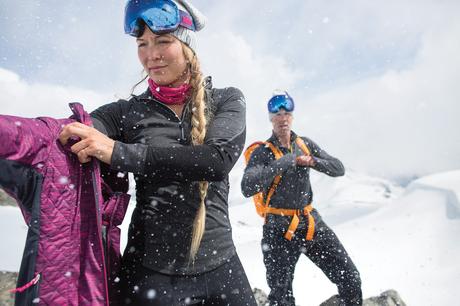 Just as any seasoned hiker will lecture about the benefits of a quality walking sock, skiers and snowboarders should know the importance of a good base layer as the foundations of their skiwear. The ideal base layer will balance warmth with breathability and moisture management – basically drawing moisture away from the skin so it can evaporate, keeping the wearer both cool and dry. Base layers range from lightweight to heavyweight, with heavyweight garments being warmer and more suited to colder conditions (or beginners who may find they're moving around less).
Most base layers are usually made with either synthetic fabrics (polyester, nylon, spandex, etc.), Merino wool (traditional wool is often too itchy) or a blend of both. There are different pros and cons to each, depending on personal preference and the activity you will be doing while wearing them, and as ever, cost can often be a deciding factor. The table below compares the key features of both:
Merino vs Synthetic
Merino Synthetic

Merino wool has a high warmth to weight ratio, offering great lightweight insulation even when wet. Synthetic fabrics are not as warm as merino wool and are less effective when wet.

Merino wool naturally wicks moisture away from the skin but is not as high wicking as synthetic fabrics. Synthetic fabrics such as polyester can be very effective at wicking away moisture.

Merino wool (unlike traditional wool which can be itchy to wear) feels very soft against the skin and is naturally breathable. Synthetic fabrics are not as breathable as wool but tend to be more durable and are a great choice for anyone with sensitive skin who reacts badly to woolen products.

Merino wool is naturally antibacterial, preventing odour creating bacteria from forming.

This means you can wear the same baselayer again and again without washing it and still smell fresh as a daisy.

Synthetic fabrics are not antibacterial however some are made using odour preventing technologies, some of which are 'built in' to the fabric are won't wash out (look out for names like Polygiene).

Merino wool may require more careful washing and drying than synthetic fabric. Synthetic fabrics are machine washable and do not requires as much care.

Merino wool comes from Merino sheep, often sourced from Australia and New Zealand, and Simply Hike only stocks merino wool products from brands with high ethical standards.

This is reflected in the price of garments, meaning that merino wool is usually more expensive than synthetics.

Synthetic fabrics are easier and cheaper to produce, making synthetic baselayers an ideal choice for skiers with a more limited budget.

Now you know why a base layer is important and which type could be right for you, here are a few of our favourites;

Ideal for beginners and occasional skiers:

Budget Option – Mens Insulate Base Layer Set

- Womens Insulate Base Layer Set

Premium Option – Mens Everyday Long Sleeve Crewe Base Layer

- Womens Everyday Long Sleeve Crewe

Ideal for frequent skiers:

Womens Vertex LS Half Zip Base Layer

Mens Oasis LS Half Zip Base Layer

Ideal for relaxing back at the chalet:

Womens Fleecewear Leggings

Mens Oasis LS Turtle Neck

If you're still looking for a few more options then you can check out our full range of men's base layers, and women's base layers over on our website.




Back to Featured Articles on

About the author

Simplypiste 249 shares View profile
View Blog