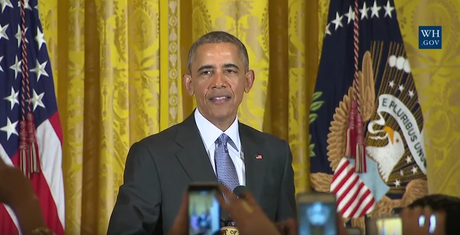 Obama giving his Women History Month speech.
President Obama could have discussed any number of pressing issues during his recent speech given in honor of Women's History Month. A significant portion of his speech, however, was devoted to an issue about which feminists have been speaking out for years, but which is frequently dismissed by those in power: online harassment.
Feminist bloggers, women sports reporters, and others are "speaking out bravely about their experiences, even when they know they'll be attacked for it," Obama said on Wednesday. "And by telling their stories, by you telling your stories, women are lifting others out of the shadows and raising our collective consciousness about a problem that affects all of us."
The numbers back Obama up. According to a recent Pew study, 25% of young women online have been sexually harassed and 26% have experienced stalking on the Internet. Another study found that 70% of the people who reported severe online harassment between 2000 and 2013 were women.
Activists have identified a number of reasons why online harassment persists. Many women have found that there are few options for recourse after experiencing harassment. For example, when Emily May, co-founder and executive director of Hollaback! and founder of the new anti-harassment platform HeartMob, tried to report online harassment to the police, she found they didn't take most threats seriously and would "only take action if somebody says, 'I'm going to rape you at this time and in this way,'" she told Mic. Officials also frequently fail to act due to a common misconception that "online harassment isn't 'real' because it happens on the Internet" media technologist Deanna Zandt confirmed.
Another major reason is the fact that social media companies were predominately created by and employ white men, who, because they don't experience online harassment in the same way or frequency as women, don't take complaints of harassment seriously and fail to restrict or punish abusive users of their platform. Twitter, for example, reported that its company is 70% is male and 59% are white and that 79% of its employees in leadership positions and 90% of employees in tech-based roles are male. Twitter is also the same platform that countless activists have asked to better address harassment perpetuated there.
But the biggest reason online harassment likely persists is also the hardest to address: historically ingrained cultural misogyny. Perhaps the most important part of Obama's comments on online harassment, therefore, was his choice to not only identify harassment as a problem in and of itself, but further explain that the phenomenon is also a symptom of a bigger societal illness.
"This is not unique to the Internet," Obama explained. "Women have been up against this kind of nonsense since the beginning of time. As long as women have dared to enter the public space — whether they're fighting for their rights or simply walking the streets, there have been times where they've been harassed by those who apparently see the mere presence of women as a threat."
This public space now extends to the Internet, Obama continued, and online harassment should therefore be taken as seriously as any other form of harassment that infringes on women's basic human rights.
"The Internet is not something separate from our lives, it is completely interwoven in our lives," the President said. "It's how we connect with one another, where we get our information, how we create and break new ground and where people work and make their livelihoods … The Internet is a public space where women have every right to exist freely and safely and without fear."
Obama's decision to speak out about this issue and identify it as a serious problem as a major world leader was itself a huge service. But his willingness to unpack why it's a massive problem that deserves to be at the top of anti-sexist agendas is crucial. Hopefully, his remarks will bolster the work of activists like Soraya Chemaly, Emily May, and many others and ultimately allow women, as Obama himself put it, to safely connect, create and break new ground.