(View my how to and why journal page)
Sometimes we wonder what is the difference between loving a person, and loving them unconditionally. Love is a feeling, it means we care about a person we feel strongly about that person, we like them. Loving unconditionally means you love with out any conditions. The difference? Most of us love our families and really close friends unconditionally. Not that these people in our lives never hurt us, or we will let them walk all over us, but when a family member or friend does something that hurts us we find a way to forgive them and move on. Our families are not perfect and there is going to be characteristics about them that we do not like, agree with or even understand. Despite the fact that we do not always agree with them, we accept them. We love them for who they are, not what they do. Most of the time when we first start a relationship and "fall in love", we are really only falling in love with certain aspects of them. We love the way they look, we love the way they kiss or we love the way they make us laugh. As a relationship grows and you learn more and more about each other, you will then find faults or things that you do not like about that person. In order to keep the relationship growing then you will have to accept the things about that person that you do not like. Like I said, you do not have to agree with those things, or even like those things, but you have to accept them. Unconditional love also does not expect anything in return. So if you need the person you love to love you back, then you do not love them unconditionally. I know that sounds crazy but it is true. This is very helpful when trying to figure out if you are still in love with an ex. Do you still love them even though they do not love you, or at least not showing you that they love you? If yes, then you love that person unconditionally, if no then you might just want to move on. 
This is a verse from the bible that I love. I believe it explains unconditional love perfectly!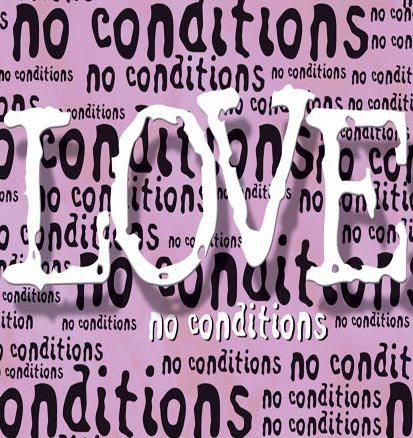 1 Corinthians 13 
 New International Version 1984 
 1If I speak in the tonguesa of men and of angels, but have not love, I am only a resounding gong or a clanging cymbal. 2If I have the gift of prophecy and can fathom all mysteries and all knowledge, and if I have a faith that can move mountains, but have not love, I am nothing. 3If I give all I possess to the poor and surrender my body to the flames,b but have not love, I gain nothing. 4Love is patient, love is kind. It does not envy, it does not boast, it is not proud. 5It is not rude, it is not self-seeking, it is not easily angered, it keeps no record of wrongs. 6Love does not delight in evil but rejoices with the truth. 7It always protects, always trusts, always hopes, always perseveres. 8Love never fails. But where there are prophecies, they will cease; where there are tongues, they will be stilled; where there is knowledge, it will pass away. 9For we know in part and we prophesy in part, 10but when perfection comes, the imperfect disappears. 11When I was a child, I talked like a child, I thought like a child, I reasoned like a child. When I became a man, I put childish ways behind me. 12Now we see but a poor reflection as in a mirror; then we shall see face to face. Now I know in part; then I shall know fully, even as I am fully known. 13And now these three remain: faith, hope and love. But the greatest of these is love.
So the fact of the matter is, that we can have feeling for another, care for another, but unconditional love requires totally accepting another person for who they are. That kind of love is wonderful, to give and to receive!
Shop my store for a new journal!