And so it begins.  That inevitable moment when China overtakes the United States/Canada (generally referred to as the domestic market) as the leading market for film just got a little bit closer.  Michael Bay's Transformers: Age of Extinction, which looks like the box office king of the summer, is actually making more money in China than it is in North America.  It has scored $134.5 million in its first 5 days in China, overtaking its 5-day North American total of $120.9 million.
Most big movies now make more from the international market than they do here in the states, but that's always a crap-ton of countries combining their box office might to overshadow the US and Canada.  This is different; this is individual market vs. individual market.  Sure, recent movies which have been domestic box office disappointments at home have been bigger hits in China:
Pacific Rim ($101 million domestic/$111 million China)
Escape Plan ($25 million domestic/$41 million China)
Need for Speed ($43 million domestic/$66 million China)
But Age of Extinction is most definitely not a domestic disappointment.  Not at the box office at least.  Even if Paramount did massage the numbers to get to that supposed $100 million opening weekend, they still likely had the biggest opening weekend of 2014, and based upon the so-so early returns for its chief competition this weekend, Tammy, Age of Extinction is posed for another huge box office haul.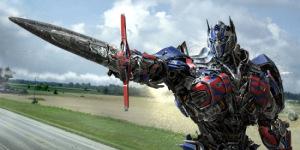 Help me out here – has Optimus Prime always had a sword? Or is that an attempt to appeal more to Asian markets?
Yet it is making more in China than it is here.  This comes despite Michael Bay suffering through two different extortion attempts on the Hong Kong set of Age of Extinction, one of those attempts escalating to full-on physical assault.  Despite Beijing Pengu Investment waiting until the eve of the film's premiere to orchestrate a public shake-down, forcing Bay and Paramount to cave to their demands at threat of having the Chinese premiere delayed.  Despite a tourism company now threatening a multi-million dollar lawsuit because the landmark – the Three Natural Bridges scenic location in Wulong, near Chongqin – it allowed to be featured in the film wasn't identified specifically in either the body of the film or in the closing credits.
None of that matters when Transformers only needed four days at the end of June to become the highest grossing imported film in China for the entire first half of 2014.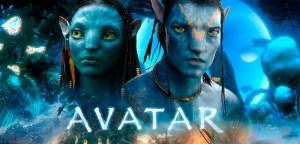 At this rate, Age of Extinction is well on its way to surpassing Avatar's $217.7 million to become China's highest grossing film of all time.
It has been aided greatly by China Movie Media Group (CMMG), which until very recently was part of the state-controlled China Movie Media Group.  According to THR, CMMG's marketing for Age of Extinction has included "outdoor advertising, new media promotion and road shows."  They also organized the world premiere in Beijing, and "signed up China's top 10 cinema chains and the TencentWechat online ticketing platform to jointly promote the movie. CMMG owns the advertising channel of more than 4,000 movie screens for preshow ads all over China, covering 70 percent of the China box office in over 100 major cities."  Basically, China is currently going through something we at home know very well – the all-out media blitz resulting in you being unable to escape the dang movie they're shoving down your throat.
This is on top of the reality show in the country in which four young Chinese actors were chosen to star in the film, the stunt casting of Chinese film stars like Li Bingbing and Hang Gen, and various promotional appearances by Mark Wahlberg and the film's other stars.  Paramount is not the first to cater to the Chinese market as it has with Transformers, coming after Iron Man 3, Pacific Rim, Days of Future Past, and Wolverine clearly made casting/setting decisions with an eye toward the Asian markets.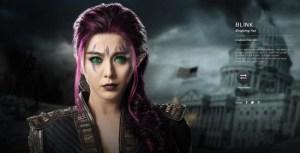 We'll usually cast your Chinese stars but fail to give them any lines, as with Blink in Days of Future Past
However, Paramount is the first to jump so completely in bed with China.  Like the first dalliance between two nascent lovers, it didn't start out smoothly – those extortion attempts were like poorly executed foreplay – and it's a reminder to Hollywood that when you go to the table with China they hold all the cards.  However, it's a testament to how much you can accomplish at the country's box office if you partner with the likes of CMMG.
This comes after a Nomura analyst Anthony DiClemente raised his stock forecasts for Disney, Fox, and Time Warner based on their upcoming release schedules being stocked to the brim with the type of films overseas audiences have been eating up: sequels, superheros, and animated films.  DiClemente projects international box office receipts to grow an average of 5.5% a year to $57.6B in 2022.
There are those who call bullshit on his forecasts because in actuality box office receipts make up a small part of many of these business conglomerates' bottom lines, e.g., studio receipts account for (on the high end) 24% of Time Warner and (on the low end) 8% of Disney's cash flow.  However, he's not wrong: international audiences love sequels, big budget blockbusters, preferrably with superheroes, and animated films.  According to Deadline, "Sequels accounted for 76 of the 107 top grossing films in the 10 largest markets over the last 12 years."
DiClemente further pointed out that average ticket prices in foreign countries are ridiculously lower than in the U.S., but are likely to go up.   Plus, these countries continue to add new theaters every day, yet still trail the U.S.,  "There are 0.13 screens per 10,000 people in the high-growth BRIC countries — Brazil, Russia, India, and China — vs 1.26 in the U.S."
So, they will keep adding more theaters, ticket prices will gradually go up, and situations like Age of Extinction being a bigger hit in China than in the U.S. may become more and more common.  As Deadline concluded, "No wonder the big studios have several franchise and superhero films teed up through 2015: Disney has seven (including Star Wars: Episode VII), Fox has 12 (it will distribute DreamWorks Animation's Kung Fu Panda 3), and Time Warner has eight (including The Hobbit: Battle Of the Five Armies)."
Sources: THR, Deadline