If you are not interested in The Sims details and such, this post is probably not for you! Unless you want to witness me go bat shit crazy of course.
I've mentioned a couple of times on here that I like to play The Sims occasionally, and when I say occasionally, I mean a lot. I didn't really buy into The Sims 3 as I already had quite a few of The Sims 2 expansions and I didn't want to invest more money in the game. I knew that if I bought the base game I'd end up buying expansion packs and things would get expensive.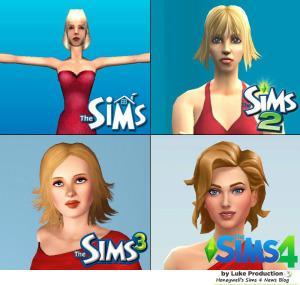 After a couple of years however I went ahead and bought a preowned Sims 3 just out of curiosity, and while there was some features I didn't like, you can't really beat the Create A Sim. I was very restrained and didn't buy into the expansions, but that's mainly because I knew Sims 4 was imminent. After watching videos and reading articles online that told you all about how advanced the new Create A Sim was going to be and all the new building features I got really excited and I've been counting down until it's finally released. I knew it was going to be quite pricey but, again, I vowed not to delve into expansion packs.
And then about a month ago, more information came my way. It's safe to say I'm now questioning buying Sims 4. What a load of crap. I was a bit miffed when I found out there was only 5 houses in each neighbourhood and that the whole land was flat (no hills, holes or ponds), and then I saw the following list of things that have been cut:
MAJOR MISSING FEATURES THAT WERE IN TS3:
No create a style (CAST) – NOT possible in future expansions
No modifications to world/public spaces – The park in the demo is a mix of a community lot and public space
No "normal" careers – Law enforcement, Medical, Business, etc. were removed
No open world – You must incur a loading screen between each active lot; each neighborhood has 1-5 lots total
No pools
No terrain tools other than paint; everything is perfectly flat
No story progression – Sims in the neighborhood age, but do not have children, get jobs, move, get married…etc. without player intervention
No toddlers
No way to create/place new lots – And you only have 2 empty ones at the start of the game!
No Mac version of the game at release
MAJOR CRIPPLED/LIMITED FEATURES THAT WERE IN TS3:
All buildings on a lot must have the same foundation. No mixing for sheds, garages, etc.
Babies are mere objects – All interactions are through basinet. There are no baby objects. Babies can only be lifted directly above basinet.
Backgrounds are illusions – The buildings in the background are not playable in the game.
Completely FLAT lots – The entire build-able world is completely flat
Fewer floors/levels, limited to three
SIGNIFICANTLY smaller "worlds" of <25 lots compared to 125+ lots in TS3
Smaller lots – Lots are limited to 50×50 instead of 64×64
Loading screens for individual lots
The map is a one-dimensional picture
Teens are same height as adults and they, along with elders, all look nearly identical
OTHER MISSING GAMEPLAY ELEMENTS FROM TS1-TS3:
No acne
No aliens
No animated hair
No aspiration failures
No babysitters
No bartender (as NPC)
No basements
No bookstores
No burglars
No cars (not even as décor)
No cemeteries
No cutscenes
No cleaning skill
No color wheel, predefined to ~20 colors
No comfort need
No curfew
No customization of multi-tone hair color (users select only main color)
No dreams
No environment need
No favorites (food, color, music)
No fears
No full face make-up
No garage doors
No move object cheat
No newspapers
No opacity slider for makeup
No party invitations from other Sims
No private school
No rabbit holes at all – Sims move offscreen for work and school. There are no hospitals, work/school buildings…etc.
No repairman
No repo man
No restaurants
No skin slider 
No swimming/swimwear – Including lakes, fountains, etc.
No tragic clown or social bunny
No way to watch a Sim commute to work/school
No website for browsing exchange or store (in-game only)
No zodiac signs
MISSING OBJECTS FROM TS1, TS2 OR TS3 BASE GAMES:
No bikes
No changing tables
No cribs
No dishwashers
No highchairs
No hot tubs
No pool tables
No trash compactors
MISC CRIPPLED GAME FEATURES:
32-bit executable – TS4 is not 64-bit, and cannot access more than 4GB of RAM. If you have more than 4GB then you are crippled.
Fewer traits in CAS (more traits must be unlocked/earned in-game)
Incompatible Simpoint currency – Sims 3 Store Simpoints do not work with TS4
LIKELY TRUE YET STILL UNCONFIRMED: 
No cashiers
No Create a World
No exterminator
No swings
Premium Membership is REQUIRED to get certain sets on release day or at all
No inheritance
No interests
No magazines
No pinball machines
No way to water flower beds/bushes
No family trees
I found the lists here and I highlighted the ones that bother me most in bold.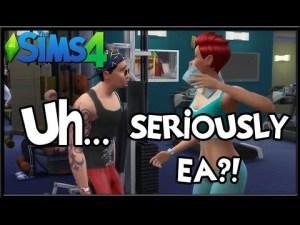 IT'S NOT EVEN THE SIMS ANYMORE. No toddlers?! No pools?! There's so many restrictions and good features cut! I'm so disappointed. They said that there was no way that they could include all these features because of new systems and stuff they've used but this is 2014 – how is that possible?! And how is seasons and pets not included in a base game at the point! I know every company is out to make money, but this is going too far.
The Sims has been absolutely butchered. I'll probably buy into Sims 3 now and get a few of the expansion packs. Is Sims 4 really worth the money when all I want is CAS? I've been playing Sims since I was 11 years old. I can't even begin to tell you how truly let down I am.