I can't get enough of Thomas Sabo jewellery and love how unique the styles are – I'm always looking to see the Thomas Sabo items that celebrities are wearing at the moment and I've got to say, Tulisa and Dannii Minogue choose some really nice pieces.
I'm a bit obsessed with the brand, it's my guilty pleasure and I can't seem to be able to walk past my local jewellery shop without going in to have a cheeky look at the Thomas Sabo range. I'm forever on the lookout for my next purchase … my family think I need help with my obsession! I have friends that are just about as mad about the brand as I am – the only jewellery I have that isn't Thomas Sabo is my wedding ring and engagement ring (but of course if anybody is kind enough to purchase me anything else lovely and shiny, I will not complain!).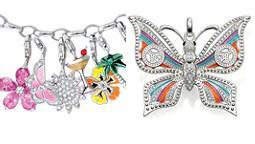 I started off my Thomas Sabo bracelet about half a year ago and have been filling it up with gorgeous charms ever since – I've got 9 charms on it at the moment including hearts, angel wings, a flip flop and a music note. I like to think that the charms represent a bit about my personality (especially when it comes to the angel wings!). This year, my little girl gave me a star charm to put on my bracelet on Mother's day which was a lovely surprise.
I decided to treat my daughter to a Thomas Sabo for her fourth birthday and her grandmother bought her a charm to go on it… although I admit it's a bit ridiculous for a four year old to have expensive jewellery, it really is gorgeous and it's something that she can keep for when she is older (we reckon she's going to take after me and be a bit of a jewellery fanatic!).
Selena Hamsley is a new blogger with a keen interest in anything jewellery or fashion related. The products reviewed here are from xen jewellery.