If you were to wake up tomorrow and discover that your spouse or a sibling or one of your kids had been replaced by somebody else who may at best bear only a passing physical resemblance you'd be pretty freaked out, right?  Perhaps you'd think you were dealing with some sort of pod people situation except these outer-space aliens replacing humans in a take-over-the-world scheme really suck at making copies.  To make it worse, though, what if that happened, and you were the only one who noticed?  You'd feel like the only sane person in the world.
So, why then are we totally okay with that on TV shows?  People get recast and effectively replaced on shows all the time, and very rarely does anyone acknowledge the change.  The practical realities of the day-to-day operations of a TV show sometimes demand that such changes be made.  Maybe the actor just isn't good enough.  Maybe they can no longer physical play the part or merely don't want to.  Maybe their unavailable due to competing commitments.  You either create a very similar but entirely new character, like Valerie Malone (Tiffani Amber-Thiessen) becoming the new Brenda Walsh (Shannon Doherty) on Beverly Hills 90210.  Or you go the path of least resistance and just re-cast the role and hope nobody notices or maybe notices but doesn't care.
What are some of the most prominent examples?  And how did it turn out for each show?
1)  The Adventures of Superman (ABC, 1952-1958)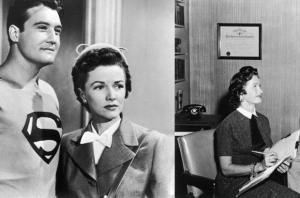 Role: Lois Lane
Old Actor: Phyllis Coates (Season 1)
New Actor: Noel Neill (Seasons 2-6)
Phyllis Coates played Lois Lane as a strong-willed, tenacious reporter who was not about to get all weak in the knees around Superman.  She even received twin-billing alongside George Reeve as Superman.  At the conclusion of the first season, the producers suspended production to search for a new national sponsor since they were a syndicated show.  There was no guarantee the show would ever return so Coates took a role in a TV pilot which made her unavailable when production resumed.  She was replaced by Noel Neill, who had actually played Lois twice before in movie serials alongside Kyrk Alyn as Superman in 1948 and 1950.  Neill's Lois wasn't quite as tenacious, but no one seemed too bothered by the change.  Oddly enough, Neill would later cameo as Lois' mom in the 1978 Superman film, and Coates succeeded her in playing Lois' mother in an episode of Lois & Clark: The New Adventures of Superman.
2)  Bewitched (ABC, 1964-1972)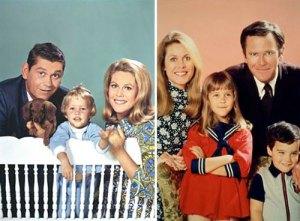 Role: Darrin Stephens
Old Actor: Dick York (Seasons 1-5)
New Actor: Dick Sargent (Seasons 6-8)
Despite the Superman example, the re-casting which carries the most cultural cache is the switch from Dick York to Dick Sargent on Bewitched.  After 5 seasons, suddenly Samantha's husband with whom she had a young daughter was a totally different guy who, by mere circumstance, was played by a guy whose first name was also Dick.  However, no one seemed to really care, as joked by Will Ferrell's character in the 2005 film Bewitched.
The back story behind the change is that York suffered from chronic back problems due to injuries incurred on the set of the 1959 western, They Came to Cordura. By the time of Bewitched's fifth season, he could barely move, forcing the show to write around his inability to merely stand for extended periods.  Eventually, he collapsed on set and was rushed to a hospital, after which he finally just quit the show.  The producers re-cast with Sargent, who had been their original choice for the role anyway.  However, even with a show which featured a witch capable of performing magic as the central character there was never an explanation offered for why Darrin looked so different.  What generally goes ignored is that Samantha's daughter, Tabitha, was played by three different actresses and two competing sets of twins throughout her 116 episodes as a character.
Interesting postscript: 15 years later  when the actor who played the father on another supernatural sitcom, Down to Earth, was replaced they replaced him with: Dick Sargent!
3)  The Munsters (CBS, 1964-1966)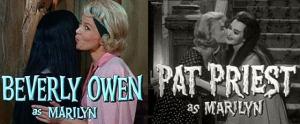 Role: Marilyn Munster
Old Actress: Beverley Owen (Episodes 1-13)
New Actress: Pat Priest (Episodes 14-70)
Owen was under contract with Universal Studios at the time of her casting as Marilyn Munster.  However, she considered herself a serious actress, and now here she was as comic relief alongside Frankenstein and Frankenstein's bride with the joke being she was the normal, attractive one who seemed ugly from their point of view.  Plus, working on the show meant having to leave New York.  After marrying her boyfriend halfway through the first season, she asked to be let out of her contract.  She also reportedly broke into tears in the studio on multiple occasions.  So, stars Al Lewis and Fred Gwynne backed her request to be let off the show.  She was replaced by mostly stage and commercial actress Priest, who practically could have been Owen's twin despite being 1 year older.
4)  Batman (CBS, 1966-1968)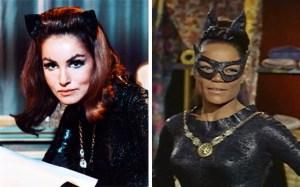 Role: Catwoman
Old Actress: Julie Newmar (7 Episodes Across Seasons 1-2)
New Actress: Eartha Kitt (5 Episodes in Season 3)
Okay.  Lee Meriwether also played Catwoman in the 1966 film.  However, Newmar originated the role and had kind of the right of first refusal as a result.  It's not like they wanted to re-cast the role.  It's just that when they were making the movie Newmar had committed to a different project.  Hello, Lee Meriwether.  Newmar then returned to play the role in the show's second season.  When they wanted her to return for a third season she declined to film MacKenna's Gold instead.  Hello, Eartha Kitt.  Who said Catwoman couldn't be African-American?  As a result, Batman fans have been debating for years about which Catwoman they preferred. Newmar was purrrfect.
5)  Partridge Family (ABC, 1970-1974)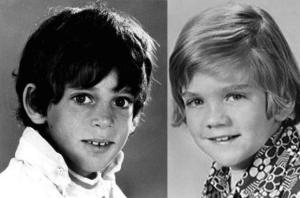 Role: Chris Partridge
Old Actor: Jeremy Gelbwaks (Season 1)
New Actor: Brian Forster (Seasons 2-4)
Poor 9-year-old Jeremy Gelbwaks.  The Partridge Family was his first ever acting role, playing the drummer for the family band.  He couldn't have known that by being the drummer he turned out to be the one most easily replaced, as has been true of countless real life bands (looking at you, Pearl Jam).  It wasn't Gelbwaks' fault, though.  He had to quit the show because his father's job forced his family to move to Virginia.  He was replaced by a kid who looked nothing like him, but what did they care – he's just the drummer.  ABC reportedly never received a single notice from the producers informing them of the change.  Gelbwaks left acting altogether after his family's move while Forster dabbled in community theater.  Interestingly, the same thing almost happened again on Partridge Family when Rick Springfield was all set to replace David Cassidy, who had quit, in the show's fifth season…but then ABC canceled the show.
6)  Superboy (1988-1992)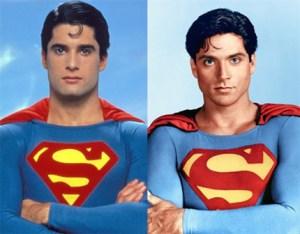 Role(s): Clark "Superboy" Kent, Lex Luthor
Old Actors: John Haymes Newton, Scott Wells (Season 1)
New Actors: Gerard Christopher, Sherman Howard (Seasons 2-4)
If you can re-cast Lois Lane, why not Superman?  Or, um, Superboy?  Actually, you'd think that role would be the one you absolutely couldn't re-cast, but that's what Superboy did.  Surprise: it totally worked.  Newton looked the part of Clark "Superboy" Kent, but if you needed him to actually recite dialog in a believable fashion you were pretty screwed.  He attempted to play Kent as shy and reserved as opposed to the bumbling Christopher Reeve version.  Yeah, maybe he should have gone a little bigger because boring and bland didn't register very well.  Bizarrely, after the first season he actually asked for money, and the producers invoked a morality clause in his contract which allowed them to fire his ass since had suffered a DUI arrest while working on the show.  The producers then went out and got a guy who looked just like him, Gerard Christopher, but who could actually act.  The show improved immensely as a result of the change.  To be fair, though, due to behind the scenes overturn the show's scripts also got a lot better, incorporating more comic book villains and improved dialog.  So, Christopher had better material with which to work.  The result was that the once marginally successful Superboy quickly became among the highest rated syndicated shows on television.
Oh, and also, they re-cast Lex Luthor in-between the first and second season as well, explaining in the second season premiere that Luthor had undergone plastic surgery as part of one of his evil schemes.
7) Roseanne (ABC, 1988-1997)
Role: Becky Conner
Old Actress: Lecy Goranson (Seasons 1-5, 8)
New Actress: Sarah Chalke (Seasons 6-9)
After four full seasons and four episodes of a fifth season, Lecy Goranson left Roseanne to attend college.  Her replacement, later-Scrubs star Sarah Chalke, kind of looked the same but played Becky as a far bubblier, angst-free person.  The show had some meta-fun with the change, having Roseanne observe of Becky upon Sarah Chalke's first appearance in the role, "she's been gone so long I barely recognize her."  They even had the characters debate the merits of the two Darrin's on Bewitched, with Chalke's Becky humorously endorsing the second Darrin as being much better.  But then after two seasons with Chalke in the role Goranson wanted to come back.  Oh, what a tricky situation.  So, for the show's 8th season Chalke and Goranson shared the role meaning one week you'd see Chalke as Becky and the next it'd be Goranson.  It was odd, though again humorously referenced by having both Roseanne and Darlene's first lines to Goranson's Becky in season 8 be, "Where the hell have you been?"  Goranson left again after the 8th season, Chalke re-taking full time duty as Becky. Based upon the quality of that horrible "they won the lottery…but it was all just a dream" 9th season Goranson got out just in time.
8)  Family Matters (ABC, CBS 1989-1998)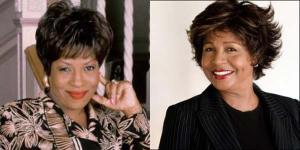 Role: Harriet Winslow
Old Actress: Jo Marie Payton (Seasons 1-9)
New Actress: Judyann Elder (8 episodes of Season 9)
There are continual examples in the history of television of shows clearly meant to focus on character or characters but eventually shifted to someone completely different.  For example, Big Bang Theory used to be about Leonard (Galecki) but has clearly shifted to the Sheldon Cooper (Jim Parsons) show with a side helping of Mayim Balik. Well, at one point Family Matters really was just about a middle class Chicago family, Carl and Harriet and their various children and in-laws.  Then a geeky neighbor named Urkel showed up, endlessly devoted to their increasing mortified daughter Laura, and from the first time he said, "Did I do that?" the transition to the full-time Urkel power hour had begun (Jaleel White eventually playing both Urkel and his cool clone Stefon).   It eventually got to be too much for Jo Marie Payton, who quit the show halfway through its final season because it just wasn't very good anymore.  If it was always that easy to leave the show we're amazed she stuck around as long as she did.
9)  The Fresh Prince of Bel-Aire (NBC, 1990-1996)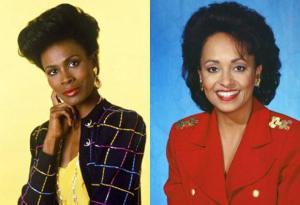 Role: "Aunt Viv" Vivian Banks
Old Actress: Janet Hubert-Whitten
New Actress: Daphne Maxwell Reid
As much as Will Smith projects an avuncular, nice-guy persona in public appearances promoting his work, there have long since been rumors that he is a difficult-to-work-with control freak who does uncredited re-writes of all his film scripts to ensure none of his characters make him look bad.  However, very few have actually spoken to such rumors and given them credit…except for Janet Hubert-Whitten, well, kind of.  She and Smith hated each other.  Eventually, her complaints about Smith became too numerous, and she was fired from the show, the studio citing a clause in her contract which did not allow her to become pregnant even though her real-life pregnancy had already been written into the show. The official explanation claimed she had gained too much weight and become "hormonally difficult" while Smith eventually revealed that Hubert "wanted the show to be The Aunt Viv of Bel-Air Show. She said once, 'I've been in the business for 10 years and this snotty-nosed punk comes along and gets a show.'"  Hubert has claimed Smith and his team did everything to ensure nobody else on the show outshined him, and she was sacrificed for daring to speak against that.  Either way, the new Vivian, Reid, was far less confrontational, and the very obvious change in appearance was joked about by Will's character on the show on multiple occasions.    
10)  Lois & Clark: The New Adventures of Superman (ABC, 1993-1997)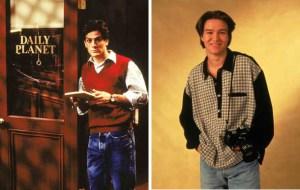 Role: Jimmy Olsen
Old Actor: Michael Landes (Season 1)
New Actor: Justin Whalin (Seasons 2-4)
Sometimes a supporting character pulls too much focus away from the main character or presents overlapping energy.  In the case of Lois & Clark: The New Adventures of Superman, Michael Landes did this by merely looked way too similar to Dean Cain.  Jimmy Olsen and Clark Kent shouldn't look like brothers!  Plus, Jimmy needs to be kind of geeky to better align with his comic book persona.  So, they re-cast the role with Justin Whalin, who played a slightly more classic version of Jimmy (albeit with a 90s hairstyle).  The problem?  By removing Landes you assume that your female audience all preferred looking at Dean Cain, which was not necessarily true.  However, the ratings didn't seem to suffer at all.
11)  ER (NBC, 1994-2009)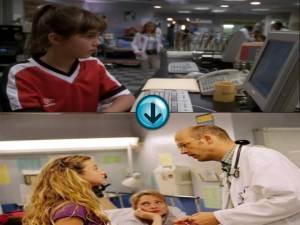 Role: Rachel Greene
Old Actress: Yvonne Zima (Seasons 1-6)
New Actress: Hallee Hirsh  (Season 8, 10, 15)
Oh, the most egregious of all examples: re-casting a role only to then make the character far more prominent and way more annoying.  Not only is it clearly a new person but they now have a new personality…and we can't stand them.
Yvonne Zima's version of Rachel Greene grew up into a fun, adorable little girl in 22 episodes spread across 6 seasons.  Poor Hallee Hirsh was tasked with handling Rachel's awkward teenager years, appearing at the start of the 8th season with Rachel having run away from home (Dr. Greene's ex-wife had custody) to live with her dad in Chicago.  She appeared in 12 episodes across the season as the producers decided that for Anthony Edwards final season his character arc would be to fix his own daughter before dying of brain cancer.  This ultimately pays off in a HEARTBREAKING final episode centered on Dr. Greene's final days with his daughter in Hawaii, as he appears to succeed in setting her back on the right path.  However, it was a tough road getting there as Rachel was your typical, extra-annoying snotty teenager who was a constant source of drama for her dad.  At one point, her infant half-sister actually got into her drug supply and suffered a near fatal drug-overdose.
Hirsh would re-appear on the show two more times, most notably in the series finale which revealed Rachel was now in medical school.  However, if you watched ER when it was first on the air get ready to feel old – here's what Yvonne Zima looks like now: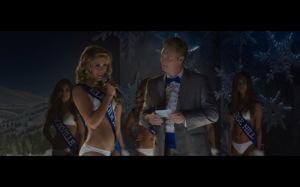 That's right-the Tennessee beauty queen in Iron Man 3 is actually little Rachel Greene from E.R.
12)  That 70's Show (FOX, 1998-2006)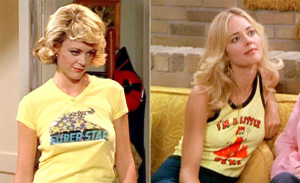 Role: Laurie Forman
Old Actress: Lisa Robin Kelly (Seasons 1-3, 5)
New Actress: Christina Moore (Seasons 6)
This one is just sad.  Lisa Robin Kelly played Eric's (Topher Grace) slutty older sister off and on for the first five seasons of the show, written out as "attending beauty school" after the third season but returning for a couple of episodes in the fifth season.  However, Kelly had a serious drinking problem, which she copped to as being the she reason she left the show.  She was replaced by another blonde (they fall off trees in Hollywood) who stuck around for 1 season, but the sad part is what became of Kelly after she left the show.  She suffered a DUI, was charged with spousal abuse by an ex-boyfriend, had further abuse issues with her husband, suffered another DUI all before before eventually dying in her sleep from "multiple drug intoxication" in 2013.
13)  Modern Family (ABC, 2009-Present)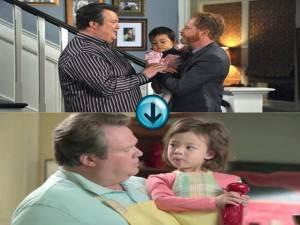 Role: Lily
Old Actresses: Ella Hiller/Jaden Hiller (Seasons 1-2)
New Actress: Aubrey Anderson-Emmons (Seasons 3-Present)
You could easily do a separate list of examples of re-casting but focused entirely on very young child actors.  Baby Lily becoming suddenly much older and talkative toddler Lily on Modern Family is but the latest example.  This type of re-casting usually gets a bit of a pass from viewers because its far easier to understand what with the many variables at play with kid actors.  Just because a baby looks the part and can thankfully make it through scenes without crying doesn't mean they'll actually grow up to a good actor or even actually enjoy doing it.  In the case of Modern Family, the twins who played Lily reportedly didn't really like acting so their parents pulled them off the show.  Cynically, you could argue they were going to be replaced anyway as the producers wanted to magically make Lily a couple of years older and seriously up her screen time, maybe to compensate for their already existing child actors Luke (Nolan Gould) and Manny (Rico Rodriguez) clearly aging.  They've since made Lily a sometimes downright mean little girl, a twisted take on "Kids Say the Darnedest Thing" that has won with some audiences but annoyed others.  
14)  Arrow (CW, 2012-Present)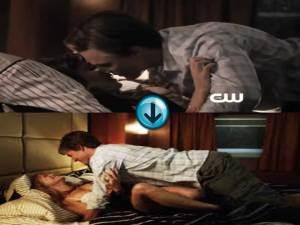 Role: Sara Lance
Old Actress: Jacqueline MacInnes-Wood (Pilot Episode)
New Actress: Caity Lotz (Season 2-Present)
Not even a character's apparent on-screen death can prevent recasting.  In the pilot of Arrow, our hero-Oliver Queen-cheats on his girlfriend, Laurel, with her sister, Sara.  Then their cruise ship crashes, Sara apparently drowning, and Oliver gets stranded on an island for 5 years.  So, he paid and paid and paid for his douchebaggery and then some.  By the end of the first season, by illustrating how much he'd changed Oliver seemed to finally earn Laurel's forgiveness and at least begrudging respect from her father.  The guilt-over-Sara's-death storyline seemed like it was over.
Then they announced over the summer that Caity Lotz had been cast to play a proto-Black Canary, and a far too talkative CW executive revealed Lotz would in fact be playing Sara.  This all called for some regrettable retconning where Oliver was lying during the entire first season about when he thought Sara had died but not about his believe that she was definitely dead.  But how did they address the obvious change from Jacqueline MacInnes-Wood to Caity Lotz?  They just re-filmed all of MacInnes-Wood's scenes from the pilot with Lotz in as Sara, effectively erasing Wood from the show's history.  It's not entirely clear why they re-cast the role, although Wood's ongoing commitment to Bold & The Beautiful and Lotz parkour skills for such a stunt-heavy role likely factored in.  As large as the memory of Sara loomed over the first season, Wood had no more than a minute or two of actual screen time.  Its only in the form of Lotz that Sara has become a major character on the show.  However, even then, many viewers just discovering Arrow still find themselves asking, "Wait, does Sara suddenly look totally different?"  Yes, she does, and if the history of TV is any indication she won't be the last.
To be clear, there are certain shows which created in-universe explanations for one of their actors changing, such as with the Doctor on Doctor Who or Dax on Star Trek: Deep Space Nine.  Plus, there are times when an actor dies or is diagnosed with a fatal condition, such as recently with Spartacus, which forces a re-cast.   The above are those instances when you just look up and the person is totally different, and everyone's pretending like nothing has changed.  To see a more extensive list, check out TvTropes.org (Arrested Development and Mad Men are some of the more recent shows you'll see listed on there)
These are some notable re-casting examples.  What are some of your favorites – if "favorite" is indeed the right word to use there?