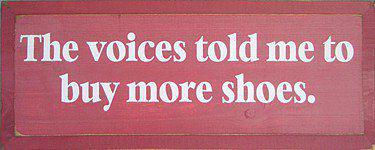 My sister recounted to me the following conversation that transpired on a recent shopping trip:
Sister #1 (to Sister #2): Hey did you find anything good today?
Sister #2: Not really. It's weird. Today I only managed to buy one thing – the thing I came to the mall to buy.
Sister #1's Boyfriend: ::shakes head:: That's how every shopping trip is supposed to be…
This story gave me a laugh, but it stuck with me because the subject of overconsumption and indulgence has been on my mind since…well, since my shopping fast during Lent. How often do I treat myself to a "little bit" of retail therapy to brighten my week? How often do I buy something merely because it is such a great deal? How many times have I found myself buying impulsively because I "just couldn't help myself"?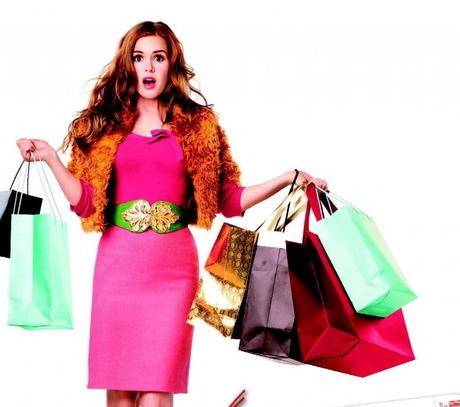 And here's the thing – I could've helped myself. Many items in my closet haven't been worn in over a year. One of the downsides of trying to stay with the trends while on a budget is that I end up with a closet full of deals rather than quality, timeless pieces. Elizabeth Cline points out in her book, Overdressed: the Shockingly High Cost of Cheap Fashion, that this level of sartorial consumption has negative impacts on the environment, on workers, and even, ironically, on the way we look. "If we continue in this way,…clothing will have to be produced from synthetic materials…Most people don't want to be wearing plastic but they're so obsessed with getting a deal that they'll buy it anyways." To be honest, I don't think there is anything wrong with shopping at cheaper or discount retailers and being wise with deals. When I was younger, we had to really save up to buy the clothes we wanted. More often than not, our clothes were purchased off the clearance racks – I couldn't ever buy the pretty shiny sparkly things I desired. If I were ever able to afford anything I had an eye on, you can bet I treasured that piece and took great care of it. The message I took from this book is that our level of consumption is not good for our well-being. Because we are able to accumulate new things on a weekly basis, we forget how to value and take care of our clothes.  We are left feeling continuously dissatisfied with what we have, always desiring more but treasuring everything less.
This principle of diminishing returns on happiness weighed down on me during a long shopping day not too long ago, when every new piece of clothing I tried on felt less appealing than the one before. I really could get by with a little less shopping and clutter in my life.
In an article over at Fashionista, the Overdressed author gives us a guide on how to shop consciously. Below are things I may attempt:
Be Strategic. "People are very impulsive when they shop now. You know, you're usually not even planning on buying something when you do," says Cline.  So true. I'm going to have to try to limit shopping trips. And when I do make them, have a clear objective in mind and ONLY purchase this product.
Re-Train Yourself to Spot 'Value.' There's more to value than the dollar amount. We need to learn the characteristics that make for quality clothing (i.e. something that won't rip or unravel after one or two wears). I'm sure there are many resources online to help us figure this out, and Cline says that vintage garments can teach us a lot about quality. In the long run, you can get more for your buck from well-made clothing.
Learn to Sew. This is something I've always struggled in, as I do not possess the discipline or patience to bother with it. For my mother (and other women of her generation), it was an essential skill that she was expected to acquire. Since I can't rely on my mom forever for this, I ought to make a serious attempt to learn.
Find a Tailor. If you can't sew, find someone who can. You get the most out of your clothing, and also have less need to buy something brand new–ultimately decreasing the amount of waste that's produced. I can't afford this on a regular basis, but even in LA I've found a tailor who will hem my pants/skirts for $3-5. It's less expensive to fix a hole in a garment than replacing it with something new. If the garment is of good quality, this will totally be worth it.
Buy Vintage. A lot of vintage clothing are of better quality anyway. This is also a good way of recycling clothing and not adding more waste to the environment. I love thrift shopping; you never know what great treasures await in the racks.
If you're like me, you won't be able to apply all five methods to your shopping habits at once, nor can you afford to have a closet full of only high end clothing. However, the few key items that are classic and timeless and worth the investment. It's all a matter of figuring out what these are according to your style. If nothing else, our wallets can benefit from a little less consumption!
What are your thoughts on our habits of shopping? Is buying cheap (and essentially disposable) clothing worth it for the variety and staying on top of trends? What would be wardrobe essentials you're willing to splurge on?
Images via Google Images & Pinterest