I'm learning a lot about being ok with my limitations and balancing the various aspects of my life. Yesterday my spiritual director told me that I'm juggling a lot. And even though it's all doable, it's ok to not get everything on my list done for the day. I really had planned on writing more for le blog this week! But the weekend was filled with sister bonding time with a sister who is about to head out to my alma mater this month – UCLA (go Bruins!). And this week has been crazy at work since the kids come back to school after Labor Day. So I've been exhausted every day and I have to be ok with not being  as productive in writing as I had planned. So here's a quick outfit post!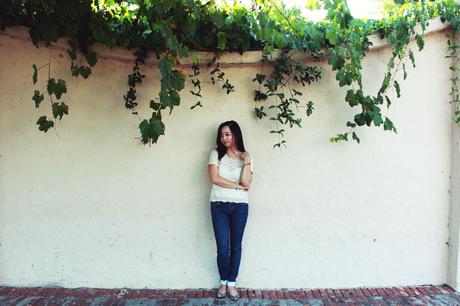 Can you guys see I'm stuck on the lace and denim combo? But this look is completely different from the last one. I was going for a retro feel here. The high-waisted cuffed jeans (thrifted) and cropped top (also thrifted) reminds me of the 50′s era. I added the snakeskin heels for more interest to the mix. Just because I'm stuck on a trend right now doesn't mean I have to look the same every day.
A note on cropped tops – I really like the look but definitely not cool with mid-drifts showing. I wore a tank underneath this top to take care of that problem. Pairing it with a higher waisted bottom helps, too. It's the different between retro-chic and just plain trashy. I'm really glad high-waisted jeans are making a come back! It's important to find the right ones, though, or else you'll end up with a pair of mom jeans and that's not very flattering. American Eagle is having a 40% off sale and they have some good potentials, like this pair of high-rise skinnies. I'll let you know what I think of them once they come in the mail.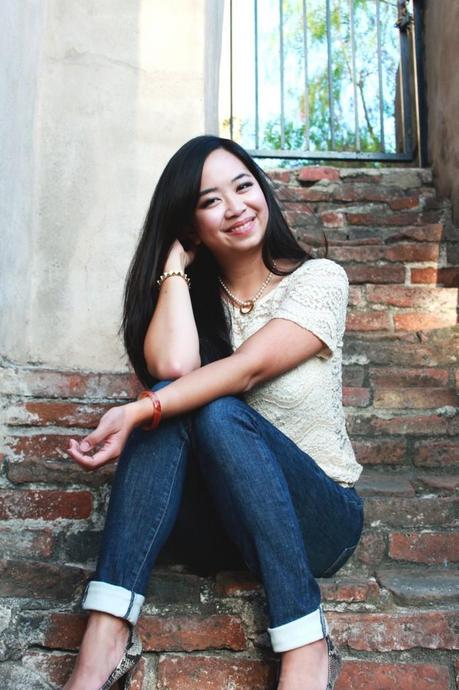 I wish I had gotten a better angle of my new shoes. Target clearance snakeskin heels for $9! I needed some heels for work, so these will do.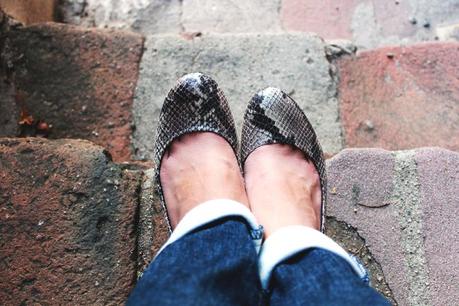 For all you busy-bees out there – how do you juggle your daily routines? Or better yet, how do you avoid wasting time? I could use more tips!

If you enjoyed this article, sign up for free updates: