Finding balance is tough. Especially between time in solitude and time with family and friends. Between work and prayer and play. Have anyone figured out the secret? Lemme know.
But I'm not complaining. Life has been truly a blessing. But I have not had time for outfit posts. I figure that shouldn't stop me from blogging. So here's a few things to welcome in October (does time go by faster as we get older?).
My Guardian Angel is kinda my best friend. This is a few days late as his feast day was on October 2. I always feel the need to celebrate this minor feast day because without this guardian angel by my side, I wouldn't be alive today. If you only knew of my stupid life mistakes in my early teens.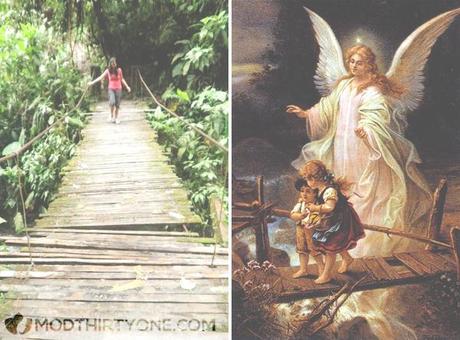 Don't you just love the image of the guardian angel above? When I saw it I reflected of how long I walked about life thinking the Lord had deserted me. Among everything else, I thought I was walking through treacherous grounds on my own – that I had to take care of myself. When all along God appointed a helper for me the whole way, watching out for me and protecting me from a tragic end. So thank you, friend.
Another recent feast day that just passed was that of the Little Flower, St. Therese of the Child Jesus.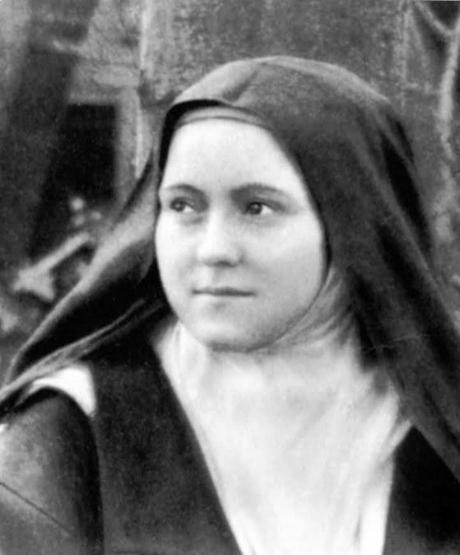 If you don't know who this little saint is, then I think you should get out of the rock you've been living under, go to your local library, and read her autobiography Story of a Soul, one of the greatest spiritual books that has been written. This young cloistered nun was pretty much unknown to the world save a handful of people by the time of her death at 24 years old. Now, she's one of the most popular saints of modern times. She lived a simple life, full of love and gratitude for her Beloved, even amidst painful suffering. She promised that she would spend her heaven doing good on earth, and boy did she live up to that promise. It's amazing how now in heaven, she can reach souls in every corner of the world.
She was the first saint I started praying to for intercession. Hers was the first novena I ever prayed, back when I was beginning my own faith journey in college. I've been told that we don't pick our saints, but it's them who pick us (or rather, God to commissions them to pick us). Even when I turned from God, I think she was still praying for me. And she never ever fails to send me roses when I pray her novenas. It's kind of amazing.  Shower of roses, indeed, Therese. Thanks much.
Caveat: I don't intend to give the impression that the roses received while praying to St. Therese or to Our Lady serve as a sign indicating how our prayers are being answered. Our human understanding is far too limited to analyze such things. But I always think when I receive roses during these prayers, it's as though the little saint and Mama Mary are just saying "Hello!" to me throughout my day. And that they are assuring me that my prayers are being heard, and that God's got it all under control. And that's all we really need.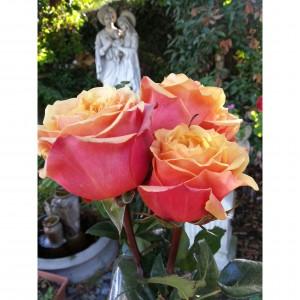 Follow me on Instagram!