Why choose Artemis Stationery?  There's a lot of ways to make your wedding stationery so why choose Artemis Stationery.
My stationery is made in two main ways. Either in house or by leading trade printers. I produce much of my stationery in house as it's the best way to achieve quality in the print, materials used and finish. I print to a much higher standard than most printers find possible, this is because my printing equipment is more typically used for fine art reproduction printing and high end photographic prints. It is a digital printer, but prints a much broader range of colours as it's a 12 ink machine. This means it can do true red, green and blue as it has those colours. It can also print at a higher resolution. As such I design my files at 600 dpi twice the industry standard of 300 dpi. This gives a much clearer and less pixelated look than is standard. Circular lines appear more flowing and smooth, fines lines appear crisper and sharper. This means I can do justice to designs like Trieste that have a lot of fine curving lines.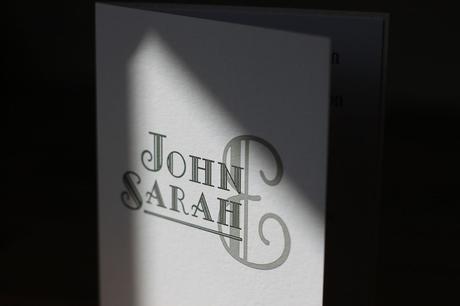 Close up of Genoa card invitation
My stationery is mostly printed onto high quality card stock. This is typically used for fine art reproduction and high end photographic prints. It's textured and resembles etching paper and will maintain the vibrancy of the colours printed for a long time. I like it for its thickness and weight which gives it quality feeling that is soft to the touch.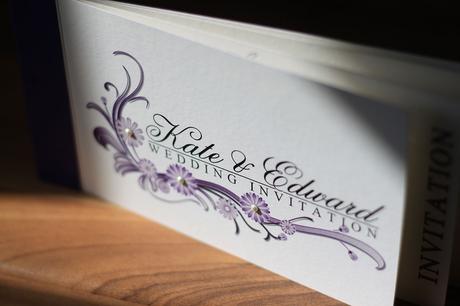 sienna purple and ivory cheque book invitation
Once printed it is then cut individually on a rotary trimmer, this allows for precision cutting. A typical trade printer has 3mm margins which means the cut can be anywhere in that area. Instead I print a fine line to cut along. This means for items like the cheque book each page can be precisely cut so the pages all fit together smoothly. With my products it's all about the quality of the finish. Each item is individually made, quality checked and remade if necessary. Since I see invitations as individual works of art made for your guests I am able to print guest names at the same time as the rest of the invite. This is included in the price of each invitation and means that I can tackle individual menus for your guests.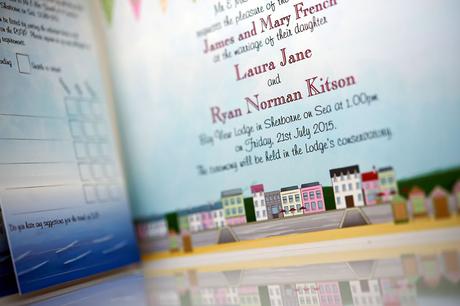 Inside of invitation showing guest names at top
Sometimes it's the quality and uniqueness of the design that my clients are after and they're happy with a more traditionally produced printed item. I do work with a leading trade printer that specialises in the wedding trade. This opens a wider range of card stocks to print on and permits for items to be more affordably printed when the quantities are large. Where there are a few techniques I can't currently do in house as required I can work with the relevant professionals to achieve them.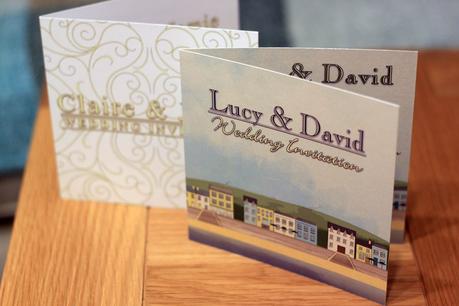 Cards printed using a trade printer
Why are my stationery designs more unique than many wedding stationers? This is because most of my work uses artwork that I've created from scratch. If you look at my illustrations they've been created from nothing but the source material (those being photos of the buildings and landscapes in question) or for more patterned designs from my own sketches. A lot of artwork used in wedding stationery comes from image libraries where artists sell their work. So if you think designs by different stationers look very samey they may well have used the same artwork or something by the same artist. I do this on couture projects where it's the most cost effective way to produce something for the client and they're ok with this process.
visit Artemis Stationery website now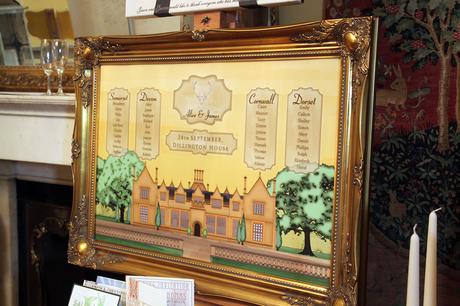 Dillington House framed wedding table plan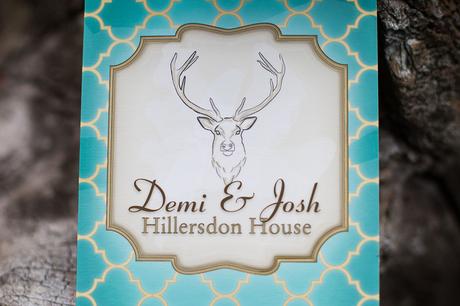 Drawn stag stationery cover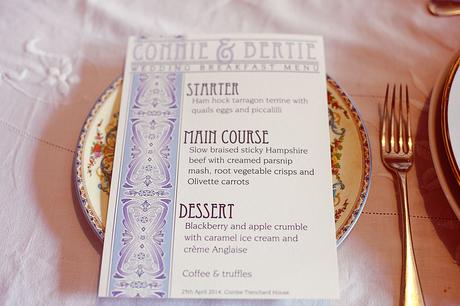 Capri menu
Thanks to these talented photographers:
Venetia Norrington Photography (top photo)
Kern Photo (inside invitation photo)
Frances Carlisle Photography (blue stag photo)
Lucy Wallace Photography (menu)