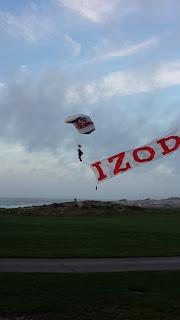 I recently wrote an article for my

LinkedIn

connections about how businesses that help sponsor golf tournaments can bring cutting edge benefits and visibility to their business and brand.
This article has proven to be of interest so I decided it would be wise to spread this information to a wider audience, hence to my readers on Golf for Beginners.
I have the honor of assisting the yearly Legends Invitational Golf Tournament with their social, marketing and sponsorship efforts and, in doing so, I  am also part of so much more: the main beneficiary of the Event is The National Navy UDT SEAL Museum.
Charitable concerns are important in our framework of life - selecting the beneficiary which can do so much good for others is extremely important not only to the event but to those who support or are in attendance.
In the case of Legends Invitational, the tournament supports The Navy SEAL Museum through donations which benefit families of fallen heroes and the heroes themselves via Trident House and educates through initiatives at the Museum.
With Legends help (and through the generosity of grants and corporate gifts), the Navy SEAL Museum helps preserve, and shares the legacy of, the world's premier Special Operations force. The Museum receives no federal funding and relies upon the good will of people and of corporate entities.
Why should

your

business help sponsor a golf event?

 Here are a few bullet points:
 - In the case of Legends Invitational, it is an opportunity to make connections with many of the top business builders in our Country. Legends has been known for the past twenty-four years as the Most Exclusive Invitational Golf Tournament in the World.
- Great for entertaining clients. Imagine bringing those associates you want to impress to a five-star setting to play Pebble Beach, Spyglass Hill and Spanish Bay golf courses. Top name Football Hall of Famers are in attendance,and...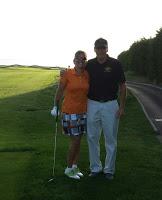 Stacy with V. Admiral Kernan
The SEAL's not only make an appearance, but boy, do they ever make an entrance! What a WOW factor. (In my foursome, our Team Leader was Vice Admiral Joe Kernan...it was an honor to play golf for three days with him!)
- Reward your best employees - Provide major incentive to a foursome of your brightest stars for a job well done - it will ignite a fire that will last for years.
- Patriotic event - Navy SEALs, for example, enhance the reputation, image and prestige of the sponsoring company through association.
- Generates media buzz both traditional and internet. Watch KSBW-TV headlining news story

: 

Navy SEALs and NFL Legends Team Up for Good Cause 
Company representatives do not necessarily have to be in attendance to sponsor an event yet can still reap the benefits. Here is an example - Jack Daniels sponsored the opening cocktail hour at Spanish Bay as well as tents at the 7th hole at Pebble Beach (among other initiatives). Another thought? Why not sponsor a hole at the Event. A Harley Davidson dealer placed a motorcycle at the tee box of a par-3 ready to be won in exchange for a hole-in-one.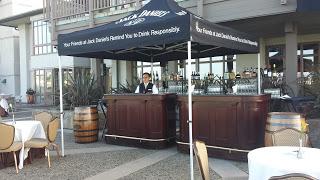 Jack Daniels Cocktail hour before the Event
Your company can sponsor an entertainment, activity or cocktail hour, marketing their name to those in attendance.
For example, Legends Invitational and The Navy SEAL Museum offer many ways to donate to the cause. If you don't play golf but love the SEALs, your company can support Museum efforts directly or customize an event at your place of business with SEALs parachuting into YOUR event, or perhaps, instruction of tactical demonstrations onsite. Talk about a memorable experience for your workers - this will have them whipping out their smartphones, socially sharing your brand with everyone of their contacts.
A company can also offer goods or services to improve the lives of the Event beneficiary. Donations come in many forms, from becoming a member of The Navy SEAL Museum to helping to furnish Trident House or donating auction items - the ideas are endless.
There are so many ways for businesses to benefit from sponsoring a golf event from reputation association to brand building - consider this new arena as a part of your marketing strategy.
Learn how you can help sponsor The National Navy UDT SEAL Museum either directly or through Legends Invitational - read the Legends Invitational Sponsorship Brochure.
Voice your opinions on this golf blog and on Twitter @Golf4Beginners.