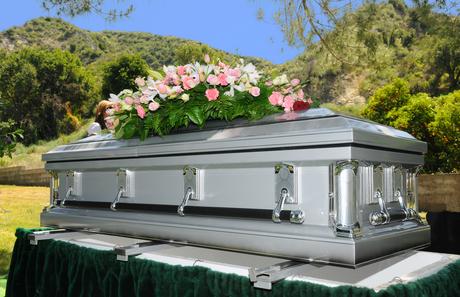 Although caskets are pretty expensive, there are few quality options which will help you to stay within your budget. Usually, caskets always remain the focal point of any traditional funeral.
It is placed in the church and are on display during public visitation. They are also pretty expensive but it should not be.
For any traditional funeral, casket is considered as the most important item. There are plenty of emotional significance attached to the casket, as it will carry the body of their loved one.
Taking it little further, it is used for protecting the body. It is also the last visible item at graveside services while bidding final good-bye which is also the most expensive item in any funeral.
Usually, emotional tie for casket, or coffin, influences the decision of spending by the family. Often people feel guilty if they put their dear one into any low-cost casket. Due to this reason, they end up spending more.
If any family is resourceful enough then they would like to buy a top-of-the-line casket, which will give satisfaction but this may not be true for any average family.
Few common sense approach regarding caskets
Any sensible person must be little tactful while talking with any grieving family but one must understand that the reality is, any casket irrespective of its cost will be used for the same purpose.
A casket bought through any affordable funeral home or one bought at best price caskets by availing discount will have almost the same function as any expensive casket bought from high-end funeral home.
The only difference on the high-end caskets will have are more durable sealers.
Though we are not advocating you to buy a casket having plastic handles and all that. What we are trying to tell you is that selecting any nice casket within your budget will be a wise decision.
Things to keep in mind
Your emotional value as regards to the casket can be the only one factor. So, you must pick something which is made of certain quality material but should be well within your budget.
In case, you have prepaid funeral policy then you need not have to utilize all of it that is based on how your policy is written. Mostly, any money that is unused will be returned to its beneficiary.
Therefore, do not choose more expensive casket simply because you have the funds available. It is the best approach to review the whole policy carefully. Probably, you cannot pick any cheaper casket but typically you are not needed to go for more expensive.
Few policies in fact need that funeral home should provide such casket which is equal or even of higher value and also nothing lower.
Funeral directors too will keep in mind your best interest and help you to find casket which meets your needs for the departed soul without increasing your bill.
Any local cremation does not work on commission basis and hence they will not get any incentive. Therefore, they will do anything that ensures the family remains satisfied with the choice of their funeral option.