I took a stroll down to the Asheville Whole Foods (actually called Greenlife Grocer, which must be a similar deal to Ideal Market in Boulder where they bought someone out and allowed them to keep the name) to check out the hot bar.  I've never actually done Whole Foods hot bar although it's always looked great so I figured this was a good opportunity to check it out.  
It's kind of crazy how such a random assortment of stuff can taste so good together.  I started with a bed of spinach and spring mix and threw pretty much everything on there.  Highlights were the curried black beans and some kind of pumpkin salad.  Also I've finally gotten to the point where I like blue cheese.  I've been working my way up with gorgonzola and goat cheese and finally made it! :)  My only complaint was that things were pretty salty so I probably blew away my sodium allotment for the day.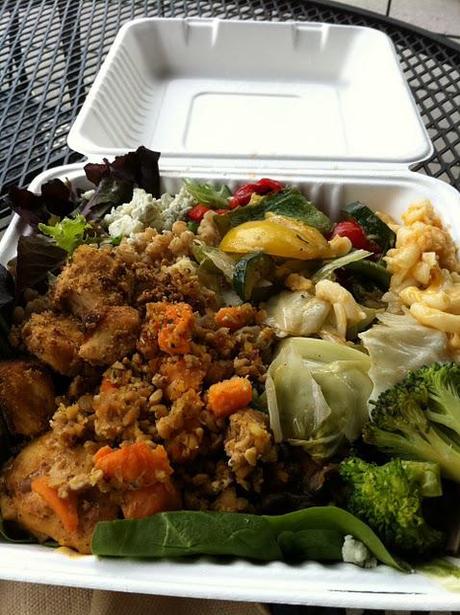 Nonetheless, I plan to check this out back home on a 'can't stand to cook, must eat now' kind of day.  The Boulder store just doubled in size and they have a HUGE hot bar now so it should be really fun.  The bad part is that it's way too easy to eat way too much!  Time to get packed up and prepare for my very early wake up call tomorrow.