Last night saw the first episode of the latest American export: New Girl, on Channel 4. With oodles of advertising on both Channel 4 and E4, it was difficult to avoid the furore of the comedy series starring popular actress Katy Perry, oh sorry, I mean Zooey Deschanel. But jokes aside, I loved Deschanel's vibrancy and the support of an interesting collection of characters.
But, I'm not here today to offer a review (I'll leave that for when I've seen it a few more times and allowed the comedy to get firmly on it's feet before I pass too much of a judgment good or bad!). No, every time that a new show starts, I'm one of those perhaps slightly crazy people who obsesses about what each of the actors have done in their previous lives. With New Girl this was a little bit easier than some shows, because there were quite a few people that I'd seen in stuff before, and already knew where I'd seen them from, and here's who everyone is :)
Zooey Deschanel
Character:
Quirky Jess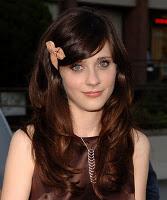 Image found here.
Often compared to her fellow celeb look-a-like Katy Perry, Deschanel is perhaps best known for her roles in films including:
Elf
, alongside Will Ferrell, M.Night Shyamalan's sub-par thriller
The Happening
, and looking cute opposite Joseph Gordon Levitt, in
500 Days of Summer
.
However, Deschanel's perhaps lesser known roles are a bit more interesting. For example, did you know that Deschanel starred opposite Hollywood A-Listers Jennifer Aniston and Jake Gyllenhaal in 2002 rom-com
The Good Girl
? Or how about the part she played (Trillian) in
The Hitchhiker's Guide to the Galaxy
, back in 2005? Yep, that was news to us too. She even starred alongside big sister Emily who take a lead role in popular drama
Bones
.
But, the movies aren't just the exclusive business of Zooey and her older sister, because both of her parents work in the industry as well. Her mother, as an actress and father as a Cinematographer. Caleb Deschanel is perhaps best known for his work on Mel Gibson's
The Passion of the Christ
.
Damon Wayans Jnr.
Character
: Coach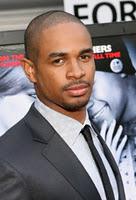 Image found here
Although he features in the pilot for the series, Wayans actually doesn't feature in the rest of the series, which is a huge shame, because the character of Coach had so much potential. However, if you think that you recognize Wayans, it could be because of the reason why he didn't make it past the pilot of
New Girl
. And that is down to his role in  
Happy Endings
. Allegedly, when the first season of
Happy Endings
erm, ended, it was a little up in the air whether or not it would get a second season. This led to Wayans taking the role on
New Girl
, but as many of us probably know,
Happy Endings
did indeed get another series, and so he left his role as Coach.
Or, if that doesn't explain why Wayans look so darn familiar, you might think that you recognize him because his Father (Damon Wayans Snr), who Jnr is a spitting image of, was the lead role in
My Wife and Kids
. And, if that family connection isn't enough, you might just be familiar with his two Uncles Shawn and Marlon Wayans who are best known for acting in and/or writing/directing a couple of small movies like oooh, S
cary Movie Series, White Chicks, Little Man
...yeah, you get the picture!!
Jake Johnson
Character
: Nick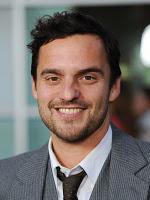 I didn't recognize Johnson from anything that I'd seen previously,  and even when I looked him up, it was confirmed that I've never seen him in anything before. However, some of you might have seen him in
Get Him to the Greek
with over very own Russell Brand and Jonah Hill, or Ashton Kutcher and Natalie Portman film
No Strings Attached
. Most recently he starred in the latest Harold and Kumar film
A Very Harold and Kumar 3D Christmas
.
In March, Johnson (not to get confused with surfer-singer/songwriter
Jack
Johnson) can be seen in the new
21 Jump Street
film with Johnny Depp, Channing Tatum and Jonah Hill.
In a weird way I really like Jake Johnson, because he reminds me of someone that I just can't put my finger on...hmm, gonna have to keep pondering over that one :)
Max Greenfield
Character
: Schmidt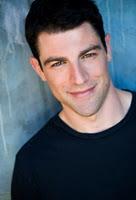 Image found here.
On first impression, Greenfield's character Schmidt was the only one that I never really "connected" with, because I just found it hard to believe that if he's as straight as he claims to be, he wouldn't be trying to get off with Jess. But, that aside, he was another actor that I didn't really recognise, despite the fact that he apparently appeared in an episode of
Happy Endings
.
Fans of hit US mystery drama
Veronica Mars
(starring
Gossip Girl
herself Kristen Bell) might recognize Greenfield as Leo, a character that he played for 11 episodes in 2005-2007. Whilst fans of
The OC
may remember him playing a young Sandy Cohen (otherwise played by the fab Peter Gallagher) in the episode:
The Case of the Franks
.
Greenfield has also appeared in eight episodes of
Ugly Betty
 and five of
Greek
, so he's certainly building himself as a minor regular in some pretty top-notch US shows.
Hannah Simone
Character
: Cece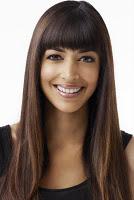 The absolutely stunning Simone who I can't help thinking looks a little bit like Anne Hathaway (I imagine that I'm probably on my own with that train of thought!!) is probably the lesser known of all the main cast. She doesn't really have that much of a portfolio behind her, and the only thing that she has appeared in, that I have actually heard of is an episode of
Kevin Hill
.
With very little information relating to the actress I don't really know what else I can say, other than: oh my god, how hot is she, in a totally un-lesbian kind of way??
I'm interested to see which direction the character of Cece is taken in, however, in conjunction with all of the other characters.
So, there you go, now you have a better idea of where you might (or might not) have encountered the main stars of new comedy
New Girl
.
I really love looking up what other stuff actors have done in their pasts, because I'm nosey like that, so if there is anyone that you think you've seen before, but don't know where, then I am your gal! Just drop me an email and I'll get hunting them down!