If you live by the sea as I do, with golden sands on your doorstep, you've probably marvelled through the months of lockdown at how clear the sea had become and how beautiful the beaches have looked with hardly a soul astir. It's almost as though the natural world has been enjoying three well-earned months of recuperation. All that changed on the recent bank holiday week-end.
Of course lockdown had been difficult. Of course people would feel a sense of 
releas
e
 at its grip being loosened (release being the given theme of this week's blog, by the way) and naturally they would want to get outdoors in large numbers to celebrate their freedom.
Perhaps it was  inevitable that they would drive for hours in their tens of thousands to their nearest beach, cars loaded up with picnics and booze; inevitable that they'd congregate looking like bandits in Bermuda shorts or sporting the season's must-have three-piece-bikinis, with kids, babies, dogs in tow; hardly surprising that social distancing guidelines went out the window and barely a patch of sand remained unoccupied.
Fair play to all of that behavior (providing a second coronavirus spike doesn't result). But did they have to leave such an utterly disgusting mess on our beaches in their wake?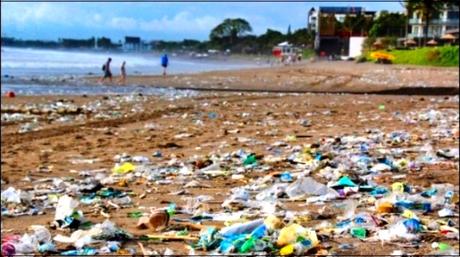 At the end of a day on the beach.
On the sandy stretches of the south coast - where one local council declared a major incident as a result of the over-crowding - those released day-trippers left behind them thirty tons of rubbish - just dumped it and left as though it was now suddenly acceptable behavior in a beautiful public place. Hence the only slightly tongue-in-cheek title of this post.
The same was true on many beaches around the country, Blackpool's included, and it was left to council workers and bands of community-minded volunteers to clear the whole lot away in the days that followed - minus the large quantities that had already washed away to pollute our coastal waters. The news footage was truly shocking; the irresponsible behavior of so many people even more so.
Freddie Barnard is credited with the phrase 'a picture is worth a thousand words' and the one above certainly does speak volumes, but I'm a writer and poet so I must do it my way. Billy Collins said 'a poem doesn't have to tell a story', but I'm afraid this one has to. You've perhaps guessed it's going to be another oblique polemic on the selfish society. I don't name-check the Dominator (aka Dominic Cummings) specifically, but many of those thousands mentioned above have used his actions as an excuse for their short-sighted own. Poor show. Release the rant and let it roll...
Never Mind The Three-Piece Bikini
They came, they sprawled, they concurred
that a beautiful beach was the perfect place
to cast off the shackles of lockdown, called
each to each with scant regard for any rules
of social distancing how great it was to be
free, in the sun, having some overdue fun,
counting on economic sense for clemency.
Hours of alcohol later, picnics gorged and
masks discarded long since in the sand,
they went. Some crawled, all concurred
that it didn't matter a shit-in-a-burger-box
if they just left their trash on the strand,
bottles, bags, plastic, glass, nappies, the lot,
flouting every sense of common decency.
When did they learn to be such utter louts?
Clapping for key workers didn't absolve
their leaving behind their toxic calling card.
Is taking your crap home with you so hard?
Just look at the afterwards. Mother nature
loves her children, but at times like this
she could happily strangle the bastards.
Thanks for reading. Feel free to share. Please take your rubbish home, S ;-)
Email This
BlogThis!
Share to Twitter
Share to Facebook
Reactions: