In answering the question of who is Russia's number 2 leader, up to last year most Kremlin watchers would have suggested it to be prime minister Dmitry Medvedev. The two have been close confidants and friends for decades.
It was Medvedev who maintained wireless communications when Mr. Putin rode an underwater submersible in August to explore a shipwreck in Crimean waters. But the Putin tour also included someone who usually remains in the shadows–security chief Sergei Ivanov, Russia's chief of the presidential administration.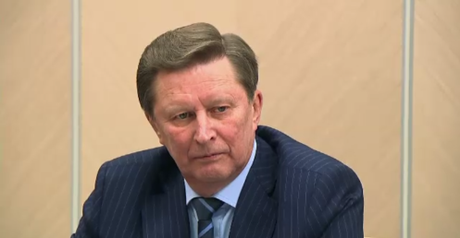 Sergei Ivanov at a Security Council meeting.
Kremlin watchers understand that Putin and Ivanov, like Putin and Medvedev, share a long history. Ivanov and Putin came from the foreign services of the KGB, and Putin appointed Ivanov as his deputy in 1998 after then-president Boris Yeltsin had named Putin to head the FSB, the new name for the KGB. They have been together ever since.
Since last August, Ivanov has been given a more visible role in the government. Not only do the security services answer to him, but he has begun to represent the government at public events and in official meetings with foreign leaders. Last Wednesday, former United States Secretary of State Henry Kissinger traveled to Moscow. Kissinger is a long time friend of Vladimir Putin and the two met that afternoon at the presidential residence outside Moscow. Kissinger had come to Moscow as a guest for the opening of the Primakov Center for Foreign Policy Cooperation. However, the official meeting between Kissinger and the government was with Sergei Ivanov.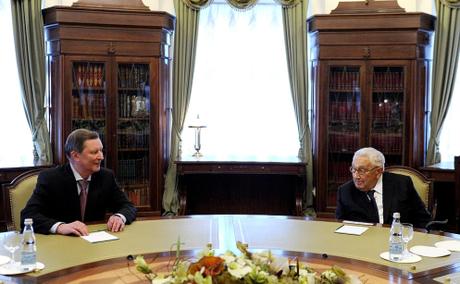 Last May, Russia Insider, a publication which attempts to appear independent, but is in fact owned, operated, and bankrolled by the Kremlin media structure (in this case RBTH), introduced Ivanov among several other new faces of Russian leadership. Then, in November 2015 the publication seemed to suggest that Ivanov, although not elected, holds the number two position in the Russian government.
Russia Insider led that edition with the headline: Key Interview Confirms Sergey Ivanov, Putin's Chief of Staff Is Russia's #2. The publication went on to say that the interview by the Russian news agency TASS (Kremlin controlled), was designed to "explain Ivanov's role and to make him better known to the Russian public. No other Russian official apart from Putin himself talks in such a wide ranging way."
Some may ask if this is the security forces way of reigning in and keeping Mr. Putin in check? That might be doubtful, as Ivanov is as much a hardliner, and perhaps even more than Putin. A very intriguing statement by Ivanov in the TASS interview was this one: "Don't think the Kremlin always decides everything, sometimes it doesn't."
Could it be a signal that Putin will retire, and forego another term? Again, we do not know, but it was interesting that a Kremlin controlled publication such as
Russia Insider
would venture to write "
if Putin does decide to go, then Ivanov looks like an obvious potential successor."