As a company we struggle to really show you the true lengths that we are going for our customers. Most of you know the basics, we make cake, we are in King's Cross etc. But I have doubts that you know the real Family Cakes. Hopefully this will shed a bit of light on what we do.
Now, some may know this and others not, we here at Family Cakes, admittedly don't have a storefront.We have a little office and a small but mighty bakery. Our specialty is making cakes and delivering them to your door or office with speed, and care. But we implore you to understand that we are not just some factory that turns out the cakes that you see on the website. We can fulfill your every cake-y desire.
We also now have the technology that will allow you the convenience of figuring out what we can do for you. If you want to know if we can do it, just ask, and within less than a day, we can get a design to you, you dont like it, we'll try again or you can move on. There is no charge to enquire.Here is one example of a design drawn up for a client and sent to them via email. Its quick, easy for the consumer, and unlike anything any other company will offer you. This truly means the possibilities are endless.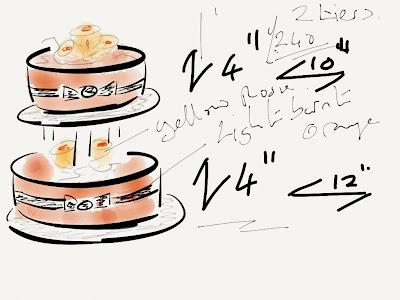 So see, we are not some factory that only has twenty different cakes that it makes, if we were then what is the difference between us and the local grocery store. Every cake is a new creation to us. 
Whether you want a five tiered wedding cake or you want to put a picture of your dog on the top of a cake we can do it for you. Your imagination is the only thing holding you back, give us a call, and let us make what's in your head an all too delicious reality.