You guys, it's already the 3rd of December. Where the heck does the time go?!
December is a wonderful time! Christmas is near and the holiday spirit is in the air. Seriously, London, you do Christmas season right. I am definitely amazed. However, sadly, December means I leave London soon, and worst of all, it means my time at Family Cakes will be coming to an end. My world is about to come crashing down. No more cake to bring home on Fridays, no more yummy food at work, and no more Andrew, Daniel, and the rest of the crew. So basically, no more fun. I should also mention Minnesota got about 6 inches of snow yesterday and it's only just begun. This is why we call it Minne-SNOW-ta. Regardless, December/Christmas season is a time for traditions and family. While I might be leaving a wonderful city and an awesome internship, I get to go home and see my family again.
For me, when I get home, I will be back just in time to partake in my favorite holiday activity--cooking and baking! I am going to share some of my favorite recipes with you and you should share some of yours.
Peanut Butter Blossoms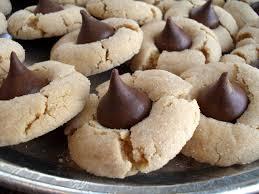 1 cup shortening

1 cup peanut butter

1 cup packed brown sugar

1 cup white sugar

2 eggs

1/4 cup milk

2 teaspoons baking soda

1 teaspoon salt

1/2 cup white sugar -- for decoration

2 (9 oz) bags milk chocolate candy kisses, unwrapped

You can substitute any candy (i.e. rolos reeces, etc)
1 - Preheat oven to 190 degrees C
2 - In a large bowl, cream together the shortening, peanut butter, brown sugar, and 1 cup white sugar until smooth. Beat in the eggs one at a time, and stir in the milk and vanilla. Combine the flour, baking soda, and salt; stir into the peanut butter mixture until well blended. Shape tablespoons of dough into balls, and roll in remaining white sugar. Place cookies 2 inches apart on the prepared cookie sheets
3 - Bake for 10 to 12 minutes in the preheated oven. Remove from oven, and immediately press a chocolate kiss (or other candy) into each cookie. Allow to cool completely; the kiss will harden as it cools.
Taco Dip
1 (8 ounce) package cream cheese, softened

1 (16 ounce) container of sour cream

1 (1.25 ounce) package taco seasoning mix

1/4 head iceberg lettuce - rinsed, dried, and shredded

1 cup shredded Cheddar cheese

3 chopped tomatoes

1 green bell pepper, chopped

1 (2.25 ounce) can black olives, drained
1 - In a medium-sized mixing bowl, combine cream cheese, sour cream, and taco seasoning. Spread this mixture in a 9-inch (or a little larger) round serving dish. Top the mixture with lettuce, Cheddar cheese, tomatoes, bell pepper, and black olives.
Chex Mix
3 cups Corn Chex cereal

3 cups Rice Chex cereal

3 cups Wheat Chex cereal

1 cup mixed nuts

1 cup bite-size pretzels

6 tablespoons butter or margarine

2 tablespoons Worcestershire sauce

1 1/2 teaspoons seasoned salt

2/4 teaspoon garlic powder

1/2 teaspoon onion powder
1 - In a large microwavable bowl, mix cereals, nuts, and pretzels; set aside. In a small microwavable bowl, microwave butter uncovered o High for about 40 seconds or until melted. Stir in seasonings. Pour over cereal mixture, stir until evenly coated.
2 - Microwave uncovered on High 5 to 6 minutes, throughly stirring every 2 minutes. Spread on paper towels to cool. Store in airtight container.
There are just a few recipes I like and are likely to be seen every year at Christmas, and they are really easy too. 
My question for all the readers is: What is your favorite thing(s) about the holiday season?
Leave comments below and let me know about your Christmas! You can comment about your favorite holiday tradition, the reason winter is your favorite season, or maybe it's not and your favorite this is when it's over, either way tell us your favorite thing! Since I won't be here for Christmas I want to hear all about it!
And of course, if cooking and/or baking is not your forte there are always places that can do it for you!