The 2011-2012 New York City Opera Preview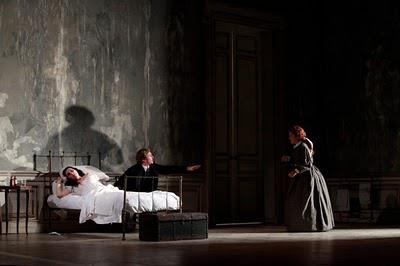 Act III of Jonathan Miller's production of La Traviata from the Glimmerglass Festival. Photo by Richard Termine.
The New York City Opera has fleshed out some of the details of its skeletal 2011-2012 season, the company's first since its April announcement that it was leaving Lincoln Center.
However, as the company has not yet reached a deal with Local 806 or AGMA over union contracts for its musicians and choristers, these performances may be met with picket lines and large inflatable rats.
The Fall schedule (which, in happier days started in early September and ran into early November at the former New York State Theater) will consist of one concert.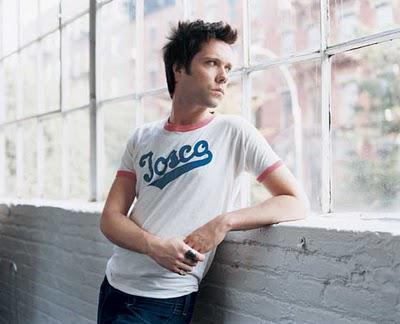 Rufus Wainwright, possibly thinking about Puccini.
Photo from his official site.
This show, entitled Who Are You New York: The Songs of Rufus Wainwright will be performed at the medium-sized Rose Theater in the Time Warner Center on Nov. 17. The concert will feature Mr. Wainwright and a collection of young City Opera singers. They will perform his song cycle All Days Are Nights: Songs For Lulu, followed by selections from Mr. Wainwright's song-book.
"Who Are You New York" is an apt question for this company, as it forges ahead into strange new territory under the guiding hand of general manager George Steel. The City Opera's Spring opera season will start in February of 2012, with two works performed in repertory at the Brooklyn Academy of Music's historic Howard Gilman Opera House.
The first of these is Verdi's La Traviata, presented in a Jonathan Miller staging imported from the City Opera's old friends at the Glimmerglass Festival in Cooperstown, NY. Tenor David Pomeroy makes his company debut as Alfredo. Brooklyn native Laquita Mitchell is Violetta. Steven White, who led this opera at the Met in 2009, will conduct.
La Traviata will play in repertory with the New York premiere of Mr. Wainwright's opera Prima Donna. Melody Moore will sing the lead in this French-language opera, which was originally commissioned by the Metropolitan Opera until Met general manager Peter Gelb insisted that Mr. Wainwright write his libretto in English.
March sees the City Opera migrate to the Gerald W. Lynch Theater at John Jay College of Criminal Justice, just two blocks away from their old digs at 20 Lincoln Center. The opera: Mozart's Così fan tutte in an eagerly anticipated new staging from director Christopher Alden. Mr. Alden's version of Don Giovanni (set in a funeral parlor) was the first success of Mr. Steel's term as general manager, and the company is hoping for a repeat of that success in this smaller theater.
In May, the City Opera packs its bags again and moves to El Museo del Barrio on the Upper East Side. They will perform Orpheus, another version of the myth about the legendary musician from Greek mythology. This one is by German baroque composer Georg Philipp Telemann, and may prove to be an intriguing way to end this abbreviated season. Baritone Daniel Teadt makes his company debut in the title role.