The Philharmonic unlocks David Lang's prisoner of the state.
by Paul J. Pelkonen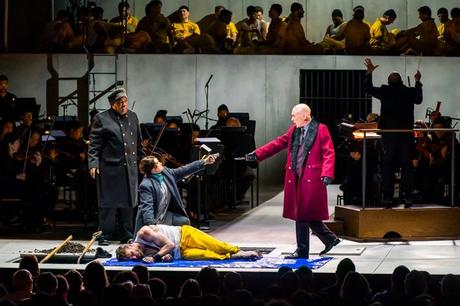 The climactic confrontation of David Lang's prisoner of the state.
Photo by Chris Lee © 2019 The New York Philharmonic,
The New York Philharmonic ended its Lincoln Center season this week with
prisoner of the state
, a new opera from the pen of contemporary composer David Lang. Mr. Lang, whose unconventional list of stage works include
battle hymns
(set deep within the bowels of the
U.S.S. Intrepid
and an opera created entirely from whispers, seemed like an ideal choice for this endeavor. This new opera, co-commissioned with ensembles in five other cities, is an ambitious re-telling of Beethoven's
Fidelio
. However, unlike many of Mr. Lang's stage works, this production, mounted on a specially built stage in David Geffen Hall, proved itself a serious misfire.
It should have worked.
prisoner
(the lower case is a Lang trademark) follows the plot of Beethoven's lone opera, a work that composer revised many times until achieving its final form. The story is simple: a wife with a husband in the hoosegow shears off her hair, dresses as a man and helps rescue him from certain death. This new libretto strips out Beethoven's awkward attempts at domestic opera-comedy. It also relieves the characters of their names. Finally Mr. Lang chose a dark "twist" ending worthy of middle-season
Game of Thrones
. (We'll get to that in the last paragraph.)
Mr. Lang is a fearless, ground-breaking composer, but his choices offer little relief to the listener over 70 minutes, especially if Beethoven's opera is familiar to the listener. This new score is percussive and repetitive, with blasts of bass drum and stark minimalist harmonies. The choral writing is skilled and the male members of the Concert Chorale of New York were on point. These fellas were confined to the acoustically dodgy back line of this house crowded together on a high walkway above the stage. Even in their singing, the optimism of Beethoven has been replaced with something much more astringent.
At Saturday night's performance (the final one of this short run) the strong cast did their best with this stuff. Coloratura soprano Julie Mathevet was a feisty and welcome presence as the Assistant, this opera's light-voiced substitute for Beethoven's dramatic heroine. She sings with alacrity and energy but was not allowed in the tight time frame to develop much as an interesting character. Eric Owens was in excellent voice Saturday night, and his dark heavy portrayal of the Jailer reminded viewers that people who work in corrections are locked up along with their charges every day. He was flanked by a chorus of four menacing guards, stacking the odds.
As the Prisoner himself, baritone Jarrett Ott had to sing his first lines,
Salome
like from a specially built well beneath the acting surface. He did a decent job of appearing tired and emaciated but his warm tone and burly presence were at clear odds with the character's plight. As The Governor, the opera's villain, tenor Alan Oke gleefully chewed scenery and sang with piercing force into an obvious head mic. He was draped in a purple greatcoat uniform that made him look as if the Joker had gotten a job as a hotel doorman.
The show looked great (the design is by Matt Saunders)  aside from the lighting designer's (Theatermachine) occasional decision to shine high-powered theater pieces right into the eyes of the audience. The orchestra was divided in two, to make a lane for the actors. The chorus, in chrome shackles and sodium-yellow jumpsuits (they looked like the "Kiln" prison outfits in
Guardians of the Galaxy
) looked appropriately oppressed. Their population was swollen with black and white film of more prisoners, suggesting a vast correctional facility with a large and seething population, ready to burst into riot at any moment.
At the climax of the work, the Assistant reveals herself and draws a gun just as the Governor is going to murder her husband. The trumpets sound offstage. The inspectors have arrived. And then the bad guy calmly takes the Assistant's gun away, delicately slipping it into the pocket of his purple greatcoat. All the characters, the now-uncuffed Prisoner included, sing at the audience about how all of us in the world are in shackles, it's just that some of them are more visible than others. This ending, (or lack of one) may reflect the problems of a world that uses private incarceration, torture and hidden "black prisons" to make its population feel safe and secure. In this "Shawshank," there was no redemption for anyone.
Become a Patron!
Superconductor 
is free for everyone to read but it does cost money to produce. If you enjoyed this article, it's time to click over to 
Superconductor's Patreon page
, and help support the cost of independent music journalism in New York City. Our Patreon program starts at the low cost of just $5 per month, less than a fancy cup of coffee in this town.