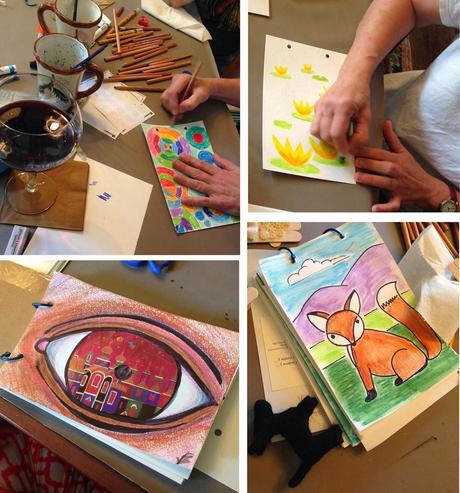 The first annual Whitney Hill Art Retreat was a wrap last Sunday. I loved every minute of it and I think my guests did too. I wanted to give readers a peek at all the art, and some of the yummy food we were served over the three days we stayed at Whitney Hill. The art included: Recycled Art Journals, Monet Watercolor Resist, Big Face Drawing, Magritte Eye Collage and Picasso Blues Portrait, Delaunay Circles, Art Trading Card Snowman and Dino Drawings, Portrait and Mini Canvas Art, Popsicle Easels and several how to draw lessons. We were busy!
Below are just a few of the amazing dishes that Regina cooked up every day. Each meal and appetizer seemed prettier and more delicious than the last. The proof was in all the photos taken before anyone started to eat!
This art retreat was definitely the beginning of an annual event, so if you are interested in attending next year, just let me know. It will be held in late June and limited to 8 guests to keep things cozy. I want to send a huge thank you to the ladies that came last week, they were all the reason why the weekend was so fun and why I can't wait for next summer to roll around again.