Hey Friends!
Have you ever looked at a home and you thought "Humm, I really enjoy that look.....I wonder what I LIKE about it?"
Well, when I was building our home there was one construction detail that I kept noticing I was drawn to whenever I saw a home constructed with it.  It was:
BROWN/BRONZE WINDOW GRIDS

Let me show you some windows and you can see what I mean. :-)

White Trim Windows
(I love the white on coastal homes!)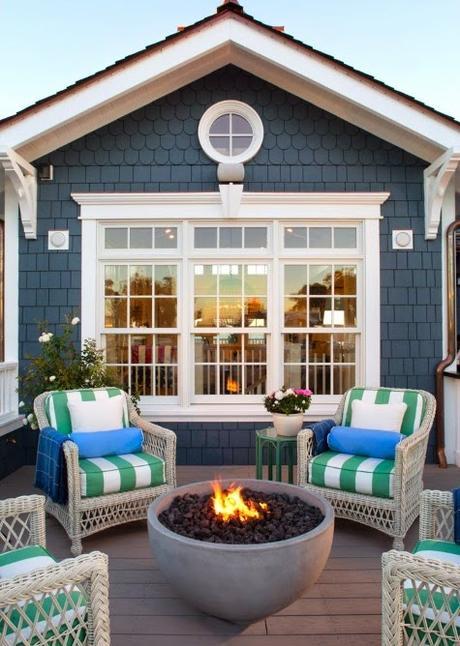 Metal or Brown Trim Windows
(I prefer this look when doing a craftsman/rustic exterior)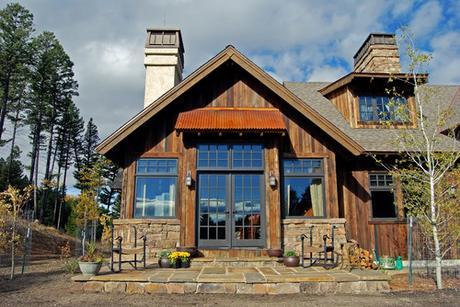 Chester Springs Architects & Building Designers Msl Associates Ltd. Architects
Although normally the brown grid is fabricated in metal or painted wood (quite a bit more expensive than vinyl) you can get the LOOK by ordering your vinyl window package (yes, it's a small upgrade) in a

bronze painted finish.

 
This isn't the best picture of my dark bronze window trim but I think you can imagine the difference between the bronze instead of a white grid/border.  I chose a dark painted wood trim border around it so the bronze melts right into the brown wood instead of a white grid that would be in contrast to it.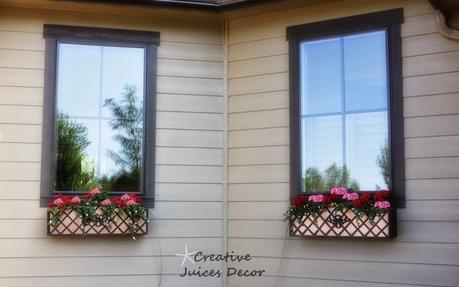 Windows can be made from wood, aluminum, steel, or vinyl.  But for this post I decided it would be fun to focus on industrial modern beauties, otherwise know as brown metal trimmed windows. :-)

Almost always, when you see industrial style decor, you will see the bronze metal window trim used.
I love the windows and the concrete walls in this kitchen!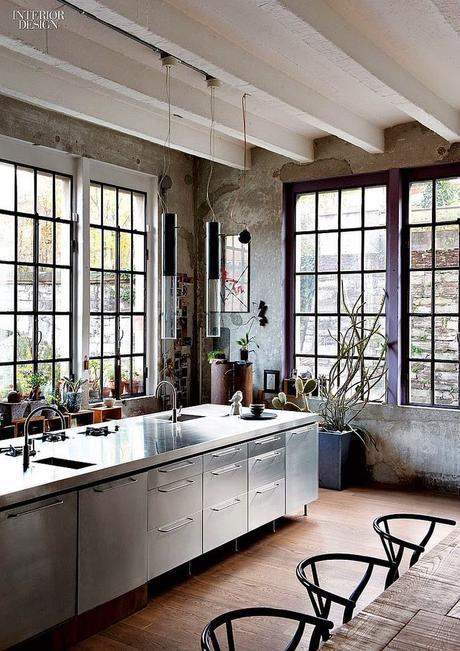 These sliding metal doors to the sun room are gorgeous!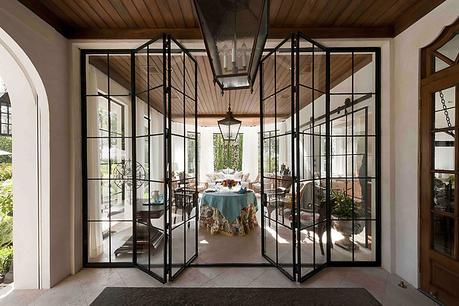 Norman Askins
LOVELY bronze french doors :-)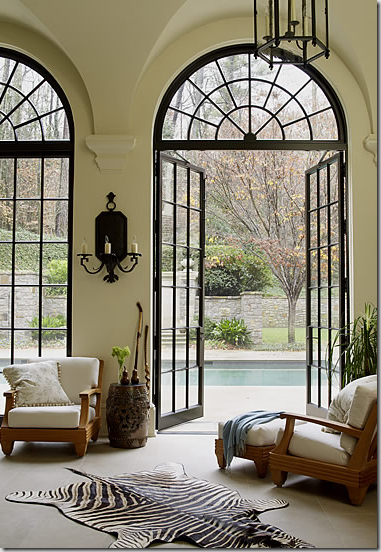 Designer Jackye Lanham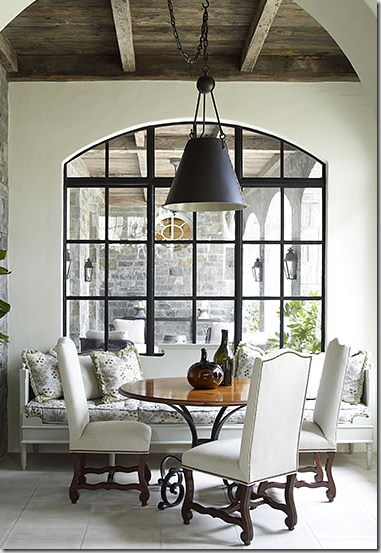 Designer Jackye Lanham 
Large metal windows used in the dining room.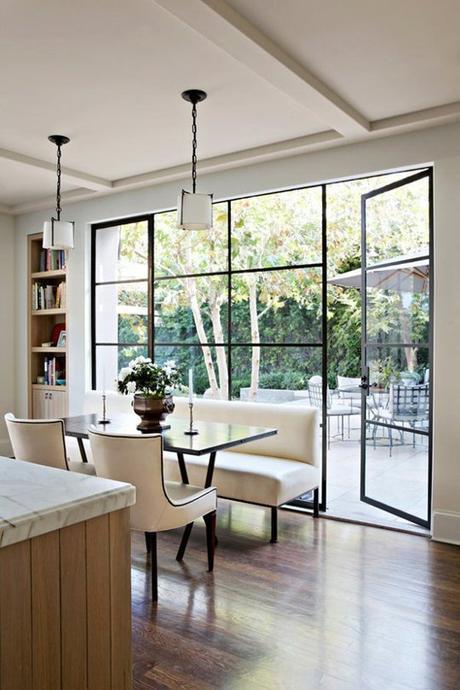 Oh man, what's not to love about this kitchen?!  This is an example of how the general "industrial" look can also be more traditional.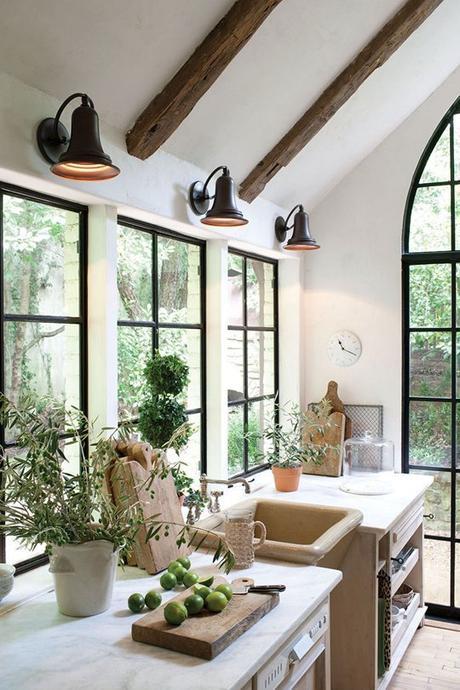 Ah, I LOVE the arched design!  That is another plus when using metal windows, you can span a large area letting in a TON of light because of the load bearing properties of metal.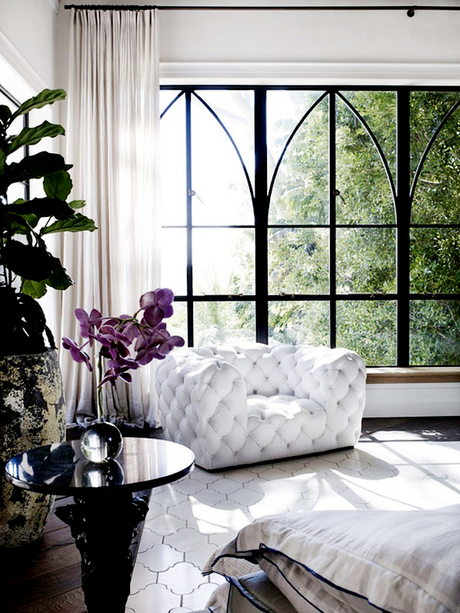 source
The bronze doors/windows are almost a side glance with all the beauty of this home!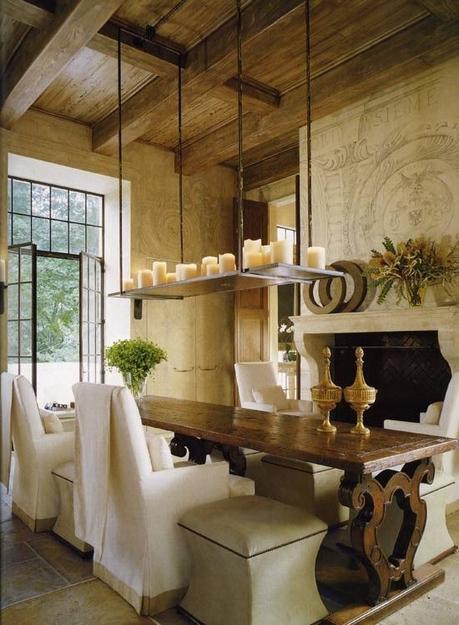 What a VIEW!  Thanks to the metal windows, the entire wall is pretty much freed up.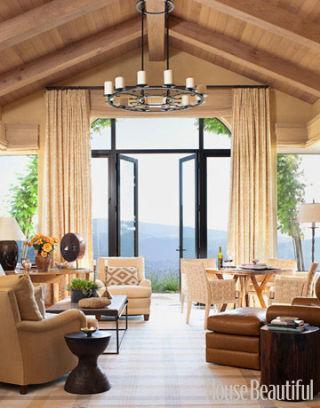 Another dark window grid along with wooden beams :-)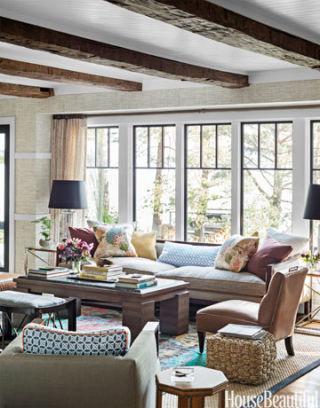 House Beautiful
Are you starting to like the dark grid windows??  :-)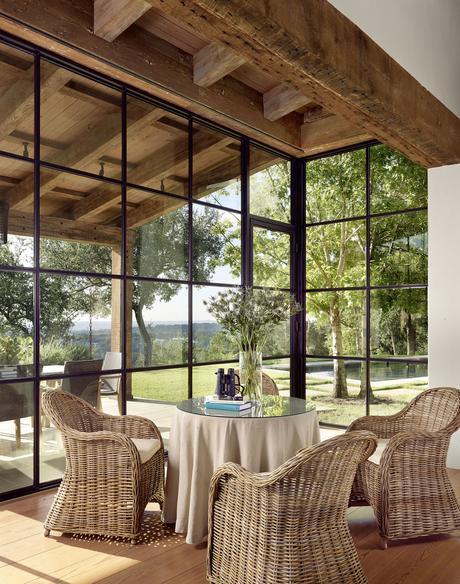 Here is a view of the area above from the outside.
Wonderful!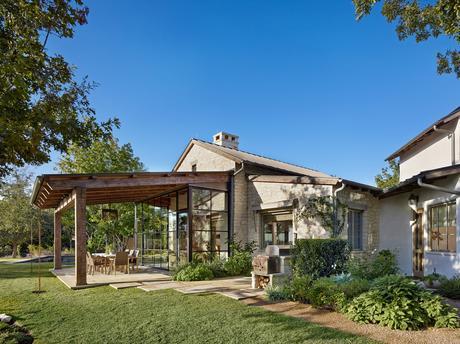 I really have a "thing" for mixing the OLD with the NEW :-)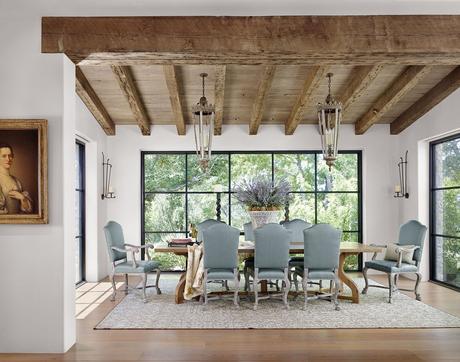 I love the iron chandelier mimicking the iron of the windows. Oh, and look at that awesome brick floor!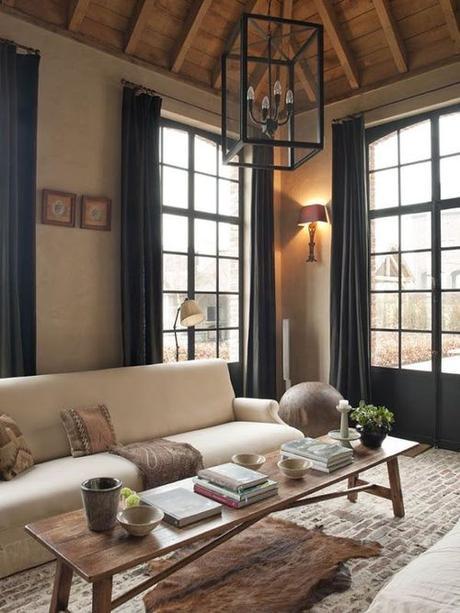 This picture below was labeled "Modern Farmhouse"  
You have this gorgeous wooden table with iron lantern lights and then BAM - see through plastic chairs :-)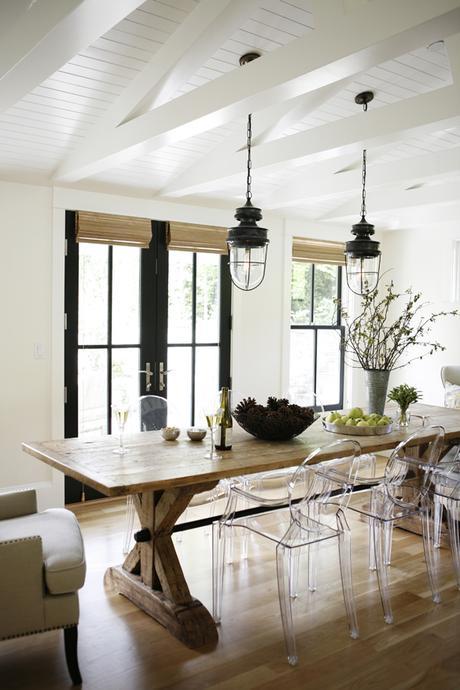 Source
Alright - I really need to stop!  This post just keeps going and going!!!
Oh, just ONE pretty little bronze metal window setting:-)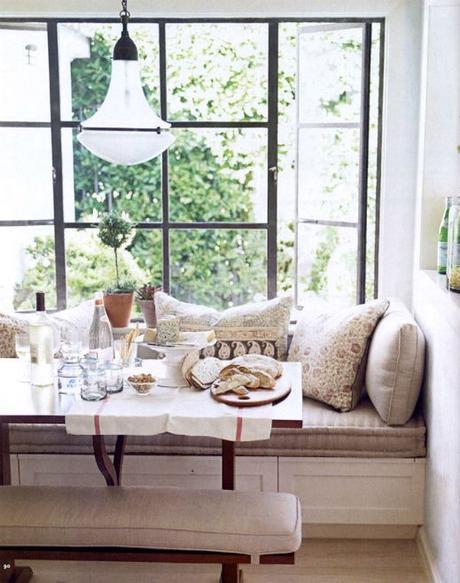 So what are your thoughts?
I know using METAL (or wood) is a LOT more expensive than vinyl, but that's why you could just upgrade to a bronze PAINTED vinyl grid OR just do the metal around a special area or entry.
I find it amazing how dramatically different just the color of a window could make a home!
Did you already notice that construction detail on other people's homes?
Have a wonderful weekend!

If you guys ever have any decor/design questions.....feel free to ask me and maybe I'll do a post on it for  you!  Don't miss out on any other posts - I'd love to have you sign up to receive my once a week home decor inspiration :-)
Enter your email address:
Delivered by
FeedBurner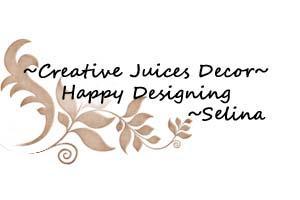 Sit back, relax, grab your cup of coffee and check out my other DESIGNER SECRETS and FUN CRAFTS on my blog - just click over to www.creativejuicesdecor.com (Thanks my friends!)