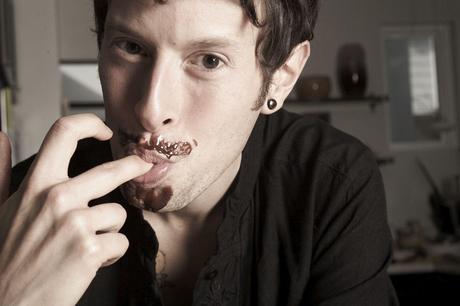 Jason Wrobel, Celebrity Chef in Hollywood, CA
Yield: One 10-inch cheesecake, 12-16 servings
Ingredients:
Chocolate Almond Crust:
¾ cup raw almonds
¾ cup coconut flakes
1 ½ ounces cacao powder (dry weight)
5 ounces date paste (weight)
1/3 cup cacao nibs
2 teaspoons vanilla extract or liquid
vanilla
1/8 teaspoon salt
1 pack fresh blueberries
Directions:
Add the almonds, coconut flakes, cacao nibs, and cacao powder to a food processor and
pulse until the almonds are well broken down into small pieces. Add the salt, vanilla, and
date paste and process again until well incorporated. Place the crust mixture into a 10-inch
springform pan that has been greased with coconut oil and press firmly until the crust is
spread evenly and uniformly on the bottom of the pan. Place the fresh blueberries on top
of the crust and set aside.
White Chocolate Probiotic Filling:
3 cups raw cashews, soaked at least 2 hours
2 cups fresh hemp milk
¾ cup agave nectar
2 tablespoons lemon juice
¼ cup liquid vanilla
¼ teaspoon sea salt
3 tablespoons lecithin
2/3 cup cacao butter
2 capsules or 1/2 teaspoon dairy-free probiotics
1 pack fresh blueberries
2 tablespoons lemon juice, reserved

• Bifidobacteria & NCFM® Acidophilus Blended with a Non-Dairy Powder
• 15 BILLION ORGANISMS PER CAPSULE GUARANTEED†
Supplement Facts Serving Size: 1 Capsule†† Servings per Container: 60 Amount per Serving A 50:50 blend of: 15 billion live organisms† Lactobacillus acidophilus NCFM® Bifidobacterium lactis Bi-07* Ingredients: Microcrystalline cellulose, hypromellose, Lactobacillus acidophilus, Bifidobacterium lactis, magnesium stearate, and silica.
Buy Ultra Flora Plus DF Capsule (60 capsules) $35.50
Directions:
Place all ingredients, except the cacao butter, blueberries and reserved lemon juice, in a high speed blender and blend until very smooth. Add the cacao butter and blend again until smooth and very creamy. Add the probiotic powder to the mixture and briefly blend again. Pour the mixture on top of the blueberries and pie crust, leaving 1 ½ cups reserved in the blender. Place the fresh blueberries and reserved lemon juice in the blender and blend again until a smooth, creamy, light blue filling is created. With gusto and some force, pour the blueberry filling into the white chocolate filling in the pan, as you want the blueberry filling to penetrate to the bottom of the pan. Pour several pockets of blueberry filling into the chocolate filling and then lightly ribbon the rest on top. Take a single chopstick and then lightly swirl the two fillings together, creating a beautiful two-color mixture. Do not over swirl, as the point is having the contrasting colors come together. Place in the freezer for 1 hour to set the cheesecake. Before serving, let thaw for at least 30 minutes.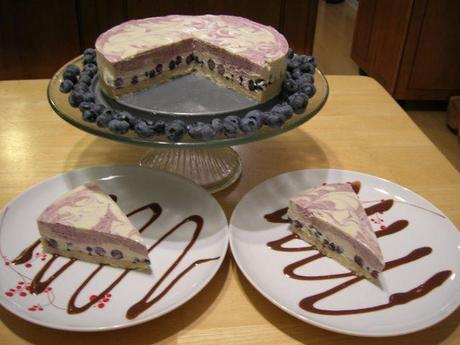 Special thanks to Celebrity Chef Jason Wrobel for this recipe!