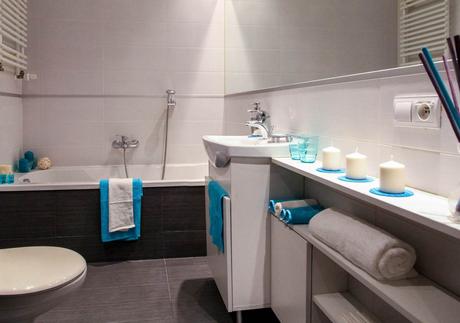 At Tradewinds Imports, you can find a wide variety of finely crafted white bathroom vanities to help you re-envision and remodel your bathroom. These luxury bathroom vanities are made of high quality woods, including oak and pine, and come with plenty of storage space where you can keep toiletries and bathroom appliances.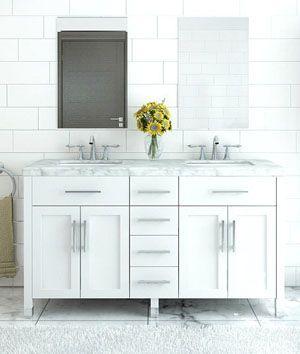 The 72 inch Grand Boardwalk white bathroom vanity – $1699
Why Go White?
White is a sign of modernism, simplicity, and understated elegance. When kept clean, white bathroom vanities can seem to sparkle. White colors also create an illusion of spaciousness, making your bathroom seem larger and brighter. Particularly if your home has a modern touch and an open feeling, a white bathroom vanity may compliment it well. Another simple reason to choose white may be your personal aesthetic tastes—if you have a feeling that white is the color for you, trust your instinct!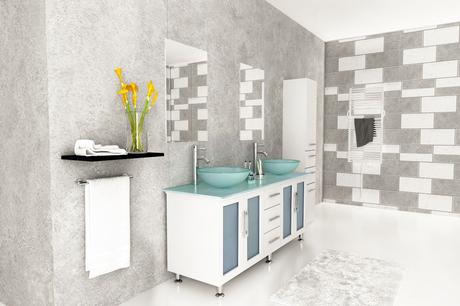 The 59 inch Double Lune vanity with glass top and vessel sinks – $1299
Complementing a White Vanity
Once you have decided on a white vanity, consider how you would like it to appear. You may opt for a double or single traditional bathroom sink, depending upon the size of your bathroom and the number of people who will be using it. Or, you might decide that one of our beautiful vessel sinks are the best fit for you. Vessel sinks come in a wide variety of shapes, patterns, and materials, ranging from glass to marble to stone. These make bathrooms appear clean, sleek, and modern. They have a timeless quality, and while simple, they also make a statement.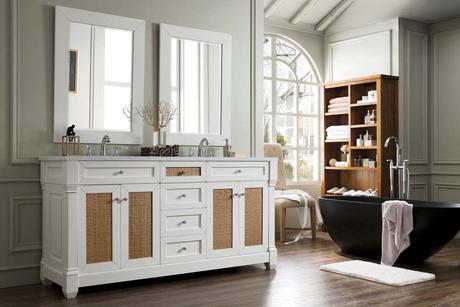 The 72 inch Weston Double Vanity with Raffia Doors – $2649
Keep additional decorations to a minimum so as not to gather clutter or deter from the beauty of your vanity. A vase of flowers, a lantern, a candle, or a seashell may be just the touch you need to top your vanity.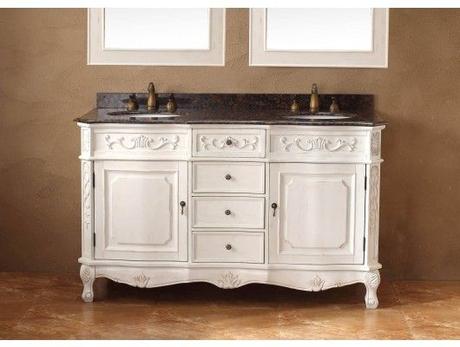 The 60 inch Costa Blanca Vanity with Granite Top – $1695
Also consider investing in a beautiful soap dispenser, rather than having a plastic, branded bottle staring you in the face each time you wash your hands. All of these elements will add to the beauty of your bathroom.
A Variety of Choices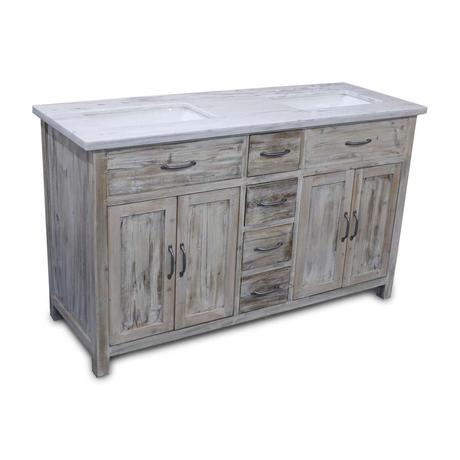 The 59 inch Woodland Double Vanity – made with 100% reclaimed pine wood and including a 3 cm thick white Italian Carrera Marble top – $1995
There is an array of options for you to choose from in making your vanity selection. There are wall-mounted vanities, or vanities that stand on their own. They come in different sizes to fit all ranges of bathrooms. You might choose a simple design in bright white, or a vanity embellished with carvings in an off-white, rustic look. While most white bathroom vanities are rectangular, you can even find round vanities. And don't forget about the selection of sinks—would you prefer a traditional sink, or a beautiful vessel sink resting atop the counter? Take a look at all the options until you find the one right for you. Be sure to check the measurements and specifications to ensure that it will fit your bathroom.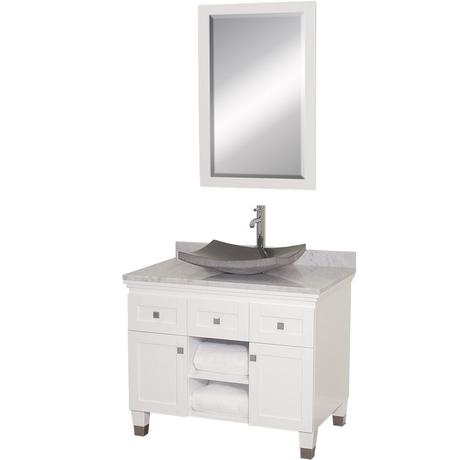 The 36 inch Premiere White Vanity with stone basin vessel sink and granite top – $1099
A Clean, Polished Finish
Once you have installed your new white vanity, you will find that it makes a huge difference for the positive in the appearance of your bathroom. Because the vanity is central to the bathroom, a handsome vanity can create a polished and clean makeover to this important household room. Since dust shows up on white easily, be sure to wipe down your vanity weekly to keep it shining. This is an easy and quick task. Most importantly, enjoy the new look!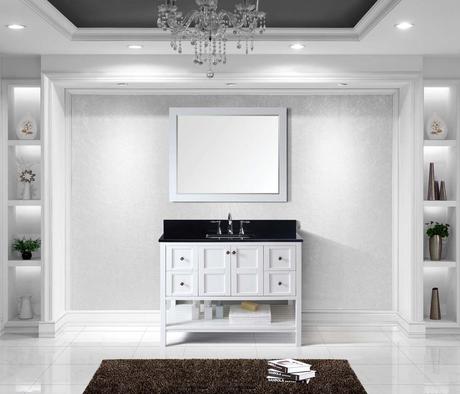 The 48 inch Winterfell single sink vanity in white, with black granite top – $1234
For more vanity choices, be sure to check out our online store for thousands of cabinets in a variety of unique and exclusive styles.