Hello all I have returned from the luscious sun to drizzly London but the warm glow was re ignited when I discovered all the fun Vincenzo had been having playing around with Bigne, Italian for bite sized they are the small choux bun pastry balls that generally make up Profiterole towers.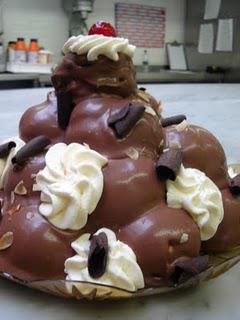 However if you have enough left over and leave them near vincenzo along with melted chocolate, cream and Cherry's you get this.
The great news is this will soon be added to our website for ease of purchasing, I can see a new top seller coming our way.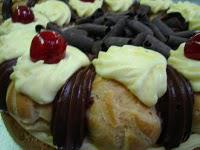 In the same session he also produced this cake made up of Bigne's, do you think its another website winner?
  .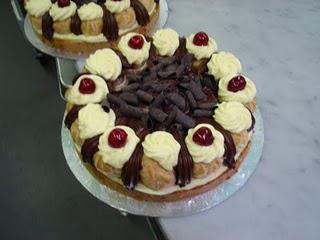 We produced a cake for a Lady's leaving party today, off around the world am extremely Jealous. Originally a bit confused on what to do she had asked for a blue cake with white writing to say 'Au revoir St. Luke's' However as the cake is quite large (14") I was a little concerned it would be quite plain so we discussed it through and this is the final result.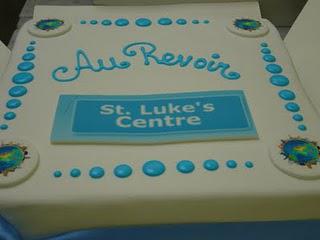 We have also made the cupcakes for our competition winner today and I can finally reveal what we went for, I think you would all agree that its a winning idea, cannot believe I hadn't thought of it myself.
Adam Jacovides via his wife Kerrie Jacovides submitted the idea of space dust, why of course genius I know. We have produced 12 cupcakes for them. Some have the space dust mixed into the icing the others have sprinkled over the top and we will let the lucky winners chomp their way through them and decide which works best.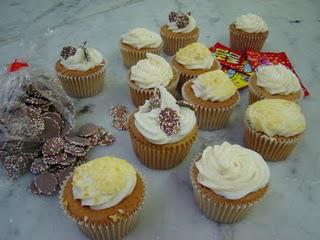 Hope you are well and not being brought down by the weather to much, I find a hot coffee and chocolate croissant normally chase the blues into submission.
Have a great day all from us here at the FCC Kitchen.Nicola Quigley