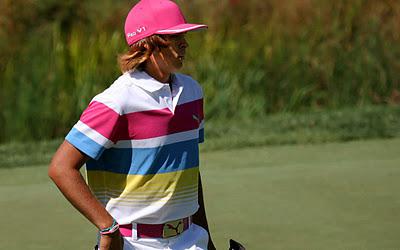 Which sounds better?
Rickie Fowler wears breathable moisture wicking anti-bacterial quick drying performance polo shirt.
Or, Rickie Fowler wears ethylene glycol dimethyl terephthalate antimony trioxide polyester polo shirt.

Unlike food, personal care and cosmetic products, textiles or clothes do not have strict labelling or disclosure requirements when it comes to chemical ingredients. The only disclosures required for fabrics are information regarding (1) fiber content (2) country of origin and (3) manufacturer or brand.

Despite this, here at Golf Refugees we choose to use only Soil Association certified organic cotton for the manufacturing of our polo shirts.
Golf Refugees polo shirts, for golfers who don't want to wear a cocktail of toxic chemicals next to their skin.
-------------------------------------------------