This review was originally printed in my favorite Perfume Blog 
Perfume Smellin Things!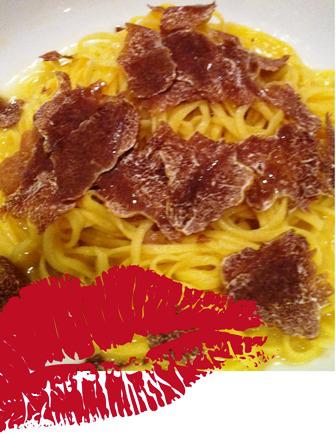 The first time that I fell in love with the glorious taste of fresh truffles was when my husband and I were enjoying a gorgeous meal at Cafe' Boulud in NYC and I ordered the roasted chicken with truffle sauce. As I ordered, the darling young waiter looked at my husband with a knowing eye and gave me a fairly flirtatious wink. When he brought my order he placed it in front of me with a huge grin, removed the silver cloche with a flourish and handed my husband an extra sauce spoon. A sauce spoon is essentially a completely flattened tablespoon fitted with a little notch in the bowl. Its sole raison d'etre is to recover every delicious bit of a sauce! I'm of the opinion that it's one of the most brilliant pieces of flatware ever made, the other being the silver cloche!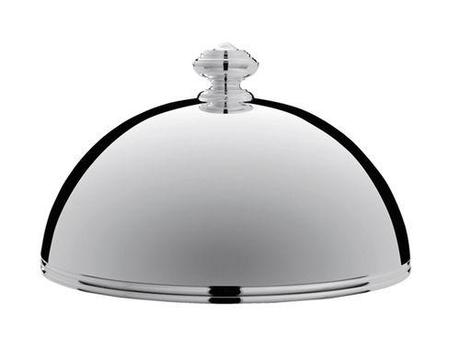 I say that because as soon as the cloche was removed, the most remarkably concentrated scent filled the air which is the sole reason to use one. It's all about the theatre, a culinary sleight of hand used purposefully to gain your attention , disarm you and then send your senses reeling. I closed my eyes and bent down towards my plate. Gorgeous slices of lemony roasted chicken lay before me and the herbs that had been used, some thyme and a bit of sage were still clinging to the crackling, buttery skin. There were beautifully roasted potatoes and a simple haricots vert' with a julienne of fennel and feathery dill and make no mistake the French truly know what to do with a vegetable to bring out its richness without destroying its essential nature. The potatoes were soft on the inside, yet crispy on the outside and the beans were crisp yet totally tender. The entire meal was incredibly bright, beautiful and lush, but it was the sauce that brought me to my knees. It was a simple sauce, made from pan juices, a beurre blanc and a bit of white vermouth. That alone would have been wonderful, but there were generous slices of black truffle laced throughout and it was impossible to miss the unmistakable lustiness that permeated the dish. I was completely disarmed and so was my husband. Eating it became an quite an act of foreplay, slowly savoring, sauce spoons touching but just barely. Bread was used to sop up what the sauce spoons couldn't touch and at that moment I realized that resistance was futile. I won't even begin to talk about the cab ride back to our hotel....... The truffle is renowned for it's supposed ability to excite the sexual appetite and there's quite a simple reason for that...it smells just like the best kind of sex. I know that you understand…it's the kind that your mother warned you about! Sweaty and raunchy with almost obsessive foreplay that lasts for hours kind of sex. The kind of passion that you can only have with someone that you're absolutely not supposed to be playing that way with or someone that you're so comfortable with that anything can and does go. French Perigord Black or Italian white, it's your choice how you're seduced. Say what you will of their rarity and the absurdity of their price but really how much fun is the thought of having an ingredient to cook with that is hunted by pigs and dogs alike and can barely be reproduced outside of a gorgeous forest somewhere in Europe? The concept is so very romantic...the image of a truffle hunter out in the woods with his dogs searching passionately for this fairly common looking bit of culinary treasure. The truffle is technically a fungus and grows underground in the company of some very specific types of trees. There are efforts to reproduce them here in this country, but truthfully that might ruin the pleasure for me. I'm a bit of a forager at heart and I love their scarcity and the fact that I can only get them fresh several times a year. All things taste best in their season and truffles are not the exception to that rule. They are the most fabulous when they are fresh and that is beginning in the month of October and sometimes stretching well into February. Lately it seems that everyone is having a love affair with the truffle and you can find them served fresh during the season in some really great restaurants. Be sure to know what you're ordering otherwise you might be in for a huge surprise when you get the check. Last October when Jim and were in New York for the weekend we stopped at what is possibly the most pretentious of w York restaurants for lunch called Nello, located on the upper East Side. Nello is quite fabulous…a place to see and be seen if you're into that sort of thing and ridiculously pricey. I go for the Bellini's which are absolutely wonderful and because the whole scene just cracks me up every time . I think (although many wouldn't agree with me) that the food isn't their top priority, but affectation is and they do that beautifully. Two years ago when sitting outside under the awning happily sipping away, I watched in amusement as a waiter brought a huge glass cloche filled with fresh truffles to the table of a woman who was obviously there on a date. She chose her truffle (her truffle!) and he came back a short time after with plate after plate of wonderfulness. It was one of the most incredible things that I've ever seen and smelled even better than it looked. It was the perfect New York people watching experience!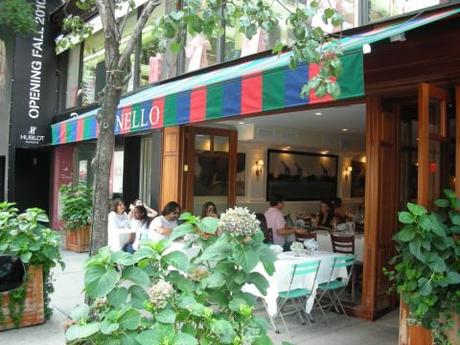 To get back to the story of our lunch, my husband asked for the specials and was told that there was a wonderful truffled pasta available which of course he ordered immediately. I realized the potential for disaster as soon as the cloche was lifted. Before him was the most amazing bowl of fresh angel hair pasta dressed with olive oil with a touch of salt and approximately 1 cup of shaved fresh white truffles dancing on the top. At that moment I took a deep breath and watched him devour it with total abandon. I got to taste approximately one forkful and trust me it was mind blowing. I've never tasted anything like it…it was fresh truffles and pasta, it was perfect. He would have licked the bowl clean if he could have and when the check came we laughed and all took bets. The cost of that plate was a ridiculous 250.00! Would I do it again? Absolutely! Watching him enjoy it as much as he did was totally hot…. We are simple creatures and the truffle Goddess understands the obsessive ends to which we will go to feed our passions well. Truffles are rare and that is one of the reasons why a fine fresh truffle will cost you a small fortune. Give in to temptation once in your life because it's completely worth it. Infusing them in a fine fresh olive oil is fun and produces an oil with a wonderful flavor or if you place one in a jar of fresh arborio rice for a few days you will soon be able to make a risotto absolutely fit for Venus herself. You could also get a glass canister and a few very fresh organic eggs and put the truffle in with the eggs. Believe it or not the incredible aroma will permeate the shells and the scrambled eggs that you make will be divine. Just remember to cook them slowly, with lots of butter in a double boiler. This way the scent will not be lost, the eggs will be creamy, yet fully cooked and the little bits of the truffle that you've chopped and whisked into the eggs will be nothing short of decadent. No chives, no cheese…just a bit of sea salt and a touch of pepper. Nothing else. Do this just once in your life because I promise…. once you have eaten your way through a plate of creamy truffle studded scrambled eggs you will never want to eat them plain again! All that's needed to complete this breakfast are some toast points and a really good glass of champagne. Breakfast in bed anyone? Since that first roasted chicken, I've spent a lot of time searching for truffle products, because I love them and my husband has an appetite for them that is never satisfied. You can get a wonderful truffled salt, truffle butters and many different kinds of pate's and infused oils. In the absence of a fresh truffle you can do what Isabel Allende suggests in her book "Aphrodite. " In the absence of enough money to afford the real thing, but desiring to make a lasting impression on her new lover, she was taught by her grocer to chop up several black olives very fine and rinse them to remove any traces of the salty brine which she then placed in bowl to which she added some very good truffle oil and let them sit out overnight. I have tried this myself and it's a very fine suggestion. The olives will begin to completely smell and taste of truffles and you can use them in the same way. How about some truffled mashed potatoes? Salmon with black truffle sauce? Clouds of ricotta gnocchi with the aforementioned olives , truffle oil and fresh parmesan? Fresh asparagus dipped in truffle mayonnaise and slowly eaten with your fingers? Oh my God I'm getting hungry! Which leaves me to one last thought. A little bit of that white truffle oil dabbed in all of the right places tends to leave my husband just a little bit breathless. The moral of this story? Don't ever be afraid to play with your food…..                           Silver Cloche photo from Christofle Paris Nellos courtesy of AOL Travel Truffle Pasta Photo : Beth Schreibman Gehring- All Rights reserved