There has never been a restaurant EVER that enchanted me like the first time that I set foot in Buvette. It's a beautiful little bistro in the West Village in New York and going there made me long for Paris. Buvette is noisy yet intimate, full of copper, laughter and zinc and the food is perfect. I ordered a martini ,well I tried to order my normal martini and was informed that they served a traditional martini and did I want it with Vodka or gin. I thought.."Fine. Its not the only martini I'll ever have". What I will say is that it's now the only martini that I eve want...it spoiled me for anything else. It was perfect...just the right amount of sweet vermouth and vodka in just the right cocktail glass...the old fashioned smaller curvier sort, with ice crystals from having been superbly shaken. It wasn't diluted at all....Heaven. The food was amazing as well..traditional French bistro food served up with little candles and just the right touch of pretentiousness...you know, the kind that is inclusive, not exclusive! Now you can buy the Buvette cookbook and have your own Parisian stay~cation. Do it, it's absolutely beautiful, full of pictures and stories and delightful recipes and, if you're planning a trip to the City of Lights anytime soon they've opened a new Paris location...Bon Voyage!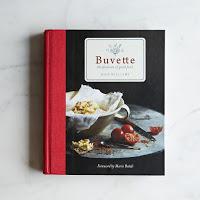 Buvette: The Pleasure of Good Food, Signed Copy - $30.00

From Jody Williams, the chef at New York's beloved Buvette restaurant, comes this new signed cookbook, Buvette: The Pleasure of Good Food. Cook through the dozens of French recipes, and add a little more Paris into your life. The book is simple and without frills, but every dish is carefully constructed to yield maximum flavor. She doesn't shy away from the complex -- she instructs on elaborate classics like Coq au Vin, and explains her views on a well-stocked bar, and homemade condiments. We especially love her rosemary potato chip recipe and boiled eggs with seasoned salt. Comes with a signed bookplate.