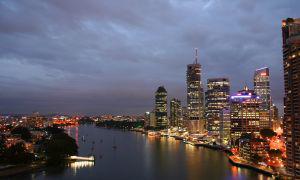 This week's entry into the series Where You Should Be! features the great Australian city of Brisbane and the surrounding state of Queensland! 
With so many deals for cheap flights to Australia coming up lately, a trip to the country has never been more reasonable.  While the country is quite large, this week's series focuses on the major city of Brisbane and surrounding Queensland in order to give a small taste of the immense number of attractions that the country has to offer, because where else can you hug a koala and scuba in one of the world's best reefs all in the same week?  The answer: Queensland. (Photo "Brisbane River" by liqfx)
Lone Pine Koala Sanctuary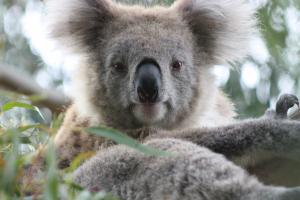 One of the top excursions in Brisbane is often the Lone Pine Koala Sanctuary located just outside of the city.  For obvious reasons, one of the top items on everyone's agenda when visiting Australia is to hug a koala, and the first koala sanctuary in the world is one of the best places to do it at.   To accommodate this need to hug a koala, the sanctuary offers daily Koala Hug shows where you can hold and hug one of their over 130 koalas!  (Photo "Koala in Southern Australia" by pcaputo)
But calling the sanctuary a koala only environment would be doing the park a disservice as some of the best Australian animals call this park home and includes the platypus, Tasmanian devil, dingo, wombat, and other indigenous creatures.  So on your trip to Lone Pine Koala Sanctuary, don't just go for the koalas, go for it all!
Day Trip to the Gold Coast
The Gold Coast is located just under 100 kilometers outside of Brisbane and is the go to spot for surfers and beach goers alike.   The reason this spot is so popular for beach goers is due to the miles upon miles of open shoreline, great waves for surfers, and calmer areas for swimmers.   Prior to arriving, it is best to research what sections of the beach are typically better for your skill set with the surf as options are available for those wanting to get a class and learn all the way up to the world's best surfer.   For those who are not fans of the water, head inland to the Hinterland to explore some of the regions best natural parks and forests.
Head Up to the Great Barrier Reef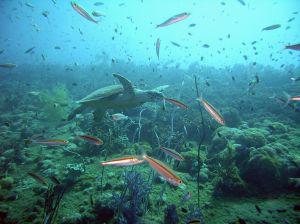 We would be doing this article a disservice talking about Brisbane and surrounding Queensland without bringing about one of Australia's top attractions - the Great Barrier Reef.  In being the world's largest coral reef, you are a major destination for the world's underwater fans.  To explore, head up to the coastal city of Cairns and make your way in to any of the dozens of tour and dive shops to negotiate a rate.  (Photo "Turtle" by hamletnc)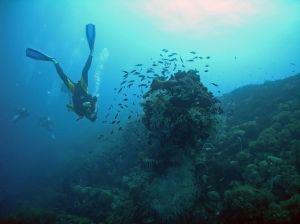 Scuba addicts will find the region to be a diver's dream and should consider doing a three day liveaboard tour that often includes two nights accommodation on a boat, three days of diving, food, and more.  With more time, longer liveaboards go out to even more remote spots of the reef and is something that is experienced by only a select few each year.   The best part about these tours is that they are often comparable to a moderately priced hotel room for a few days and include all dives and amenities, plus a reduced rate for snorkelers.  Just confirm that the itinerary is suitable for those staying on the surface before booking with a dive buddy!  (Photo "Coral Reef" by hamletnc)
Get Around Brisbane
Brisbane is an easy city to navigate around as the trains, bus, and ferries are linked through one ticketing system allowing for easy transfers.  The downside to this is that the tickets are on the more expensive end and one of the most expensive public transit systems in the world.  Luckily other options exist including renting a bike or walking if you are situated in the right neighborhoods, both worth considering if your scenario allows for it.
Whether your stay in Queensland has you only exploring Brisbane or heading out to explore the entire state, nearly every direction has a major attraction worth your visit.  Get in, stay a while, and enjoy everything that Australia has to offer!