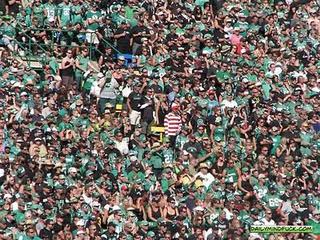 (click to embiggen and find Montero, err Waldo...)
To me, this is as simple as a phone call to Scranton. Probably cost you all of 15 cents. Only have to utter 7 words – "Send Montero up to Yankee Stadium, stat!"
Let's check out the situation:
1) Yankee back up catcher Frankie Cervelli is a great guy, enthusiastic teammate and nice breath of fresh air in the clubhouse. What Cervelli is not, is a major league level catcher or batter. He is a black hole in the lineup with little power, does not hold up his end of the defensive stick when he is behind the plate and seems this year to be as likely to throw a ball into center field as he is to get t to the shortstop. Nice guy, not so nice back up catcher.
2) Russell Martin has been a godsend, taking over the everyday catching duties. He is everything that Cervelli is not in the catcher's equipment – good, solid hitter, good defensive catcher, good game caller. Because he is the only viable catcher on the roster, he is catching the majority of games, his stats are slipping and he is injured. He is suffering from over use and this is impacting his entire game.
3) Former catcher, Jorge Posada (hip hip Jorge!) was never much of a catcher, stayed behind the plate due too his bulldog nature and ability to swing the bat. However, this skill seems to be deserting him at an alarming rate as in quickly. He has stirred a bit in the last week batting wise but he is not a catcher any more and to put him in this situation would be a disservice to him and potential injury risk and batting deterioration risk as well. At 39 years of age, Posada is not likely to get better nor will he reach his standard numbers. He is in decline.
Let's check out some reasonable alternatives:
1) Jesus Montero has been at the top of the Yankee prospect list for a couple of years. He is an adequate defensive catcher, one who will make it or break it in the major leagues on the strength of his bat. After some initial slowness in adapting to AAA baseball last year, he came on like a monster for ¾ of the year and ended up solidifying his status. He came to spring training this year and did not do anything special, started slowly again in AAA but quickly got out the hitting stick and as of now hitting .290 in the first third of the season.
2) THERE IS NO NUMBER TWO OPTION!
Look, in a nutshell, Martin needs a break, Cervelli can't field or hit, Posada can't catch. At worst, Montero only does as well as Cervelli behind the plate but outhits him night and day. Montero can get 4-5 games a week at the ML level by backing up Martin, DHing a couple times a week and pinch hitting on other days if necessary. For a trial basis you can even keep Cervelli around and send someone else down for a while to give him his shot. If he catches fire, maybe he wins a couple of games, gets a taste of ML baseball and works out the kinks.
What do the Yankees have to lose?