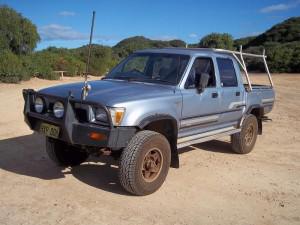 My Magical Bus.

You might be asking yourself where is this guy.  He's writing blog updates for days and then just like that, he's gone.  Your right ya know.  I am gone.  I've gone up a mountain, Mt Shadford.  Mt. Shadford, where there isn't any internet, television, and just enough cell connection to give you a hope that the call won't drop just before it does.  So the logistics are an obvious wrench in the gears but other than I dig it.  It's been pretty relaxed here.  It is Autumn here so the weather is cool and you can leave the doors open.  So back to that wrench.  Emails are tricky little thing.  I have a system and it goes a little something like this.. ok don't lie, we were all hoping for a little music to kick in right there.. so here is my system with emails.
Phase 1:  You write me an email.  I feel fortunate and happy about this.  I do a little breakdance in my head.
Phase 2:  The email sits.  It's lonely.  Email is sad, and I am sad without it.
Phase 3:  At some time in the week I find a moment to hop down this little mountain here and give a happy little fellow who sells internet a couple of gold coins
Phase 4:  I sit at a computer and look at a clock.  Clock ticks away.  When clock stops the computer turns off and thats game over as far as the internet goes.
Phase 5:  My brow sweats as I watch the clock and feel like Indiana Jones in full sprint dodging big rocks kind of pressure.
Phase 5:  I drive back up the mountain.
Phase 6:  I read the emails and I'm thinking how cool it is.
Phase 7:  Then I go do some work.
Phase 8:  I go down the mountain (again).  Happy little fellow smile greet wave Clock tick emails sent tick ding computer off.
Phase 9:  I drive up the mountain.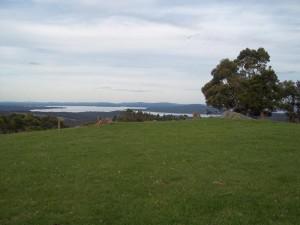 The Top of Mount Shadford.
So things are going well here at Sahyma's.  You might be wondering what I have been doing lately.  Well the days have been relaxed and easy going.  I live in a white and blue caravan on a hill in front of some kiwi bushes.  Yes that's right, I live in one of the sets of Narnia.  When it's not raining I work about five days a week.  When it rains I stay on the dry side of the window and read, write or like I did two days ago, I drive to the beach and fall asleep (the waves woo'd me – oops).  I wake up early in the morning.  I typically do the writing and reading thing again and then I exercise, cook breakfast, wash the dishes (I use a sink outside) and then go to work at nine.  After my commute I arrive at work at nine two.  Oh and since I'm getting up pretty early I just started meditating.  Ninjas meditate, and Good Time Greg sent me a book on how to become a ninja some time back.  So I figured why not.  You never really know when you might need it.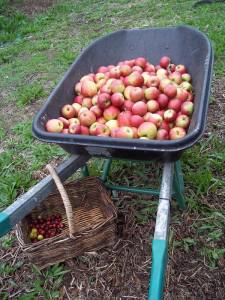 Getting ready for the market.
The work around here is varied and that is something that I like.  It keeps things interesting.  I am convinced that every job on this planet should vary by at least three extreems to keep it from becoming monotenous and reeeeally boring.  So some of the stuff I have been doing here.  I have been climbing up on the roof, climbing under the house, disarming the house alarm and failing, using a brush cutter down a mountain (I'm becoming a pro with this thing), fed chickens, and some swans with a bit of attitude too (freaking love the pissy swans here), picked some apples that taste like candy (no joke), and cleared out a pond of a bunch of stuff that didn't look so good.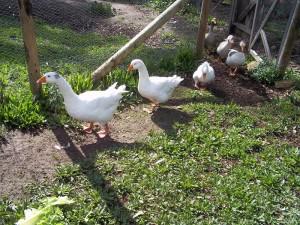 The Pissy Swans in hot pursuit.
Today I cleaned the perimeter of Sahyma's house baby wasp nests.  The big wasps paralyze spiders and put them in the nest.  It's pretty wicked I must tell you.  Last week I pruned with Julie who is one of the gardeners.  Then later I helped Elan, who is the other gardener, with the early stages of biodynamic gardening (organic gardening that uses the cosmos, real fancy, makes stuff grow swell).  Some times I work alone but most of the time I work with Dave, Elan or Julie.  When they aren't around Sahyma pops in and out.  After I finish working, which is around three, I go to town or hang out.  In the evening Sahyma cook dinner and then after that Dave and I have good conversation, make fun of anything we can, and drink the most tea I have ever had in my life.  On the weekends I go to one of the many beaches.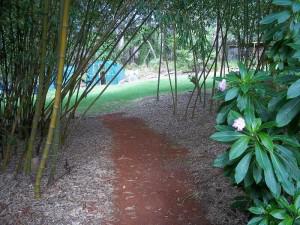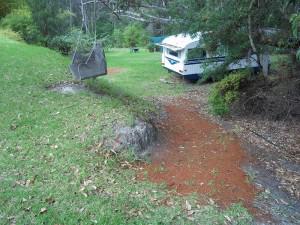 The paths to my caravan.