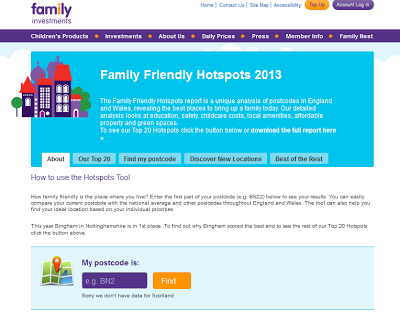 The Family Friendly Hotspots Report has pulled data from across England and Wales to highlight the best places to live based on a number of factors: from property prices to the standard of local schooling and crime data.  Using recent crime data from local police forces across England and Wales - which shows the frequency of a range of crimes per capita, including burglary, robbery and vehicle crimes, as well as anti-social behavior and violent crime.
As part of the report, the Family Investments Hotspots survey saw people across England and Wales expressing their views on what factors were important when considering where to live - and 90 per cent of respondents said crime levels are a big consideration.
The Family Friendly Hotspots Report provides a detailed breakdown of these five factors that score in each area:
Property
Safety
Families
Education
Amenities
To see how your postcode shapes up against the rest, use the handy interactive tool available here.  You will get a very interesting and fun result!
This is what I found for mine using the tool.  For safety, Lichfield comes in well below the national average.  Bear in mind though these are total incidents so the numbers are dependent on how densely populated a postcode is.  I was pleased to see my area did so much better in Education than the national average.  This was one of the key considerations on us choosing to live in Lichfield because generally have good Ofsted reports.  The national average is 26 for average Key Stage 2 score and we scored 29.  Also, the national average for Key Stage 4 score is 73 while we are 87.  Even though we are not the top 20 for the safest postal district nor most fun, I think Lichfield fares well compared to the national average.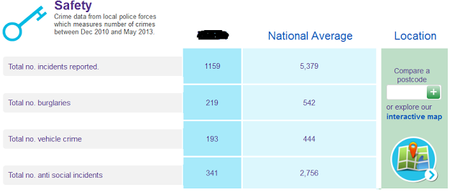 Kate Moore, head of savings and investments at Family Investments, commented: "Our customers told us that the safety of an area is a major consideration when choosing a place to raise a family, and it's interesting to see that Wales has so many spaces in the top 20 safest places to live.
The Family Friendly Hotspots Report also looked at the 'most fun' areas of England and Wales, taking into account amenities per square mile. Take a look at this chart for the Top 20 places offering the best range of essential and desirable factors that create the ideal family environment.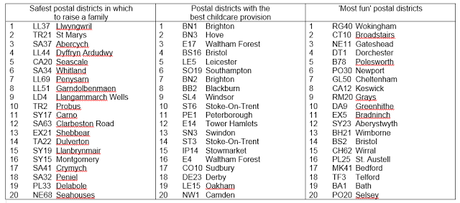 Disclosure: This is a collaboration with Family Investment.