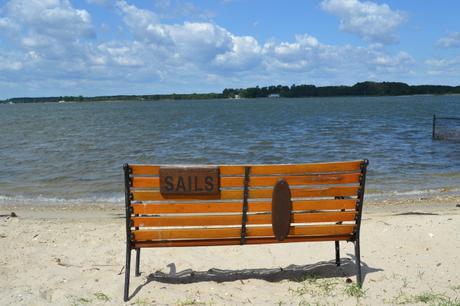 This bench in Oxford invites you to sit and read a story…
*
The idea for Inn Significant has been in my head for several years. Before I wrote Baseball Girl, a story about a woman who works in professional baseball, I was toying with Inn Significant. However, something wasn't quite coming together. One problem I faced was that I originally set the novel in Annapolis, but I had already done that in my first book, Beneath the Mimosa Tree, and I decided that I didn't want to write about the same city again in Inn Significant.
That's when the idea of setting the novel on the Eastern Shore of Maryland came to mind.
I love the three towns featured in Inn Significant—Oxford, St. Michaels, and Easton. I frequently take day trips there, and when I knew my character, Milly, was facing the tough job of continuing to live after the death of her husband, I wanted her to be in a peaceful setting, a place where recovery could take place. There's something very quiet and serene, yet incredibly magical, about Oxford.
My magazine class reads a piece each year that I love called Russell and Mary by Michael Donohue. In that magazine article, which was published in The Georgia Review, the writer is a tenant in an apartment in Park Slope, NY. His landlord, Mary, is an old, crotchety woman who most likely suffers from dementia. Within months, she dies and has no heirs, so the state comes and repossesses her things. A large, old microwave box is left behind which contains intimate, personal poetry, notes, sketches, receipts, and photographs that belonged to her late husband, Russell, who had died in 1965. Donohue feels badly leaving the box behind, so he takes it. He becomes so obsessed with the items in the box that depict Russell's life that he tries to piece together the lives of Russell and Mary, what brought them together, and the trials and tribulations they faced. The story is far from a fairy tale; Russell drew pornographic images, wrote bad poetry, and was admitted to psychiatric hospitals. Mary, it seems, was not a nice person. They did, however, share some heartache. But what is amazing about this piece of writing is how Donohue has his own epiphany as he believes he can connect these two people's lives and know exactly who they were.
Think about it this way: if someone found a box of your stuff, would they really know who you were as a person?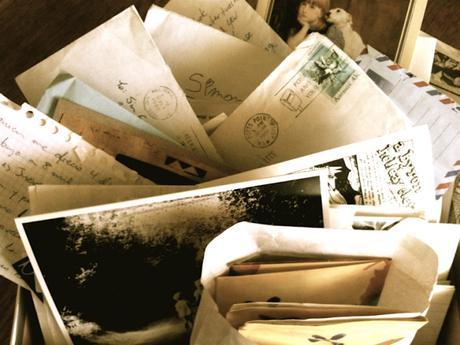 Donohue's revelations about what we leave behind left quite an impression on me about what legacy I may bequeath to my own children. He further estimates that we die twice: once, physically, and a second time when no one is left to remember us.
The reason I'm telling you about this piece of nonfiction writing is because it inspired so much of what I did with Inn Significant. Milly finds a journal that belonged to her grandmother and it contains family history that no one in the family knew anything about. This was the hook I was missing in my early draft of Inn Significant, and it was what propelled me to finish writing the book.
I tried to impress upon my students yesterday that ideas for writing come from so many places, but a lot of times, they come from reading and hearing the stories of others. One little nuance can offer a writer a world of material. And just like that, you have a book idea.
Keep reading, keep writing, and keep asking questions. That's how the stories begin to grow.
Also, I got a little HOMETOWN PRESS today from the Severna Park Voice. Thank you to Judy Tacyn for writing the story.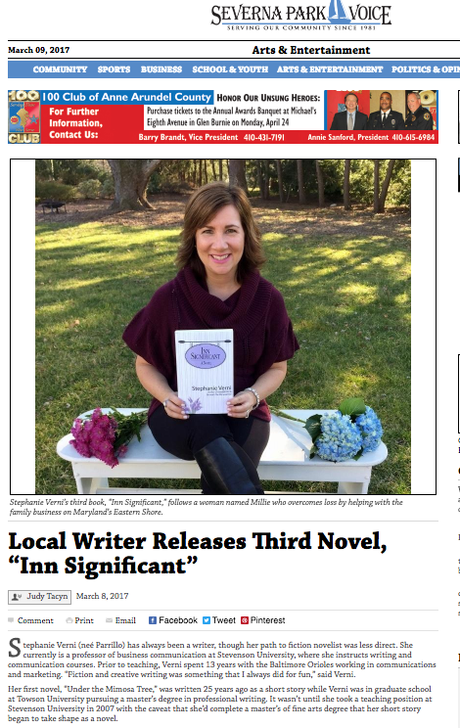 ***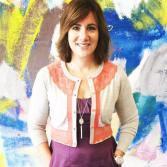 Stephanie Verni is Professor of Business Communication at Stevenson University and is the author of the newly released Inn Significant,Baseball Girl, and Beneath the Mimosa Tree. Along with her colleagues Leeanne Bell McManus and Chip Rouse, she is a co-author ofEvent Planning: Communicating Theory and Practice, published by Kendall-Hunt.  To visit Stephanie's Amazon Author page and see her books, click here.