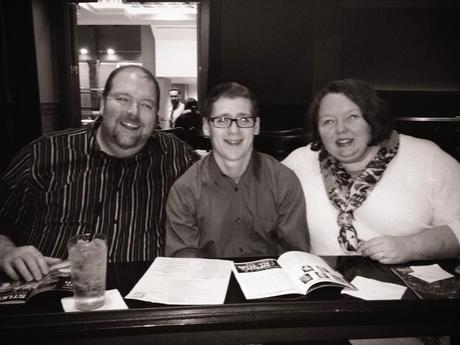 Enjoying a show at 2nd City. 
It's been a very full year which is my excuse (yes, I admit it's an excuse) for not updating this blog.  Everything has changed since that last post in July about the fears of being a stepmom.  Not everything as I still find myself fearful of screwing it all up but the circumstances have certainly changed.
We are now one family living under the one roof full time.  The Sonish decided to move to Indiana this year and we couldn't be happier about it.  We are THRILLED to have him here.   Hubs continues to work in higher ed & I continue to work for a digital communications company plus owning the resume and coaching firm,
Merrfeld, LLC
.  I started speaking at various women's conferences with the highlight being The Body Love Conference in April.  The Hubs returned to the theater performing in local productions & training at
The Purple Rose
and
Second City
.  The Sonish will be a Senior next year and has learned many of the life lessons along the way that we all do during this transition in life.
The logistics of life right now are complicated to say the least.  We remain in our small downtown apartment for the next few weeks.  We closed on our first home together on Friday (more on that later) & we'll move the end of June.  So for the next few weeks, my office has been transformed to a bedroom and we're "cozy" in our 900 sq ft space.  I know my Chicago & NYC friends think that's a HUGE apartment but 3 people, 2 cats & dozens of boxes is making things a little snug.  We're happily getting through it and everyone's being very patient as the next phase awaits.
This summer will be full of exciting opportunities from first jobs, drivers licenses, first bank accounts, car shopping (yes, we're currently still living with one car-not sure how long that will last), new theater productions for the Hubs, and new projects and clients for me.  Somewhere in there we'll fit in some travel, maybe a vacation weekend, family time with extended families and grandparents who are SO EXCITED to have their grandson nearby.  It's shaping up to be one busy summer but we're committed to enjoying it so that we have all of these great memories to look back on years from now.
More blogging ahead!