I had a fetish for shoes-
no doubt
, but when did this fetish become a addiction.???....this girl has no clue!
P.S- This picture below is just a teaser of what looks just thirty times bigger than this.
Shoe size is somewhat consistent in adulthood, and not at all prone to a change unless your pregnancy hormones take a major toll on your body shape and size.  Truth be told mine increased by half a size post-pregnancy. One possible reason for my ceaseless shoe buying could be the need to adapt to this size change.
Well, thats just for one possible reason for my shoe-a-holic-
ness.
Let's see the other criterions that are a sure sign of this proclamation.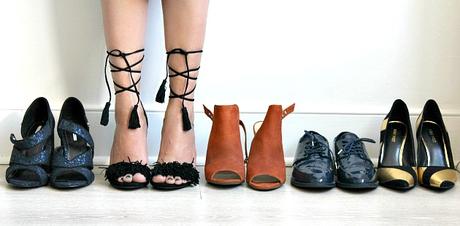 So you know your shoe problem has actually become a problem when:
you are in a state of denial of the problem actually existing. A shoe-a-holic will never confess of their problem. In their opinion it's all human nature.
you have an ongoing membership to multiple online shoe retailers. Your reasoning to multiple memberships-" if I don't like the collection at one website, I can count on the other one." 
your online shopping cart is like a stockpile- one that stashes a gazillion of those coveted shoes, only for them to go on sale. 
you order multiple colors of the same design of shoe- only for trail, but eventually end up keeping all,  just because you love them. 
a chunk of your paycheck goes toward shoe shopping.
you start manipulating/erasing shoe shopping details from your online credit card account activity. 
you start curtaining shoe box deliveries from your significant other.
your actual shoe count has outnumbered the clothing items in your closet. 
your shoes don't feel comfortable and you barely can walk in them, but you have them coz you liked them or they were on sale. So now those shoes are more like collectibles.
you've lost track of what shoes you own. You have forgotten about them, only to be reminded of which, at some later time.  
last but not the least - your shoe collection has taken over most of the storage around the house- your closet, under the bed, in your basement storage, no space is left untouched. 
I might be guilty of a few of the above and having said that- I now feel in dire need of a shoe-interevention. I am willing to go that extra mile to fix this problem, which to me, like any other shoe-a-colic is not a problem, it's just HUMAN NATURE and we are all bound by this nature.....
whomp whomp
!
Whatsoever, do you think you could have a shoe problem too???????
Have a great day and love to all. XO