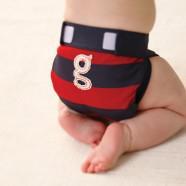 By Jason Graham-Nye, Co-Founder gDiapers
As early as the conceptual stages of gDiapers, Kim and I have felt strongly that on-site childcare should be an integral part of the business. We have offered onsite child-care for the kids of g since our launch in 2005.  We always have and always will.  It just makes sense on many levels. Mums have been able to nurse their babies, dads have been able to eat lunch with their kiddos and babies have crawled the halls. All have been able to witness the little moments that mean so much as our kids grow. We watched when Keagan took his first steps in the customer service office.  We high fived River when he lost his first tooth at his mum's desk, and we all went trick-or-treating in the neighborhood.  We're invested in the families of g, and the families of g are invested in the brand, the product, and the company. It's a symbiotic relationship.  It is a great benefit to our team and the perfect R & D setting.
In 2009, the recession was really starting to bite. We were backed into a situation where we had to review all of our benefits, as so many other companies did.  It would have been easy to cut child-care, but we made the choice to keep it and sacrifice elsewhere. Not only did we end up keeping on-site childcare, but it grew with us as our company grew. When we outgrew our office space (which was actually a house in NW Portland) we partnered with a local child-development center.  They were also outgrowing their space and had a wait list. They were mission-aligned with gDiapers and a partnership seemed mutually beneficial. We outfitted our new office to be tucked in the middle of their new childcare space.  Now our facility offers care for 18 of our kids and 60 kids from the local community. Parents can still pop downstairs to tend to the nutritionally-specific needs of their pre-schooler or to read a book in their child's class.  Better yet, the kids are free to come upstairs and visit mom or dad as well.
Sometimes sacrifices must be made when faced with economic circumstances. At gDiapers we've found that you can't sacrifice your people. The best practice is to remember that people aren't compartmentalized and detached. They come with families. They come with their whole selves. When the business supports family, the employees in turn support the business wholeheartedly. The business of gDiapers IS family. Bottom line.