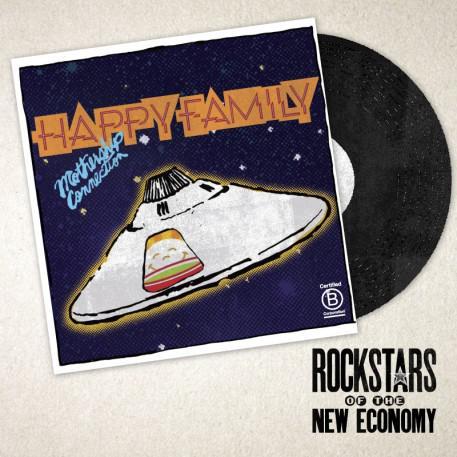 At some point, we've all dreamed of being a rockstar. Rockstars inspire us. They make us think, "That's awesome! I want to do that."
In March, B Lab honored four rockstars of the new economy (Better World Books, Sustainable Harvest, Revolution Foods, and Sungevity) as well as two Emerging Artists (Warby Parker and Lumni USA). These businesses are inspiring us and the next generation of entrepreneurs around the world because they are both high growth and high impact.
Folks have reacted–not only to the stories and the numbers, but to the mash-up rockstar album cover graphics. (Can you name all six original albums and artists?) So, over the next few months, in partnership with Fast Company, we will be introducing you to more Rockstars, all of whom are proving that it's possible to be the best in the world and also the best for the world.
Today, we'd like to introduce one of our newest Rockstars of the New Economy, Happy Family.
Happy Family is spurring growth in the exploding market for healthy, sustainable baby food. Demand is high, as moms are responding to new products that keep their babies and children safe from the danger of pesticides. Little ones are thought to be especially vulnerable due to their small size and developing bodies. Founded only six years ago, the company has exploded, growing from just $150,000 to $34 million in revenue (helped along after being featured in this American Express commercial).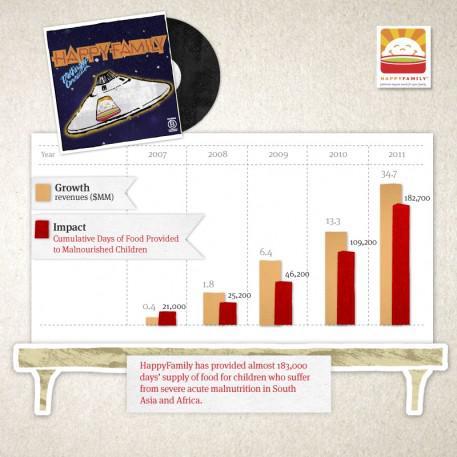 By partnering with nonprofit Project Peanut Butter, the company has managed to unite social impact with economic success. For every Happy Family product sold, the company makes a donation to help nourish a starving child with Plumpy Nut, a peanut-based paste rich in nutrients. Plumpy Nut has proven incredibly effective, with a 90% recovery rate among malnourished kids, compared to 25% to 40% for traditional programs. To date, Happy Family has provided almost 183,000 days' supply of food for children who suffer from severe acute malnutrition in South Asia and Africa, carrying their mission of sustainably improving children's health and nutrition to people around the world.
Know a company who's a Rockstar? Let us know and nominate them on Facebook.