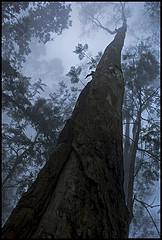 Image by Rajesh Vijayarajan Photography via Flickr
The bark was rough and fragrant – the foot holds spaced far enough apart that it was a stretch and the tree was tall – really tall. I felt my heart racing and my mind beginning to work against me so I stopped to get a hold of myself.
Yesterday I participated in a team-building, group and individual learning experience through a women's group I am part of called WOW (Women of Willamette) www.womenofwillamette.com
The event was held at a Christian Retreat facility in Yamhill County, Oregon called Tilikum Center For Retreats and Outdoor Ministries http://www.georgefox.edu/offices/tilikum/index.html
One of our Wow members is a facilitator there – and so we did some team building activities, climbed trees and walked across logs 30 feet up (yikes) and swung out over water – (could you hear my screams?)
I learned something about myself – a couple of things really – and that's the point – learning – seeking, striving – and using what you learn to make your life better.
Harvey Ullman said this about learning, "Anyone who stops learning is old, whether this happens at twenty or eighty. Anyone who keeps on learning not only remains young, but becomes constantly more valuable regardless of physical capacity."
I did get a hold of myself on that tree. Shifted my thinking from fear to focus and made it to the top and across the log 30 feet up (gulp). Watching women yesterday overcome their fears, take a risk, step out, learn something new – was inspiring – it was a great use of my Sunday – What are you learning?
What can you do to learn something new today?
You Create Your Day by the way You Think! Be Present!
Go make it a Magnificent Day!
Blessings, Shawna
Hey – check out my new presentation skills offer here: