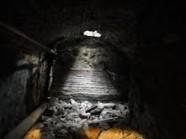 By Jodie E. Saueraker, YIKES, Inc.

Having a vision is a gift, implementing the vision is work, seeing the finished product is recognizing a dream. 204-206 East Girard Avenue in Philadelphia was no different. A few years ago, these buildings were run down, dilapidated; the only buildings on the block not renovated. Located in the Fishtown area of Philadelphia, the buildings needed new life, to be revitalized as part of the Fishtown revival.
With organizations like New Kensington Community Development Corporation (NKCDC) and Sustainable 19125, the area is working to become the city's most sustainable zip code. Tracy and Mia Levesque (the co-owners of YIKES, Inc.) cautiously approached the deteriorating buildings. In 204, light rained through a hole from the third floor down to the first. Toilets sat in the middle of decaying rooms. A bathtub in 206 was reminiscent of Silence of the Lambs. Tracy, especially, saw past the buildings neglected state. Their walls still told stories carried through generations. To start from scratch for our new offices would be like ripping pages out of an old book. YIKES, Inc. wanted to retain the history of buildings as much as possible while keeping the integrity of the neighbor's vibe. Our new office would be a combination of old and new — old materials with new purpose.
Our new offices would be a multi-family, mixed-use LEED for Homes (low-rise) project with a Platinum target. Our office would be located on the bottom floor. There is a commercial space next door and four apartments upstairs. It would certainly be a huge project. Assembling the proper team would be key.
We were fortunate to be able to work with Sustainable Solutions Corporation, a full service company providing Corporate Sustainability and Green Building Services. Plumbob, the architectural firm component of the Onion Flats, was a perfect fit for the project. Next we found Greensaw Design & Build, LLC, an eco-conscious construction company dedicated to using architectural salvage and reclaimed materials to enhance modern living spaces. Simply put, this job could not have been done unless the team had similar ideals and vision for the new space. Fortunately we all did, and we couldn't be more honored to partner with these companies.
For anyone who has tried, reaching Platinum LEED status is not an easy task. Once you manage to get through the paperwork, the planning and material acquisition takes time. On top of the normal challenges, however, old buildings hold secrets that are uncovered only through deconstruction. That is the variable in a project like this. There were the obvious issues, leaky roof, missing walls, lack of systems, but we also found walls that need replacing as well as an incredibly permeable basement. Those situations certainly put a delay on the project, but thanks to the ingenuity of the team, the project stayed on track.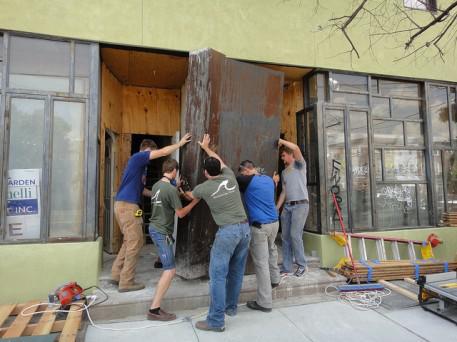 We learned a great deal from our partners in this project — from spray foam to repurposing materials. The windowsills alone are nearly two feet wide because of the insulation. The buildings include materials salvaged from struck movie sets of films shot in Philadelphia. The majority of building materials will be reclaimed or recycled including 90% reclaimed interior doors, 100% reclaimed flooring materials, 90% reclaimed framing materials, and 100% recycled drywall. Waste removal is considered an important part of the strategy, so the majority of all construction waste is being recycled or repurposed.
As a company, YIKES has been dedicated to sustainable business practices since 1996. Committed to building a more socially, environmentally and financially sustainable local economy, YIKES is a socially responsible business observing the triple bottom line: people, planet, profit. An official sponsor of the Sustainable Business Network of Greater Philadelphia, YIKES has earned the
Green America's Business Seal of Approval
and
B Corporation Certification
, having successfully completed both organizations' screening processes. YIKES recycles and composts office waste and prints promotional materials on recycled paper with soy ink, along with using green cleaning and paper products.
To learn more about YIKES, Inc., visit www.yikesinc.com, email [email protected], or call 215-238-8801. To see video of the renovation project, check out the building project blog YIKEStopia.