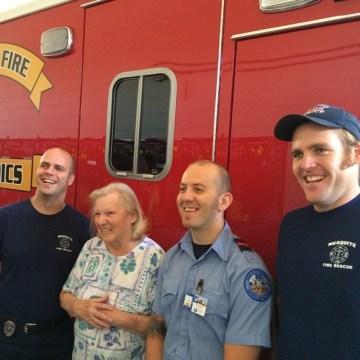 The guys who saved my mama!
A little less than two weeks ago my mom posted a status update on Facebook. "It's a beautiful day. Headed to the pool." About an hour later I got a text: "Mom had a heart attack. She's on the ambulance now. Oldest sister is flying out ASAP."  In the hours that followed the messages involved, "She coded. They shocked her five times and brought her back." and "Being life-flighted to Vegas."
My mom just turned 80 years old. She is the youngest old lady you could ever meet. She's healthy and strong and active. She plays cards and dances and flirts with the lawn boy. No one saw it coming. Thanks be to God and some excellent care takers she is back home and recovering.
In the meantime, middle sister and I were getting messages from our stepmom.
"Dad isn't eating well. He's in a lot of pain. Still no answers."  Finally, today, the call was, "Dad has been admitted to the hospital. He's in bad shape."
All of this came the very week that we were closing on our new house. There were papers to sign at various offices. We needed to switch all of our utilities and change our address and attend to those details. We had to be out of the old place and have it cleaned up. Handsome Hippie Hubby had to make the 18-hour trip to pick up Crazy Hippie Drummer from his grandparent's house. We are planning Toddler-saurus Rex's birthday party in a few days.
Ever heard that phrase, "When it rains it pours?" Yet nothing in life comes without a lesson.
Here's what the past two weeks have taught me (or reminded me of):
Say what you need to say and do what you need to do right now. Tomorrow is NOT promised to you. What you have is THIS moment. Don't waste it.
There is good stress (a new house. Yay!) and bad stress (loved ones are ill. Boo.) but it's all stressful. It's OK to say, "No. I'm not OK. I'm overwhelmed."
In times of great stress people may lash out. Don't take it personally. It really has nothing to do with you.
When you're holding on by a thread it is more important than ever to look at the positive. Dwelling too much on all of the "what ifs" will make you crazy and miserable.
Every day there are a thousand little tasks that seem vitally important. They really aren't. What's important is taking time to let people you lover know you love them!
Are you, too, seeking to save the earth, promote world peace and raise productive citizens without expending too much effort?
Why not follow Lazy Hippie Mama  by email, Facebook, Google+, Twitter or Instagram to get all the updates?
If we work on our goals together, they may be a little easier to achieve!