*This post is Day Fifteen of the January Nablopomo 30-day blogging challenge hosted by BlogHer.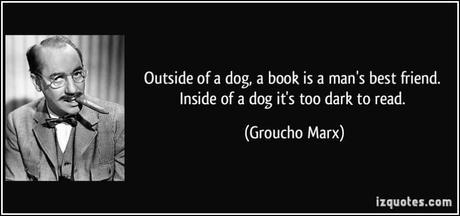 I simply couldn't pass up a prompt asking which book I would choose if I had to read just one, year after year.
I read a lot. Books and magazines, websites, fiction and non-fiction, any genre, any time-period. Right now I'm reading The Fifteen Invaluable Laws of Growth, The Power of Positive Thinking, Jitterbug Perfume, Treasure Island and, if you count book studies/devotionals, Jesus Calling and Fingerprints of God. I don't really watch TV. Who has time for that?!
When it comes to favorites, though, I love great fiction that sucks me in and challenges the way I see the world. If it challenges my spirituality that's even better. How can I ever have true faith if no one ever questions what I believe, right? If a book teaches me something new about history or current events, geography or science that's… like the hat trick of book scoring in my world. Anne Rice, Jan Karon, Stephen King, Dan Brown, Barbara Kingsolver and James Mitchner have all written books that have shaped the way I view life and the way I live it. I can only hope to write something a fraction as powerful and insightful and beautiful as some of the prose those amazing authors have published!
I have shelves and boxes full of favorites books that I just can't seem to part with. They're like dear friends. How can I send them away?
Having said all of that, there is one book that I love more than all the others. If I was forced to pick just one book to read over and over again it would be One Door Away From Heaven by Dean Koontz.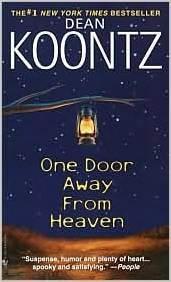 Click on the picture to buy the book. It's not an affiliate link or anything. I just think everyone should read this book.
It's a fun and exciting read. In typical Koontz style it's a bit creepy and a bit mysterious. There's an awesomely lovable dog and a hopeful ending. It's a fun read. It's funny. It's exciting. It's a page turner. But there are thousands of fun, page-turners out there. This one is special. It makes me wonder how big our world really is. It makes me curious about what's behind the public face of the people I encounter. It taught me about a school of thought that I had not heard of before reading it and, in learning that such a philosophy existed I became motivated to educate myself further and I feel like I'm a better person for knowing what I now know. Maybe my family is a bit safer because of my knowledge as well. At least, I like to think so. The book encourages me and fills me with hope. It makes me want to be a little bit of a badass with a really big heart. I'll always be more like Donella on the outside, but perhaps a Spelkenfeld lives in my heart. Again, I like to think so. (Trust me, if you read the book, that sentence will make sense.)
There is a character in the book who is fairly cracked, mentally, that keeps reading the same book over and over to be sure that she gets every tiny tidbit of meaning out of it. I am aware that I'm confessing to doing the same thing but I like to think I'm only a little mentally cracked. I mean, that's… like… the ONLY book she reads. As I've said, that's not the case with me. Plus I rarely ingest massive amounts of hallucinogenic drugs and tequila on the same day. JUST KIDDING, MOM!
How about you? If you had to read just one book, year after year, what would you choose?
Are you, too, seeking to save the earth, promote world peace and raise productive citizens without expending too much effort?
Why not follow LazyHippieMama on WordPress, by email or Facebook to get all the updates.
If we work on our goals together, they may be a little easier to achieve!

If you enjoyed my blog, it would mean a lot to me if you'd toss me a vote by clicking the Top Mommy Blog banner. Thanks!