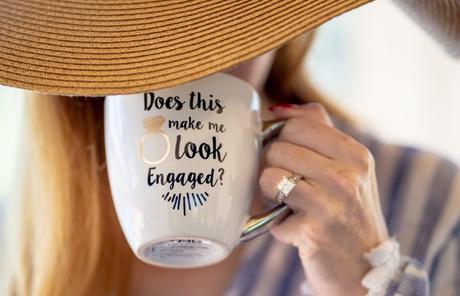 When Shouldn't You Wear Your Engagement Ring?
You shouldn't wear your engagement ring when...
No matter whether or not it's an attempt to keep your ring in a good clean condition or you just want to avoid losing it, you know there are a few times when you shouldn't wear your engagement ring. Sure you might have an insurance policy on it, and you can get it cleaned any time you want, taking these precautions is a good way to prevent the headache. So let's discuss when you shouldn't wear your ring.
Sure soaking in a hot tub is nice, but having your ring stuck on your finger isn't. Hot tubs can cause your finger to swell up around your ring which can be quite uncomfortable. Also, the chemicals in the hot tub can damage the ring setting and cause a discoloration of the metal.
At the beach
Consider taking your ring off before going to the beach. If you lose your ring in the sand or water, it's definitely a goner. And also, sand can find itself wedged itself in the ring either under the diamond or in the setting, which makes it a pain to clean.
In public pools
Public pools aren't as clean as you think they are. And you wouldn't want to risk losing your engagement ring in one of these bad boys. Not only do you run the risk of losing it, but you also run the risk of ruining the setting with all the chemicals that are inside.
When you hit the gym
If you're just going to do some cardio and walk on the treadmill, you don't have anything to worry about. But if you're weightlifting, that's a whole other story. Pressure from the weight could bend your band if too much is applied to it. If you have some type of pave band, this is especially crucial because the accented stones would then fall right out of the setting if it was bent.
Using harsh chemicals
Remember how we talked about harsh chemicals in the public pool? The same principle applies to harsh chemicals outside of the pool. Maybe you're cleaning the house or working on a project. Either way you want to avoid damage to your ring by setting it aside for the time being so that you don't have to deal with it later.
Final thoughts
Shopping for an engagement ring? Check out these tips!
What did you think of these tips on places you shouldn't be wearing your engagement ring? Let us know your thoughts. Or do you need help with your engagement ring? Contact one of our expert service advisors today and see how we can help you.
Areas we serve
We are located in southern Florida in the city of Boca Raton. We proudly serve Boca Raton and the surrounding following areas: Palm Beach, Fort Lauderdale, Miami, Broward, and Miami-Dade. Stop by and talk to one of our experts about finding the perfect engagement ring today.